Congrats to Chelsea Peretti — her baby slept through the night, and oh, her husband got nominated for three Oscars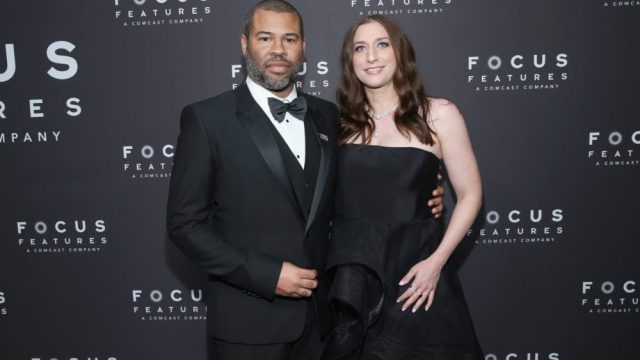 In case you missed it, the 2018 Oscars nominations have been announced, and there are a few things everyone is talking about. Greta Gerwig's nomination for Best Director makes her the fifth woman to be nominated in the category, and there's another historic nomination for the books: Jordan Peele received a nomination in the director category for Get Out, making him the fifth black man nominated in that category. And Peele's wife, Chelsea Peretti, was totally supportive on Twitter.
Seriously, Chelsea Peretti is so excited for Get Out's nominations — all four of them: Best Picture, Best Lead Actor (Daniel Kaluuya), Best Director (Peele), and Best Original Screenplay (Peele) — but also, her baby slept through the night, and that's pretty historic, y'all.
As any mom out there knows, getting your newborn baby to sleep through the night can sometimes feel extraordinary.
And for Peretti, the morning of January 23rd was extraordinary not just because of her husband's accomplishments, but because their baby, Beaumont ("Beau"), let the happy couple get a full night's rest. After tweeting a big, old "YES!" with about a thousand emojis, and retweeting some of her husband's celebratory tweets, Peretti went on to explain, "AND OUR BABY SLEPT THRU THE NITE W NO MILK."
Peretti and Peele's son is now six months old, and him sleeping through the night is impressive.
Some babies don't do that until they're nearly a year old, so Beau sleeping through the night is like the cherry on top of Peele's directorial debut gettingfour very well-deserved nominations.
And Peretti's excitement was enjoyed by others, as well. Mindy Kaling replied to her tweet, writing, "This may be the most exciting relatable news I've heard all morning."
Preach, girl. Congrats to Beau for sleeping — and to the team behind Get Out on the Oscar recognition.