This is how you can get a FREE mascara from NYX tomorrow
Beauty lovers hate to pass up opportunities that involve free makeup. No matter what it might be, we love getting our hands on free beauty products whenever we can. So when brands offer a special deal, it's time to pounce. Case in point: NYX is offering people a chance to get their newest mascara absolutely free. It almost sounds too good to be true, right?
Here's the lowdown on this awesome opportunity. This Saturday only, February 3rd, NYX retail stores across the country are hosting their first-ever mascara trade-in event. All you have to do is bring in ANY old mascara to a NYX store, and they'll swap if for the brand new NYX Worth The Hype Mascara. So not only are you getting a free mascara, you get to try out NYX's latest before everyone else.
You'll have to get up bright and early, because the offer stands for the first 50 people who show up at each store. You can find a list of stores near you here, so you'll be ready to go as soon as the time comes.
If you can't make it to the in-store event, the NYX Worth The Hype Volumizing & Lengthening Mascara is available for $8.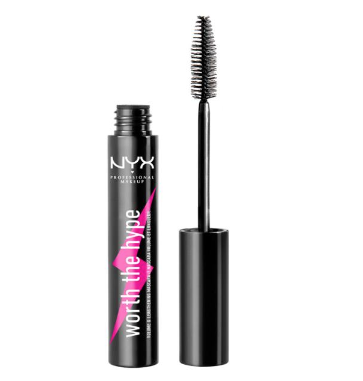 You can buy the mascara here.
This mascara gives you darker, fuller, and more gorgeous lashes that last all day long. No more worries about it flaking off mid-day.
It's easy to apply thanks to the tapered brush tips that make it a breeze to build and lengthen the tiny baby lashes hiding in the corner of your eyes. The formula is comfortable to wear, and it's buildable, too, so you can go as wild as your heart desires.
Be ready, because this is just too good of an opportunity to miss out on.