George H.W. Bush's anniversary letters to Barbara Bush will make you believe in love again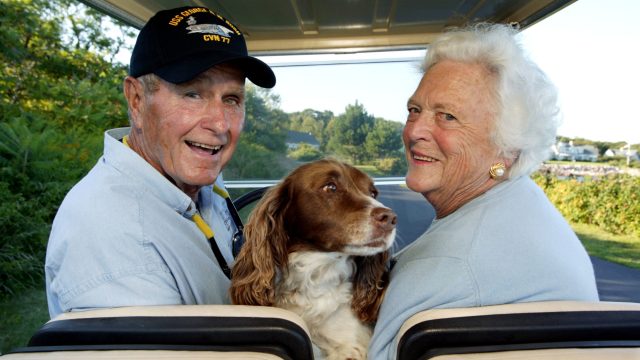 While we were totally heartbroken to hear that former first lady Barbara Bush passed away, bittersweet recollections about her life have definitely made us smile. As it turns out, the wife of former President George H.W. Bush was a little bit of a rebel. From embracing her white hair to supporting a woman's right to choose, we love that she had a strong personality and didn't hold back — even if it meant disagreeing with her husband.
At Barbara Bush's funeral on Saturday, April 21st, we learned more about the incredible love story between her and the former president, and it definitely has us tearing up.
Her son, Jeb Bush, delivered the eulogy and reflected on the last time his mother was in the hospital, People reported.
"I think dad got sick on purpose so he could be with her. That's my theory at least, because literally a day later he showed up with an illness," Jeb said. "He came into her room when she was sleeping and held her hand. His hair was standing straight up, he had on a mask to improve his breathing, he was wearing a hospital gown — in other words, he looked like hell. Mom opened her eyes and said, 'My god George, you are devastatingly handsome.'"
Hospital staff had to run out of the room to keep from crying in front of them, Jeb added.
Jeb also spoke about letters his father used to write to Barbara Bush on their wedding anniversaries.
Since the couple was married for 73 years, it's pretty clear George H.W. was doing something right.
"My dad is a phenomenal letter writer, and he would write mom on their wedding anniversaries, which totaled an amazing 73 years. Here's one of them written on January 6, 1984," Jeb said.
"Will you marry me? Oops, I forget we did that 49 years ago. I was very happy on that day in 1945, but I'm even happier today. You have given me joy that few men know. You have made our boys into men by balling them out and then right away, by loving them. You've helped Doro be the sweetest, greatest daughter in the whole world."
As if that isn't enough to make your eyes a little misty, there's more.
"I've climbed perhaps the highest mountain in the world, but even that cannot hold a candle to being Barbara's husband. Mom used to tell me, now George, don't walk ahead," Jeb read from a second letter. "Little did she know I was only trying to keep up, keep up with Barbara Pierce from Rye, New York, I love you."
Presidential historian Jon Meacham spoke during the ceremony, too. He shared another letter the former president had written to Barbara Bush during World War II, and you'll need to grab a tissue (if you haven't already).
"I love you precious, with all my heart, and to know that you love me, means my life. How often I have thought about the immeasurable joy that will be ours someday, how lucky our children will be to have a mother like you. And if you ask them, they'll be the first to say they were."
George H.W. also wore socks with books on them to his wife's funeral service in honor of her commitment to family literacy.
https://twitter.com/udfredirect/status/987717648564805635
https://twitter.com/udfredirect/status/987748268443611136
As the wife of one president and the mother to another, Barbara Bush's willingness to speak up for what she believed in inspires us to do the same. Our hearts are with her loved ones as they mourn her passing and celebrate her life.