People believe George Clooney is going to run for president in 2020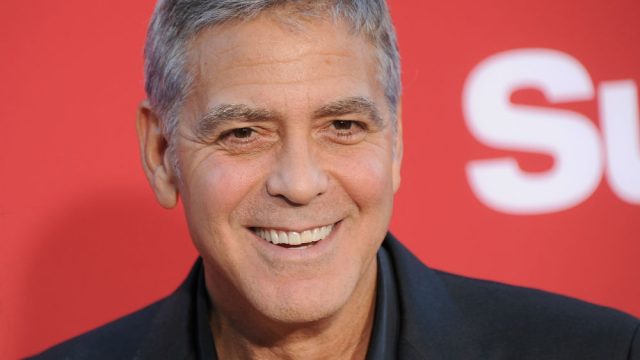 Ever since Donald Trump, a former reality television star, was elected the President of the United States, we've regularly wondered if other celebrities are going to run for the same position in the 2020 election. In the last few months, we've heard rumors that Oprah Winfrey, Kanye West, Duane "The Rock" Johnson, and Katy Perry are going to run — and that's just naming a few. There's also George Clooney, whose recent donation has some people wondering: George Clooney for president?
The topic was first broached back in the beginning of September 2017, when Clooney was doing press for his movie Suburbicon. A reporter asked if he'd like to run for president one day, and Clooney said,
"Would I like to be the next president? Oh, that sounds like fun. Can I just say that I'd like anybody to be the next president of the United States. Right away, please."
Now, Clooney's latest actions have fans wondering if he might actually run for office. Clooney and his wife, human rights lawyer Amal Clooney, pledged $500,000 to help fund the U.S. student-run march on Washington. Called the "March for Our Lives," it's taking place on March 24th, along with sister rallies across the country. The march is a response to the deadly school shooting in Parkland, Florida, that took the lives of 17 people, and it's a way for the students who survived to take some serious action to demand gun control reform.
Shortly after the Clooneys made their donation, rumors hit the news circuit. 
Fox News host and Donald Trump supporter Sean Hannity expressed his support, saying, "My attitude is, 'Run, George, run.' If George Clooney wants to run, I'm all for it. I think Oprah Winfrey would be infinitely better as a candidate than George Clooney."
Hannity's comments are sarcastic. What he's trying to say is that he doesn't think Clooney has a chance at winning, which is why he would want him to run — so that Trump could win again.
Is there a chance Clooney might actually make a move?
Most likely not. His original comment about running was a joke, and when fans ran with it, Clooney cleared up any confusion in an interview with Variety, during which he said he doesn't think celebrities should hold the position. He stated,
" I think that having a celebrity as president who has a star on Hollywood Boulevard will exorcise our need to have someone famous in office. And maybe we'll find someone who knows how to make policy."
So, we probably won't be calling him President George Clooney any time soon. But hey, one can dream, right?