George Clooney describes the first time he met Amal, and if this isn't true love, we don't know what is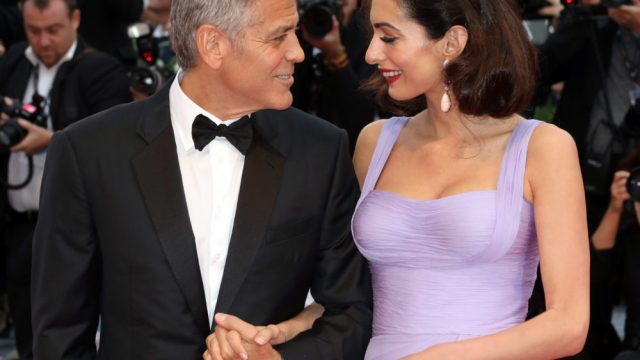 Badass human rights lawyer Amal Clooney has a lot of talents. She's pressed the UN on not doing more for Yazidi victims of genocide, and celebrated when a resolution to investigate war crimes was finally passed. She's represented imperiled journalists and world leaders. She's a working mom of seven-month-old twins. She's been an honoree at the British Fashion Awards. And she's apparently got a knack for picking the right friend to tag along with for a dinner party, as we just found out that's how Amal met her husband, George Clooney.
George Clooney shared the adorable story of how he and Amal first fell for each other in a just-released clip from the next episode of David Letterman's new Netflix talk series, My Next Guest Needs No Introduction with David Letterman, and honestly, our hearts may never recover. A mutual friend of the now-couple's had called Clooney to say he or she would be stopping by Clooney's house in Lake Como, Italy and asked if Amal come along too. George said yes, and it seems his agent got wind of the planned visit.
And that agent may have a side career in matchmaking.
"I got a call from my agent who called me and said, 'I met this woman who's coming to your house who you're gonna marry,'" Clooney told Letterman.
The agent would obviously be proven right, but first Amal came by George Clooney's place and spent an evening with him and his parents, who were visiting. Meeting a significant other's (or potential significant other's) parents is always stressful, but we're guessing *international human rights lawyer and fashion icon Amal Alamuddin* didn't have much trouble impressing her future in-laws. George said he and Amal "stayed up all night talking" and then started emailing, because, according to him "she was going to send [him] some pictures of [his] parents." Yeah, we're sure that's the reason you got her contact info, George.
https://www.youtube.com/watch?v=8vl82FssW5k?start=4&feature=oembed
The rest is perfect Hollywood couple history. The Clooneys tied the knot in 2014 and welcomed twins Alexander and Ella in June.