Gen Z Can Make Anything Look Cool—Here's a Fashion Lesson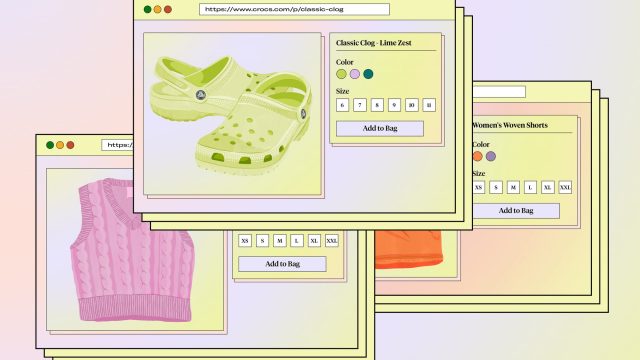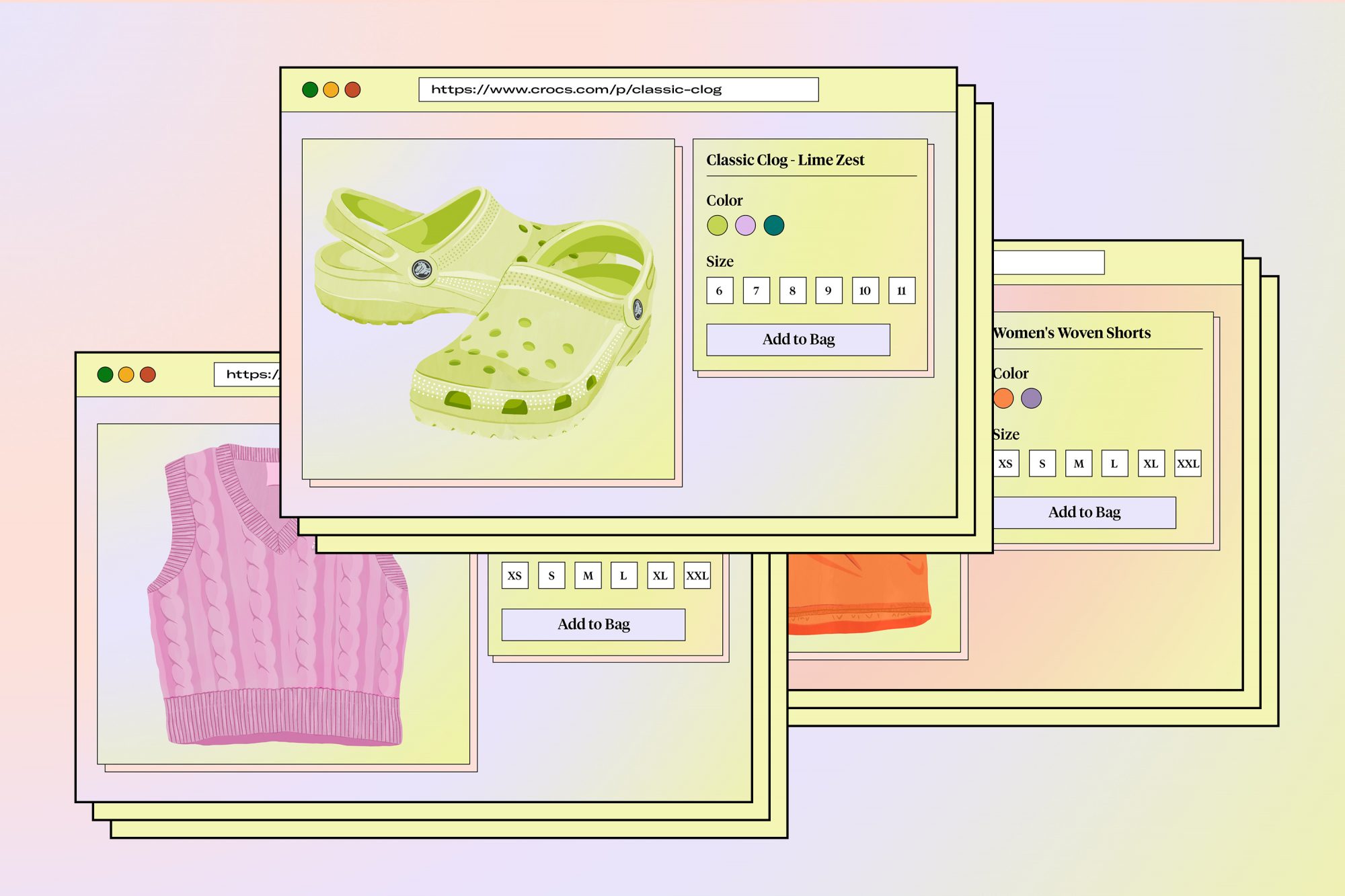 From the ways they spend their time to the ways they communicate (hello, TikTok!), members of Gen Z lead very different lives than the rest of us. But as HelloGiggles' Generation Next explores, there's a lot we can learn from them—whether it's their need for mental health support, their drive for self-expression, or their commitment to making the world a more inclusive place for all.
With every new generation comes the resurgence of old trends that previous generations tried to bury. Baby boomers brought back knee-high boots. Millennials did mom jeans. And Gen Z? Well, they're bringing back just about everything from the past, from baguette bags to velour tracksuits, and making it all look surprisingly fresh and new.
While some Gen Zers have stirred up quite the controversy by declaring certain fashion trends "in" while others are "out" (aka, the whole skinny jeans and side-parts debacle), they're really just doing the same thing as every generation before them. The fashion cycle is said to repeat itself every 20 years, so the fact that Gen Z is currently reviving early '00s fashion trends makes perfect sense. However, there's one thing that makes Gen Z style undeniably different from generations before—the influence of the internet.
Gen Z is the first generation to be born in to a largely digital world. When it comes to fashion, they have access to all the newest trends via their smartphones and social media platforms before they ever hit the magazine racks. So, while they may be following some familiar trend cycles, Gen Z's styling skills are so impressive that we're convinced they're all fashion experts.
They're so convincing, they're even making some of the most controversial fashion trends look next-level chic. For example, Crocs—those rubber clogs from the early 2000s—have come back in full force. The brand's sales surged 64% in 2020, likely due to so many people seeking comfortable footwear during the pandemic, but also, the brand says, because of how teenagers are embracing self-expression.
To really put the generation's styling expertise to the test, we decided to challenge three Gen Zers to make four "ugly" fashion items—a sweater vest, a pair of Crocs, a quilted jacket, and gym shorts—look cool. We gave each person two items to style, and they took on the challenge in their own unique way based on their individual style. Below, see how they did it and soak up all their fashion tips.
Nailah Coffey, 21, who tends to go for streetwear fashion, says she frequently uses the internet to her advantage when putting together looks. "I always go to Pinterest for inspiration," she says. "It just has everything and it has an algorithm so it knows what I want to see."
So when we assigned her a pair of Classic Crocs in lime zest green to style, Coffey typed "Crocs outfits" into the site's search bar. She was drawn to a look that was simple overall but detailed in the accessories department: an oversized graphic T-shirt styled with a purse belt, gold jewelry, tie-dye socks, big sunglasses and, of course, Crocs. For the T-shirt, she chose a Rolling Stones logo tee that pulled in the bright green colors from the shoes. She also improvised a purse belt, tying the chain from a standard shoulder purse around her waist for a belted bag. Then, for the baubles, Coffey selected a mixture of delicate and chunkier jewelry to complete her outfit.
The accessorized T-shirt dress is a timeless choice for a casual outfit, she explains, because it's comfortable and easy to style.
Even if Crocs were back on the outskirts of mainstream fashion, Coffey says that wouldn't stop her from wearing them. After all, "ugly" fashion is subjective, and her approach to getting dressed is more about personal comfort than what others think. "If you like it, wear it. If you're confident in it, wear it," she says of her fashion motto. "At the end of the day, if someone says something, that's their personal opinion."
That's also why Coffey says she hasn't given up on skinny jeans, even though many fellow Gen Zers have exiled them to the land of fashion castaways. "My go-to outfit is some skinny jeans and a cami or just like a plain shirt," she reveals, noting how she's comfortable in any style of jeans, depending on the day.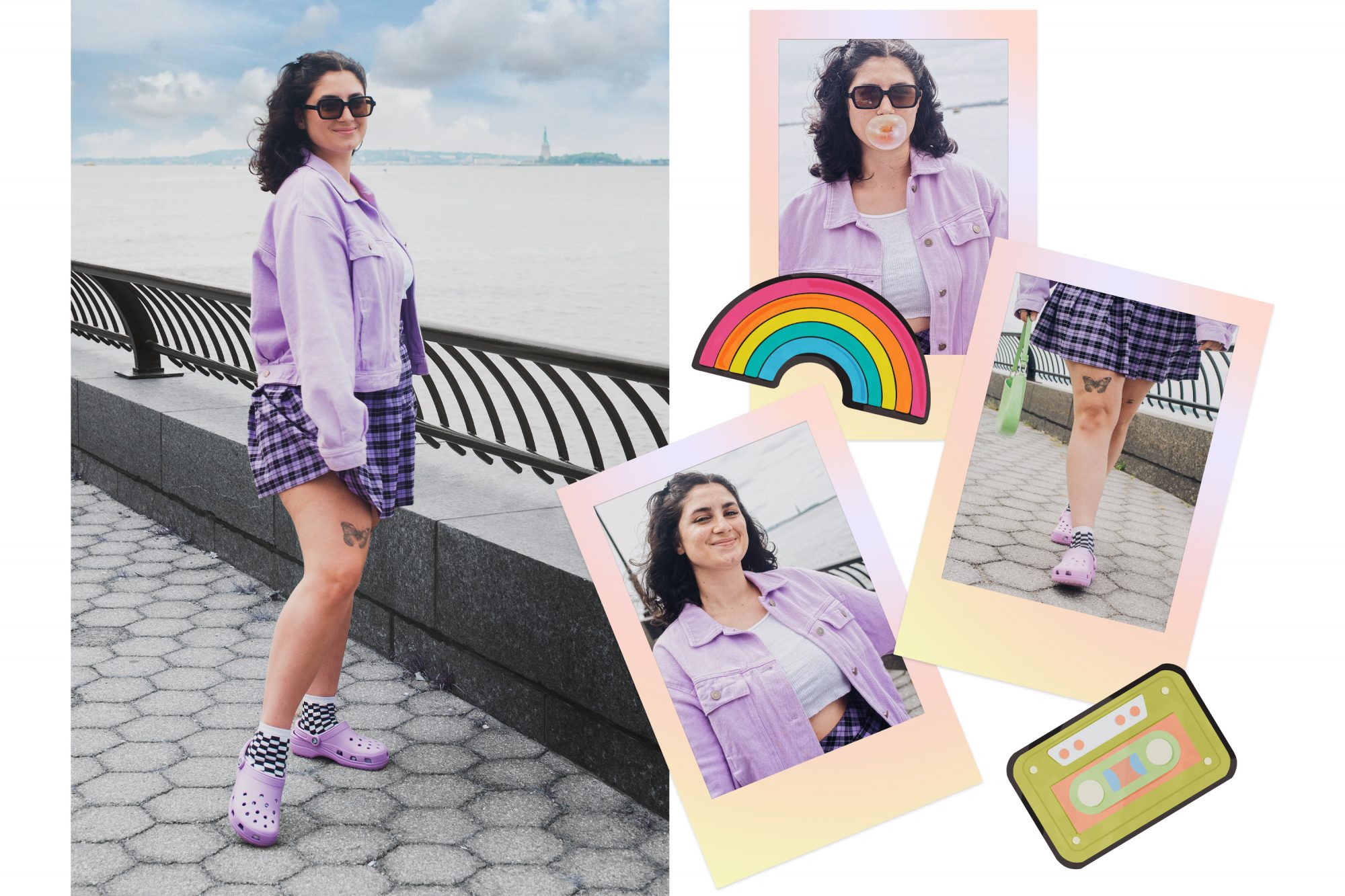 Sam Lane, 23, on the other hand, is strongly opposed to skinny jeans in her wardrobe. It's not because she's declared them out of style per se, but because she just doesn't like the way they look. "I don't really follow many [fashion] rules, but I don't like to wear tight pants," she explains.
Aside from that, Lane describes her style as "eclectic," noting that she likes to pair contrasting items and to "mix feminine and masculine elements" into her outfits. To style the pair of Classic Crocs in orchid we assigned her, she took a more feminine and playful route, pairing the light purple clogs with a denim jacket in the same color, a white cropped tank top, a purple plaid mini skirt, and a contrasting tiny purse. Because purple is Lane's favorite color, it made it easy for her to find pieces in her wardrobe to pair with the brightly colored Crocs for a put-together look.
"I like to do monochromatic outfits a lot and I think that it's fun with Crocs because they're such fun colors, that if you incorporate [the color] throughout, your entire outfit stands out," she says.
To make the Crocs look more styled and fashion-forward, Lane also added a pair of black and white checkered socks. "When people think of Crocs, they just think of little kids wearing them to the beach," she says, "So if you're wearing them without socks, it's kind of like they're just regular sandals. But the socks add a more fun element that can tie into the rest of the outfit and make it more interesting."
In another outfit, we asked Lane to style orange Nike gym shorts, where she showed off a more masculine side to her fashion personality. Since the retro Nike shorts had a boxer-inspired look, Lane decided to play up that idea by pairing them with a tight white tank top. From there, she layered on the accessories, adding an open short-sleeve button-down in a fun pattern, a denim bucket hat, silver chain, and rings.
This accessorizing, Lane says, is key to taking an athleisure item from sporty to chic. "I definitely think accessories and shoes can change the look," she says. "If you're wearing gym shorts or any type of athleisure, and you're also wearing athletic sneakers and not wearing any jewelry or anything, it can kind of just look like you're going to work out."
So, it's all about changing the connotation. Instead of athletic sneakers, Lane wore a pair of platform high-top Converse. "I wouldn't work out in those shoes," she says, explaining how the platforms provided more contrast to the sporty shorts.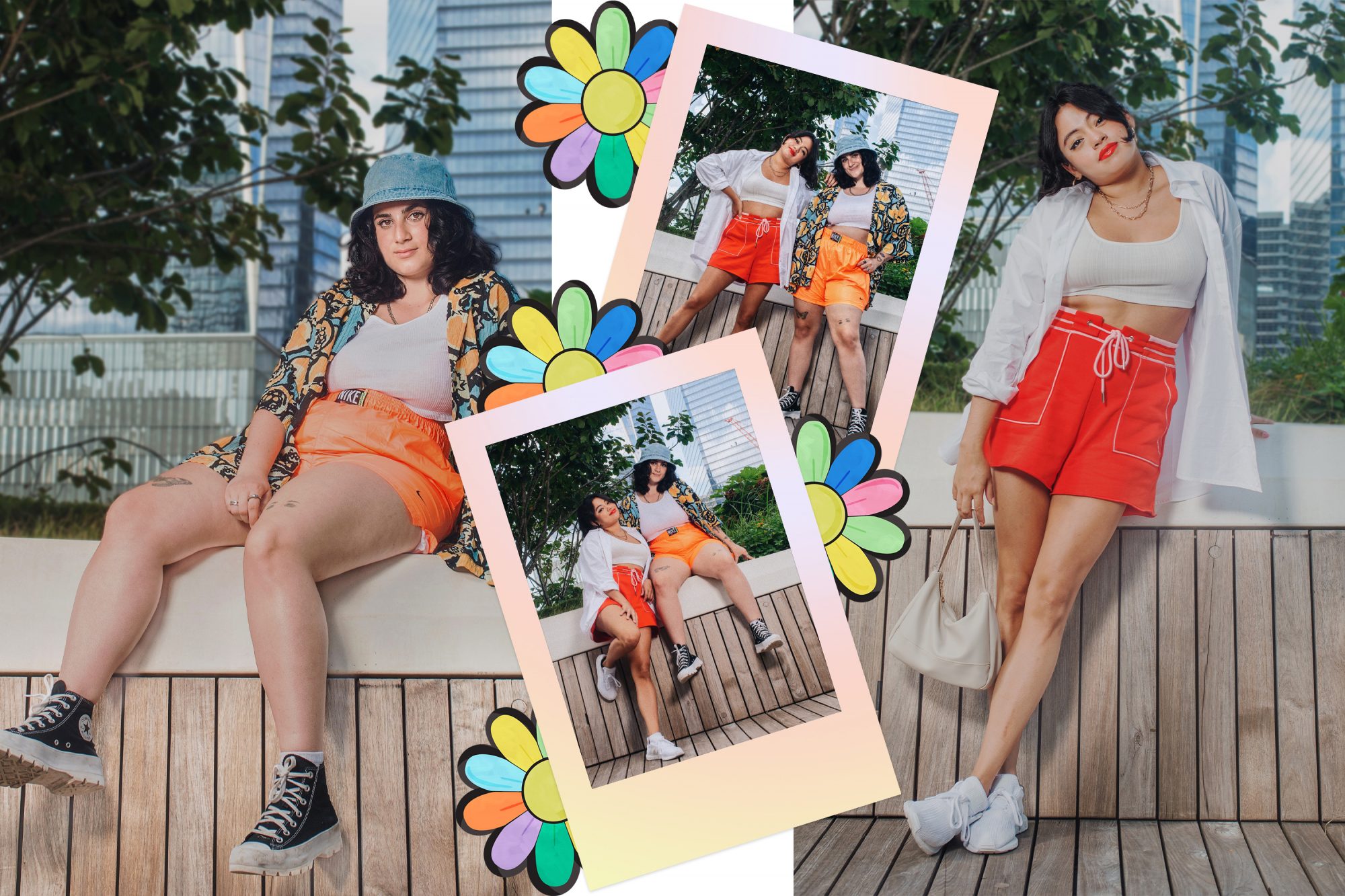 Genesis Rivas, a 24-year-old woman right on the cusp between Gen Z and Millennial, also styled a pair of red gym shorts from Wknd Nation in a way that thankfully prevented any flashbacks to P.E. class. However, she took a slightly different approach from Lane. Styling the pair of red and pink sweat shorts, Rivas was most concerned with balancing out the bold colors with neutrals. "It was very out of my comfort zone," she says, noting that she's someone who doesn't wear many bright colors and considers her style to be "professional casual," at least before the pandemic changed her work routine.
"But what made me feel comfortable was pairing [the shorts] with surrounding colors that are very simple," Rivas sats. She styled the shorts with a crisp white button-down over a cropped white tank top and added a beige mini purse and white sneakers.
Like Lane, Rivas contrasted the athletic feel of the shorts with jewelry. "I loved pairing it with a gold chunky necklace and gold hoop earrings because it just adds a little bit of that juxtaposition of like, 'I'm supposed to be in lax, leisurely sports clothing, but I'm also adding my own little bit of femininity and jewelry, because that's what makes me feel comfortable.'"
Just as Rivas built off the shorts as the statement piece in her glammed-up athleisure outfit, she did the same with another item we asked her to style: the Rudy Quilted Bomber Jacket from Free People."[The jacket] is a very loud piece already, and I didn't want to take away from that," Rivas says. "I wanted that to be the focus of [the outfit], so I kept everything underneath pretty simple." She chose a beige bodysuit to balance out the baggy style of the jacket and a pair of loose denim jeans ("because they go with everything").
Then, feeling like she had to do something fun with the shoes, she went with "a really chunky white combat boot, because I felt like it lent itself for another style moment without taking away from the actual centerpiece, which was the jacket," she explains. Rivas also picked a nearly microscopic purse in white to add another unique, yet not distracting element to the look.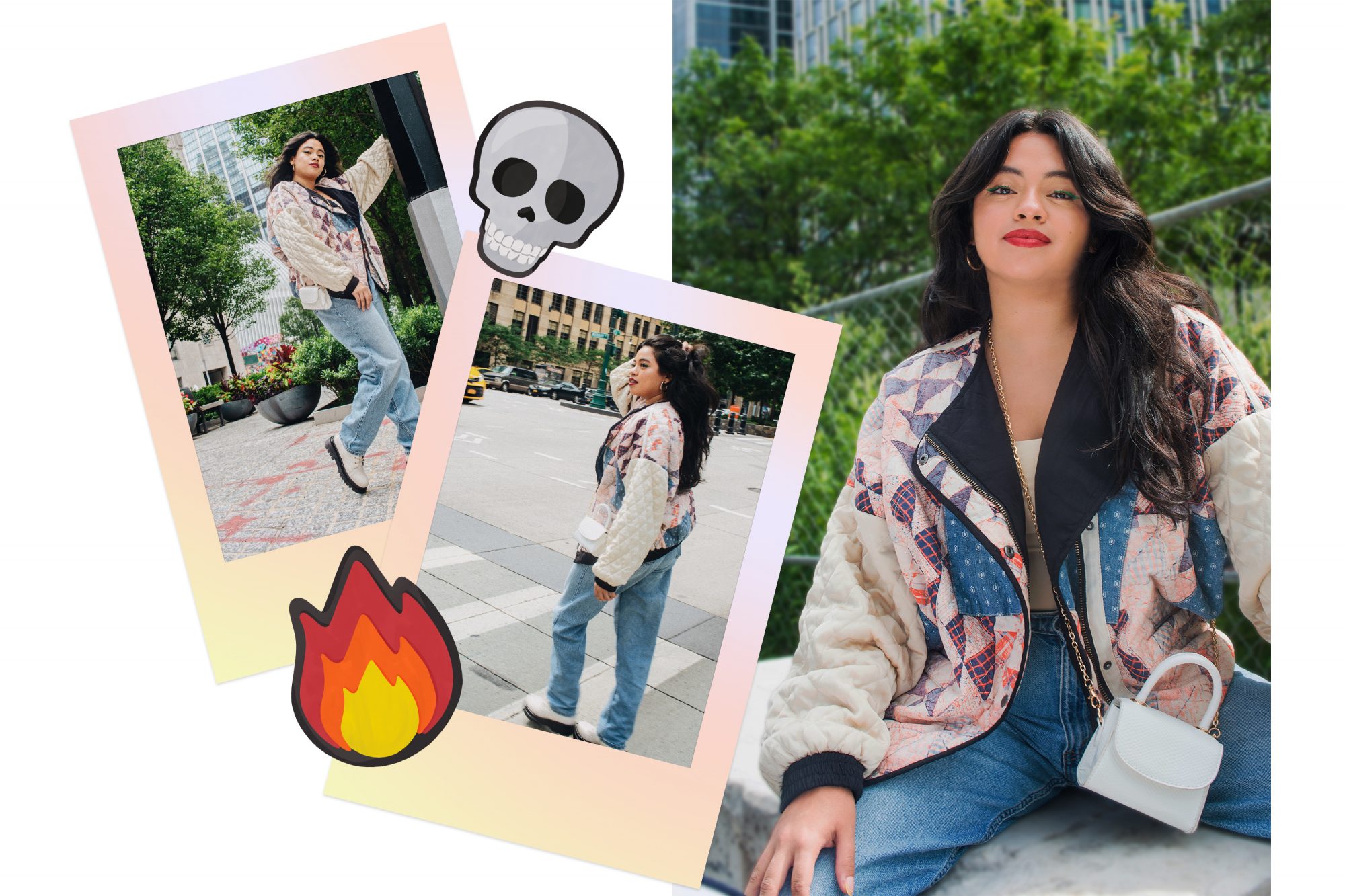 Rivas says building an outfit off a more bold item and adding neutrals or basics is a great way to ease into "ugly" or more intimidating fashion trends. "Pick one piece that you think is a statement piece—whether it's a jacket or a really funky pair of shoes—and then style it with things that make you feel comfortable," she advises.
Coffey, who says she's starting to identify as someone who wants "to be the most overdressed person in the room," is comfortable leaning into statement pieces and pairing them with other bold items. So, when we asked her to style a bubblegum pink sweater vest, she immediately thought of "the perfect shoes" to wear with it: strappy lace-up heels in a matching shade of pink.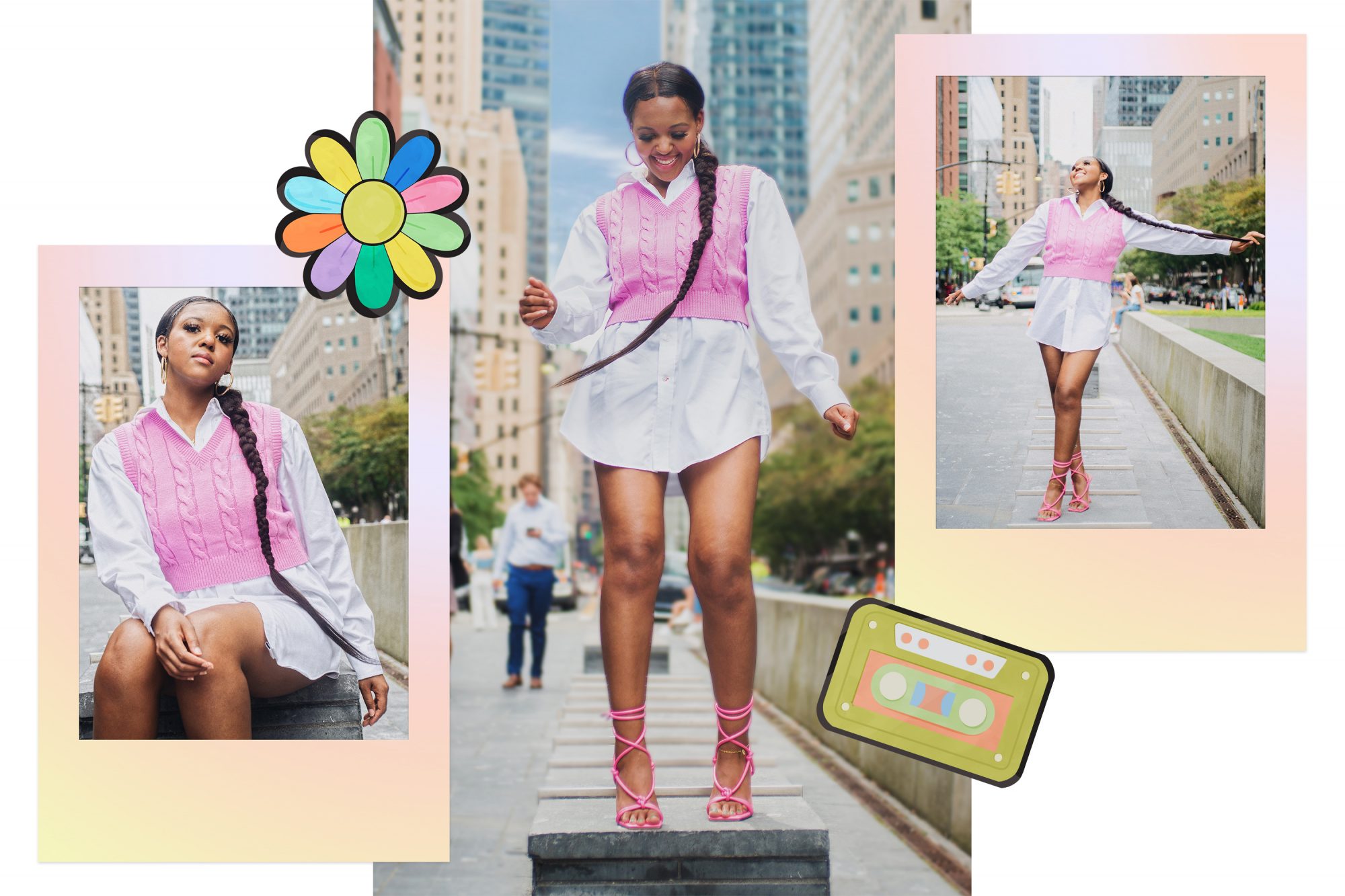 She layered the vest over a large white button-down, recreating Clueless-inspired style. Then, she added a pink purse with a chunky chain strap, matching pink lip gloss, big hoop earrings, and a nameplate necklace to round out the preppy yet playful outfit.
Whether you find comfort in neutrals like Rivas, enjoy mixing and matching like Lane, or strive to stand out like Coffey, the great thing about Gen Z fashion is that there's no right answer. Rivas, who attended high school from 2011 to 2015 with the end of the millennial generation, says she remembers how "fitting in" was often valued above creative expression. Now, as she keeps up with the constantly evolving fashion trends on TikTok and observes how her younger sister, who's currently in high school, dresses, she's noticing how the culture has started to change.
"I definitely think it's more accepting and normalized now to just kind of wear whatever the heck you want and not be judged for it," Rivas says.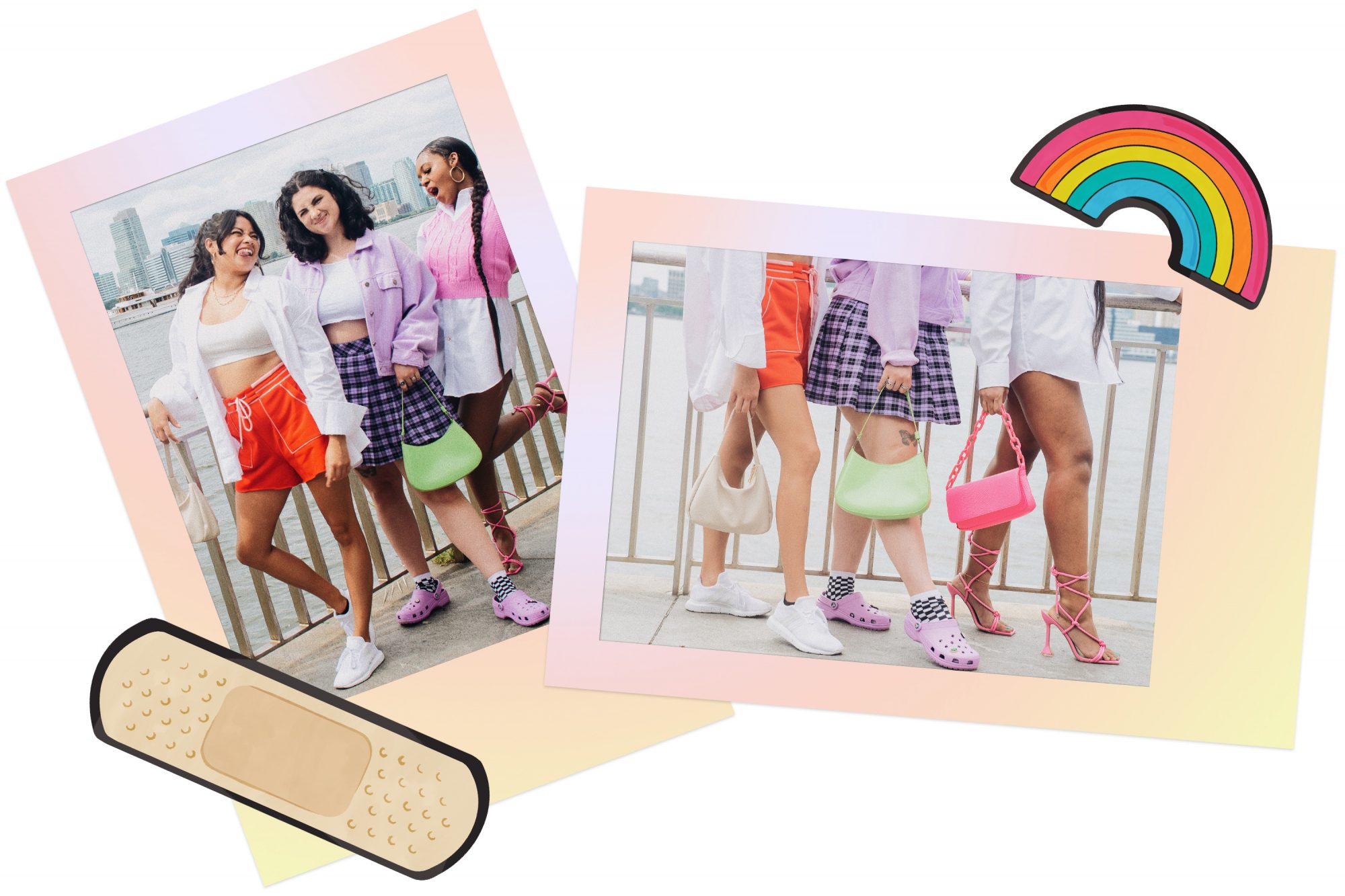 The generation's focus on individuality and celebration of non-conformity applies to more than just fashion. According to a 2016 report by trend forecasting agency J. Walter Thompson Innovation Group, Gen Z respondents were more open-minded regarding issues of gender and sexuality than their Millennial counterparts. So, whether Gen Zers are creating safe queer spaces online or rocking "ugly" fashion trends on the street, they seem to be committed to encouraging others to just be themselves.
Lane can back this up with her own experiences. "In college, when I would dress how I wanted to and just wear stuff I thought was cool, I had a lot of encouragement from people around me," she says. "So I feel like this generation just likes to see people being themselves and wearing what they want to wear and taking fashion risks."
If you're staring down a piece of clothing and aren't sure if it's too "ugly," bold, or over the top, these Gen Zers all give the same advice: Just go for it.
Credits
Editors: Raven Ishak & Rachel Simon
Photographer: Jasmine Purdie
Art Director: Jenna Brillhart
Beauty/Fashion Direction: Morgan Noll
Photo Assistant: Connor McRory
Design & Illustration: Emily Lundin
Social: Danielle Fox
Digital Content Director: Hayley Mason