11 reasons why Gemma Chan from Crazy Rich Asians is our new fashion icon
Jon Chu's critically-acclaimed movie, Crazy Rich Asians, hit theaters on August 15th, but the film is still garnering buzz weeks after its release. Based on Kevin Kwan's opulent novel of the same name, Crazy Rich Asians shattered box office records with a $35 million five-day opening—then dominated Labor Day weekend with an unprecedented domestic total of $111 million. As Business Insider reports, the film is the best Labor Day box office record in 11 years.
The rom-com centers on the trials and tribulations of Rachel Chu (Constance Wu) as she traverses boyfriend Nick Young's (Henry Golding) crazy rich world of socialites and unending wealth. And while the film presents much heart and soul-searching, the luxe Singaporean backdrop is a character of its own. Viewers are pulled into a decadent world where homes are modeled after the Palace of Versailles (and Donald Trump's bathroom), and fashion icons jet off to Shanghai or Paris for the latest finds. Enter the elegant Astrid Leong, played by British actress Gemma Chan. Described as a fashion icon with a big heart, Astrid serves as Nick's closest family confidant.
IRL, it can be difficult to distinguish between Gemma and Astrid—both have a keen eye for fashion and emit effortless glam. At red carpets and junkets, Chan has proven to be the ultimate style icon; the star has also been heralded for championing Asian fashion designers.
Here are 11 reasons why Gemma Chan is our ultimate fashion icon.
When she looked like a sophisticated red envelope: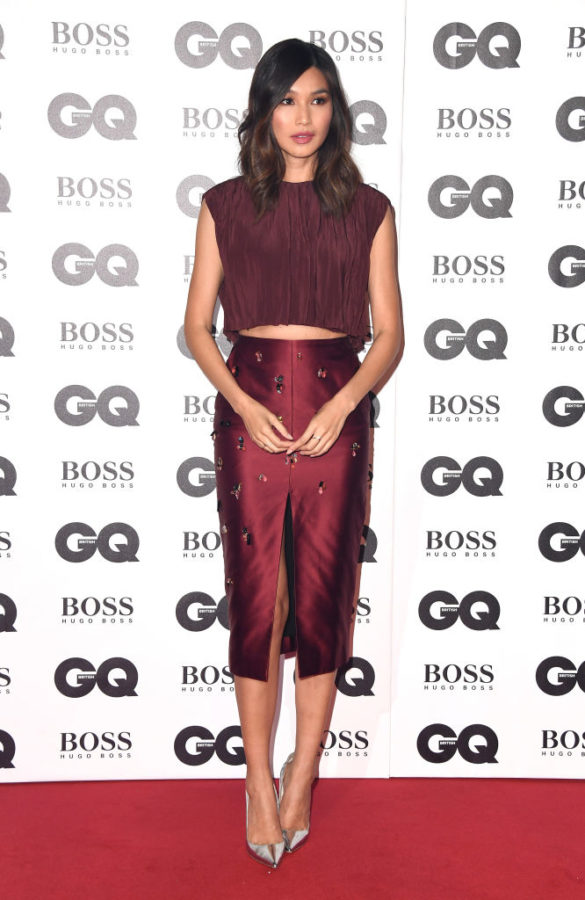 At the GQ Men of the Year awards in London this month, Chan stunned in a Jason Wu maroon two-piece and metallic heals. This off-red lewk may be more dazzling than receiving a red envelope on Lunar New Year.
When she looked like a rose garden personified: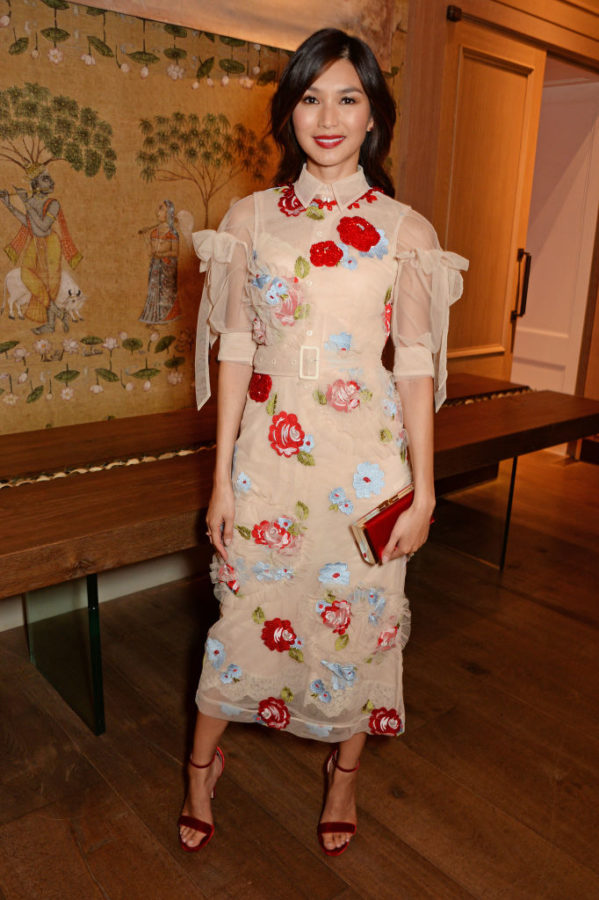 At the U.K. screening of Crazy Rich Asians on September 4th, Chan donned a Simone Rocha floral tulle dress with Jimmy Choo heels. Forget the decadent garden at Nick's grandmother's house, we're all about this off-white frock.
When she wore the trench dress of our dreams: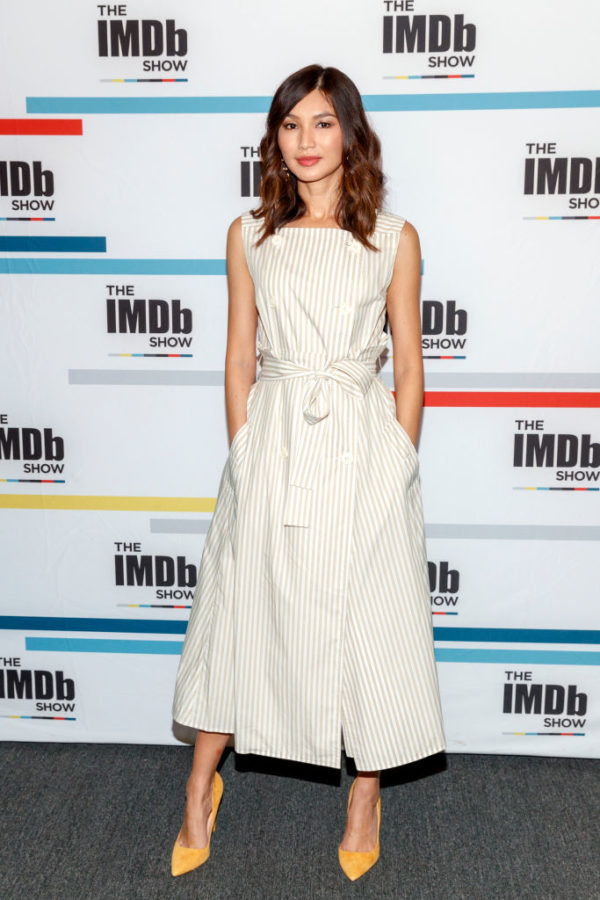 At the The IMDb Show in August, Chan wore the pinstriped trench dress of our dreams from ADEAM, designed by Hanako Maeda. She paired the dress with whimsical yellow heels.
When she wore an ensemble that recalled Beyoncé's Lemonade album: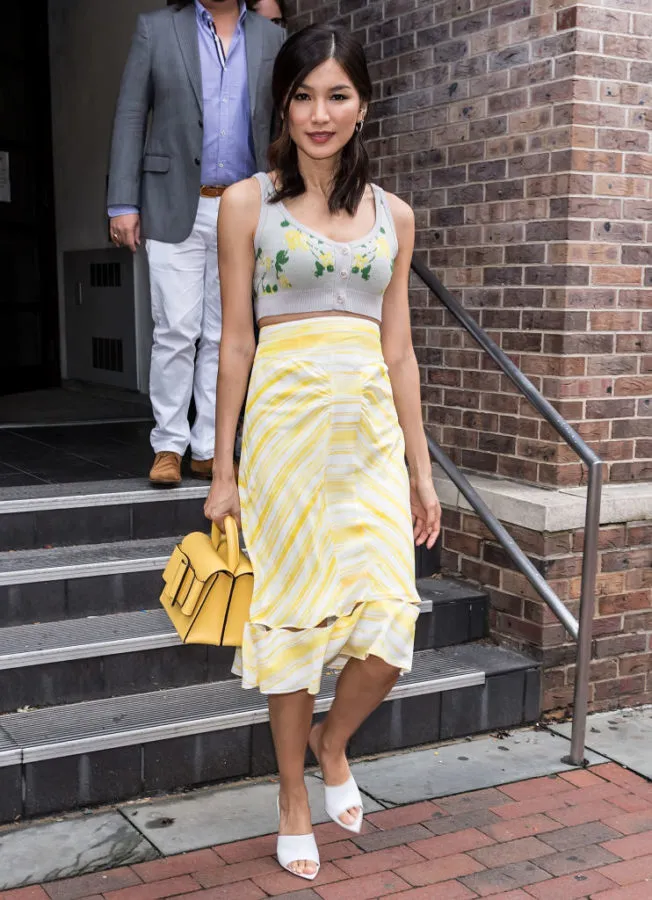 For a taping of Fox 29's Good Day in Philadelphia, Chan rocked yellow hues in an Altuzarra ensemble. We're obsessed with her BOYY Boutique handbag, white mules, and lemon-printed crop (that reminds us of Beyoncé). BRB, listening to Lemonade now.
When she reminded everyone that she is, in every sense, Astrid Leong: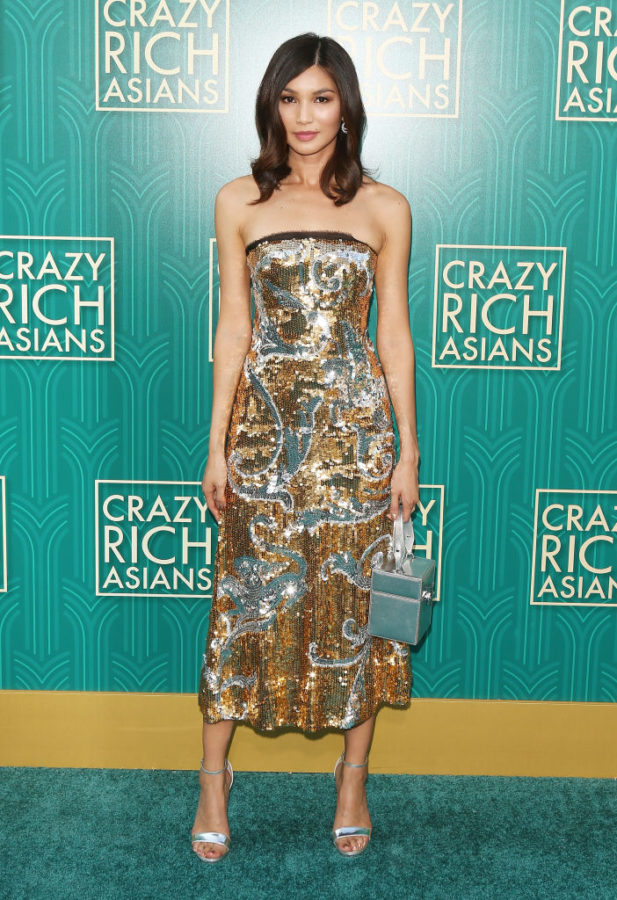 At the Los Angeles premiere of Crazy Rich Asians in August, Chan wore a glamorous Oscar de la Renta frock that she paired with a metallic box bag and heels. Clear the red carpet, the iconic Astrid has arrived.
When she looked like a chic picnic table:
At a press junket in Los Angeles, Chan donned a blue multi-toned Prabal Gurung outfit that gave us serious picnic-table-at-the-park vibes. In typical fashion, she made it look completely and utterly chic. Is there anything Chan can't pull off?
When she combined business and superhero glam:
At an afterparty in Los Angeles, Chan wore an elegant blazer dress by New York-based brand Hellessy. The ensemble's stunning design offers a cape-like illusion, which is fitting since Chan will star alongside Brie Larson in the upcoming Captain Marvel film.
When she combined our love of culottes and florals:
At a screening in Boston, Chan wore a stunning Maison Valentino culotte set with white florals. She finished the look with classic pointy-toe black heels. So simple, yet elegant.
When she proved the power of simple white sneakers:
For the film's press tour in Dallas, Chan paired white sneakers with a summery floral flock from the brand The Vampire's Wife. It doesn't get any more classic than white sneaks and a floral dress.
When she looked like an ethereal goddess in black trousers: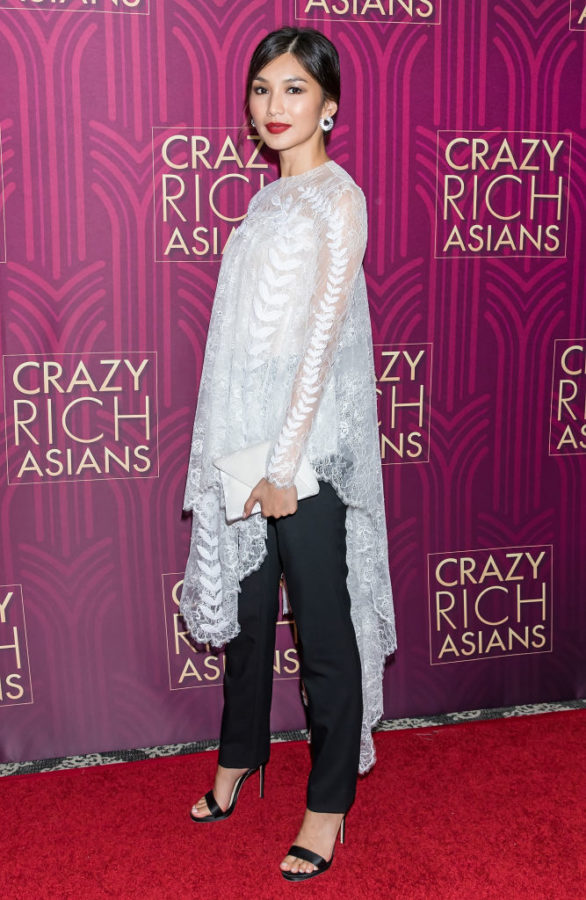 At the Philadelphia screening of the film, Chan wore an ethereal Oscar de la Renta top paired with timeless black trousers. Never underestimate the power of trousers.
When she proved she's the reigning queen of florals:
At the Boston press tour, Chan proved once and for all that she is, in fact, the queen of florals. She wore a stunning pink and orange ensemble from French luxury brand, Kenzo, and paired it with Louboutin heels.
Astrid Leong's got nothing on Gemma Chan.