How to Do Your Gel Extensions at Home, From Beginning to End
Quarantine has brought about a lot of firsts for me. It's been my first time doing my own box braids, my first time following an intense workout schedule, and my first time doing my own gel extensions. Just for background, before everything shut down to prevent the spread of the coronavirus (COVID-19) pandemic, I'd travel to my nail technician every three weeks for a custom gel extension set. We'd sit and gossip for hours, and I'd leave with a head-turning set of nails that always drew attention. However, that all came to a sudden halt when the pandemic hit. But if there's one thing that's true about me, it's that I'm resourceful. So finally, after more than a month of being sick of staring at bare nails, I decided to give myself gel extensions. I'll admit there was a learning curve (it took about six sets until I got it right), but I've finally learned how to do it, and here's how you can, too.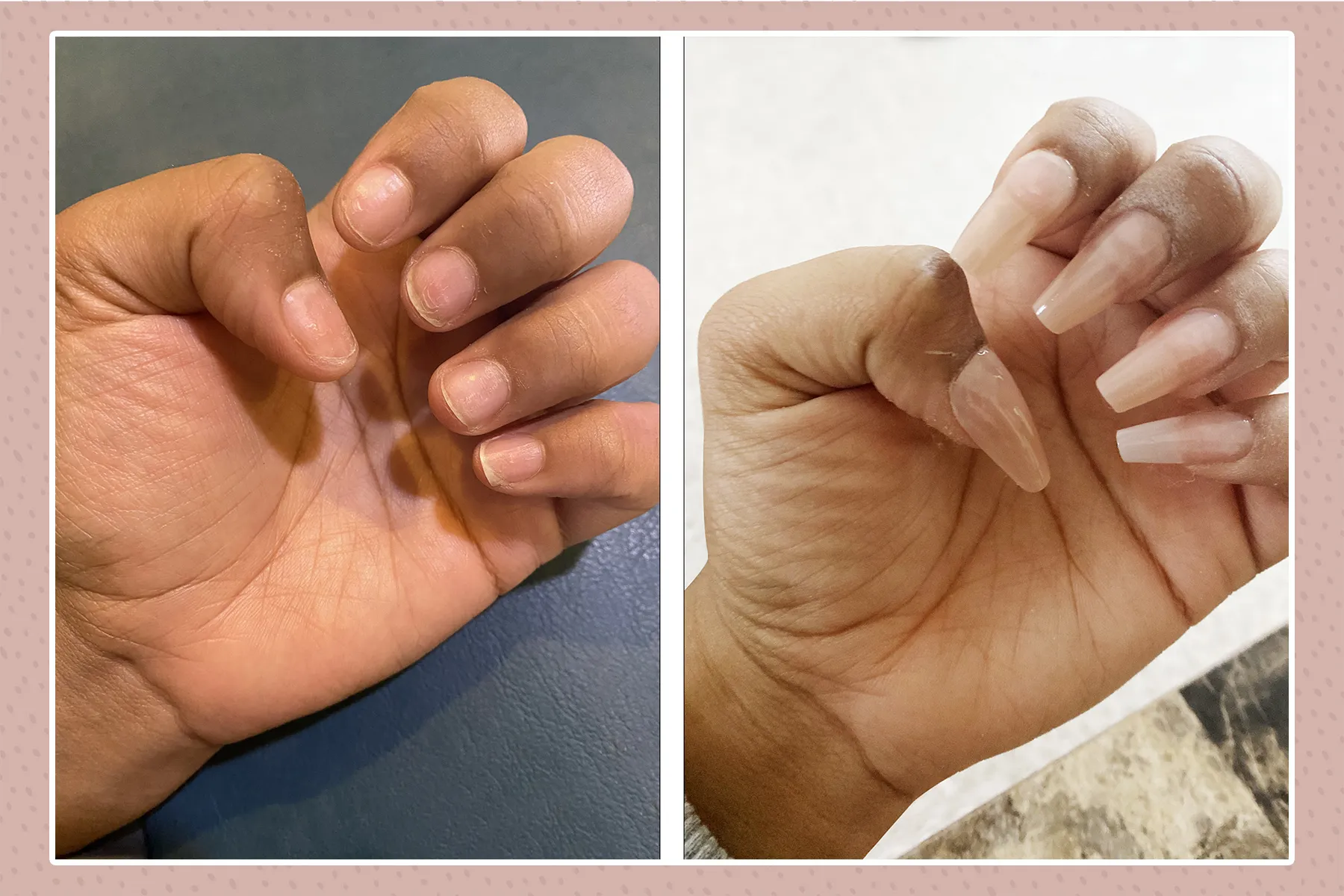 1. Prep your nails. 
You can't have a great gel extension set without a proper base, so it's important to properly file and buff your natural nails before anything else. Then, I use the Aprés pH Bonder, which dehydrates the nail of any oils or debris that could make it harder to adhere the extensions to the nail, followed by a non-acidic gel primer. Once that's done, you have extension-ready nails.
Please confirm that product_url, retailer_name, price and primary_image parameters are required in the shortcode
2. Apply the extensions.
Odds are that you will make a mistake the first (second and maybe third) time you try to apply nail extensions on yourself, and that's okay! Finding the perfect fit for each nail and successfully adhering each one is an acquired skill, so remember that practice makes perfect. For newbies like myself, I suggest cutting out a step by purchasing pre-colored nail extensions. This helps eliminate the step of painting your nails with colored gel polish, and TBH it's also a great financial choice since you buy less product. You'll start by sizing your nails to find the extension that fits them best and setting them aside for later.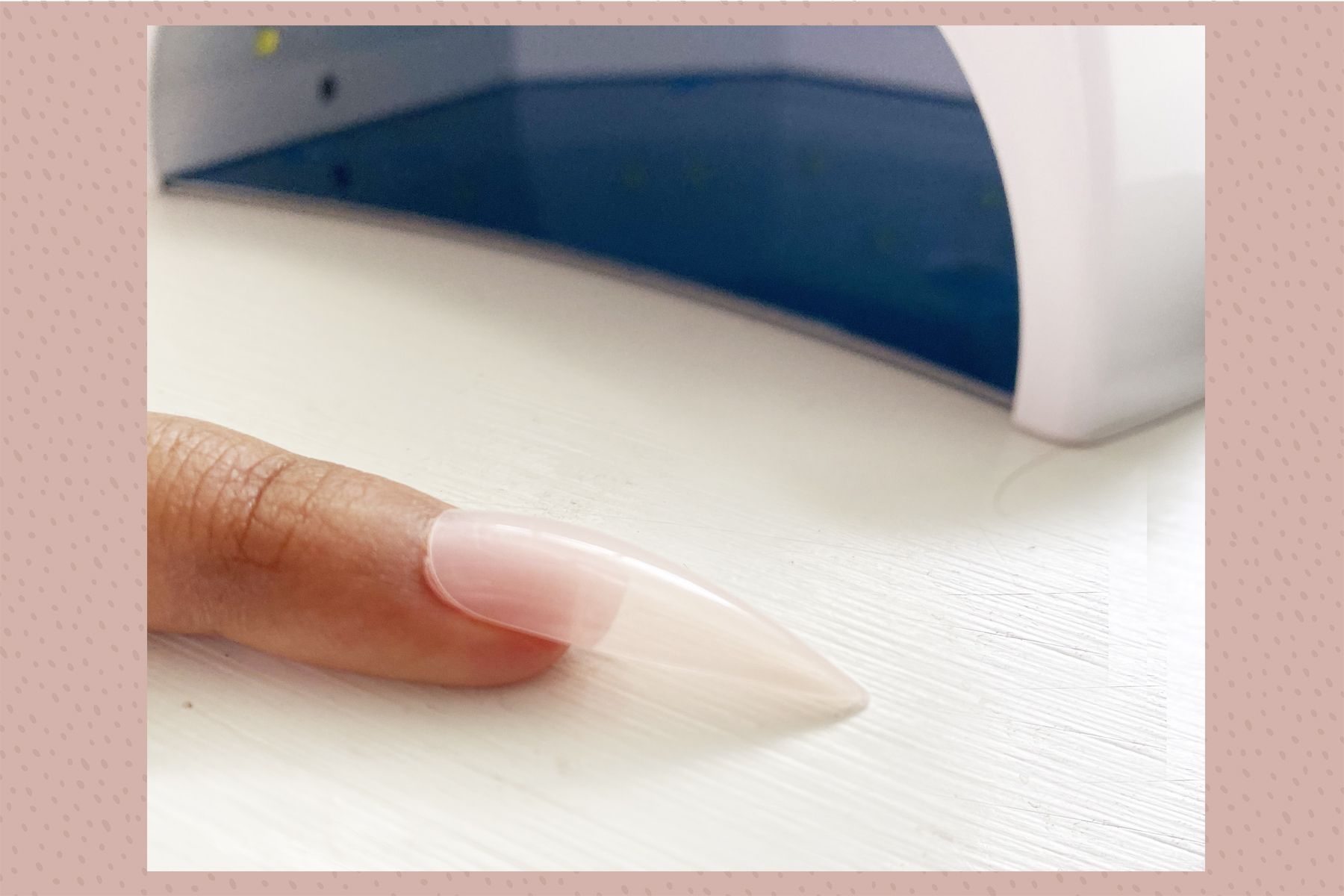 Once that's done, it's time to apply the extensions. Take a square gel brush and a healthy amount of the Aprés Extend Gel, applying it to both the natural nail and the underbelly of the gel extension. Place it on your nail and position it snugly against the cuticle. Now, you must place it exactly where you want it since once you cure the nail—or expose it to the UV light—it will be stuck in place. Next, place your hand into a UV light lamp for a minute to secure the nail. Pro tip: I like to use a finger on the same hand to hold the extension down in place while I cure it since it helps secure it. Follow those same steps on the rest of your fingers; then, sit your hand under the UV light for 90 seconds to make sure that everything is truly in place. 
Please confirm that product_url, retailer_name, price and primary_image parameters are required in the shortcode
3. Shape and buff your nails. 
Clip and file down your nails to your desired nail shape. Whatever shape you choose won't affect how long the gel extension stays on—there's no right or wrong. Once it's shaped, buff out the extensions. Generally, you'll have a little excess glue that gets on the sides and face of the nail, so buffing them will create a smooth surface for your polish and topcoat. 
4. Paint your nails.
If you opt out of a pre-colored extension, this is where you'd paint your nails with a gel nail polish. Use your clean gel brush to apply a thin coat of color onto each nail. Put your nails under the UV lamp for 60 seconds once your first hand is complete, and then continue onto the next hand. Depending on how much pigment you want on your nail, you'll repeat this step three to four times.
5. Apply a gel topcoat. 
Once your color is set, apply a gel topcoat, place your hand under the UV light for another 90 seconds, and voilà! You'll have a professional-grade manicure that's almost as good as when your nail tech does it—trust me.
Please confirm that product_url, retailer_name, price and primary_image parameters are required in the shortcode
Follow these steps and your new gel extensions should last you about three weeks.