Gaten Matarazzo and Kelly Clarkson just crushed a duet, and there's video to prove it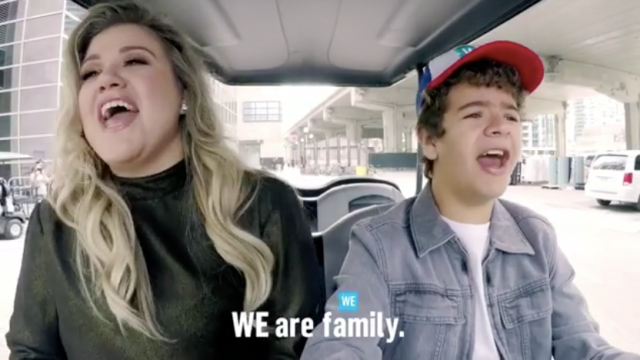 In case you haven't dropped down a Google wormhole looking for information about the stars of Stranger Things, then you might not have learned that Gaten Matarazzo (who plays Dustin) is a Broadway-caliber singer. In honor of Canada's WE Day festivities Matarazzo participated in a series of videos where he acts as a shuttle driver, taking WE Day performers to set via a golf cart. In one video Matarazzo picks up Kelly Clarkson and together the two duet on some vocal warmups and harmonize on "We Are Family" and "We Are the Champions." The best part is how surprised Clarkson is that this little boy driving the golf cart is a shockingly good singer.
"DID YOU KNOW: @GatenM123 of #StrangerThings has an awesome voice? See us, and more awesome people on the #WEday special, Nov. 25 at 7pm on CTV," Clarkson wrote on Instagram.
In case you're scratching your head on what WE Day is, it's an inspirational event that "brings together world-renowned speakers and performers with stands packed with young social innovators" to inspire "a new generation to shift the world from 'me' to 'we'— from a focus on the individual to the power of community."
Check out Matarazzo and Clarkson's super brief duet below:
https://www.youtube.com/watch?v=7BWSdGv-fV0?start=60&feature=oembed
He also drove Vanessa Hudgens around, though sadly, there is no singing in that one.
In case that short clip of Matarazzo singing wasn't enough for you, here's a video of him performing the ultra-depressing "Bring Him Home" from Les Misérables at what looks like a child's karaoke party in New Jersey.
https://www.youtube.com/watch?v=XvEmQK2GX3w?feature=oembed
What? You don't belt Broadway ballads in front of Spongebob balloons?