Gary Oldman's son penned a response to his father's alleged abuse, and says that he's innocent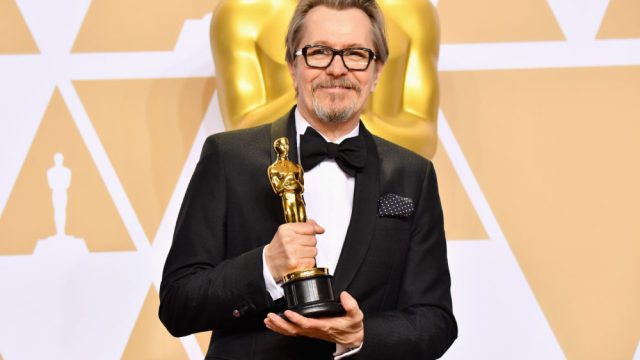 Even before Gary Oldman took home the Best Actor trophy at the 2018 Oscars, the internet was buzzing about whether the Darkest Hour star deserved the world's praise in light of past abuse allegations and offensive comments he's made. And when Gary Oldman ended up winning as predicted, the outrage only grew.
But Gulliver Oldman, Gary's son, is defending his dad, and in a just-released statement, the 20-year-old calls out media outlets and others for spreading what he says are lies about his family.
Back in 2001, Oldman's ex-wife and Gulliver's mom Donya Fiorentino told authorities that Oldman had choked her and beaten her with a phone in front of Gulliver and their other son, Charlie. Police investigated, but didn't file any charges. Recently, Fiorentino has been quoted in interviews repeating her allegations. Oldman called the accusation "replete with lies, innuendos and half-truths," and responded to a more recent interview with Fiorentino in the Daily Mail saying his ex is a "fantastist."
Gulliver appears to stand by his dad:
"Being a full supporter of this movement [likely referring to #MeToo and #TimesUp], I can see how coming out with a statement to combat an allegation must look," the younger Oldman wrote. "However, I was there at the time of the 'incident,' so I'd like to make this radiantly clear: it didn't happen. Anyone who says it did is lying."
Gulliver claims that his mom "has been a sad and very troubled person most of her life" and says that he chose to stop speaking with her seven years ago. The fact that he and his brother were raised by their dad, who was granted full physical and legal custody of them, also stands as a reason Gulliver says to believe Oldman isn't the person he's being made out to be in the press.
"It's a shame to see that 'clickbait journalism' or judgement by headline, is designed to make one jump to conclusions without receiving the full range of fact that may be detailed in a piece, whether it be online or otherwise," Gulliver says in his statement.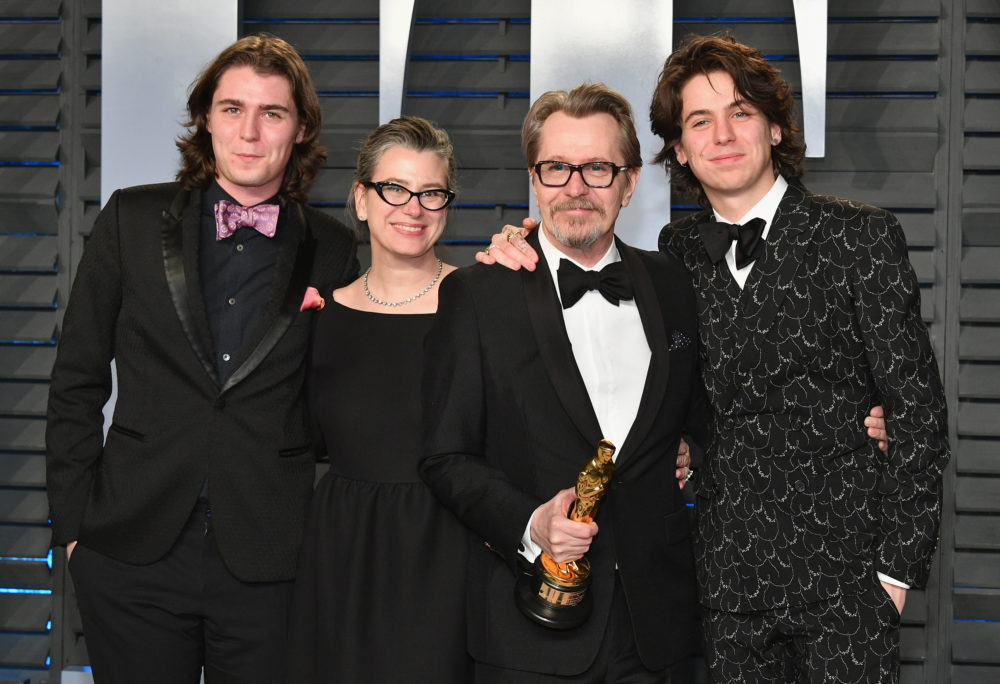 While believing women — who, as a whole, have been silenced for too long — will always be vital, Gulliver raises some valid points about the importance of knowing the whole story before rushing to judgment as we have more and more of these complex conversations. What he doesn't mention, though, is his dad's history of questionable comments, which many online have cited in their complaints about Oldman's recent accolades. Oldman, for instance, used misogynistic and racially-charged language in a 2014 interview with Playboy in which he also appeared to defend Mel Gibson's drunken, anti-semitic tirade.
And considering Hollywood's current climate of finally holding powerful men accountable for their actions, the backlash to Gary Oldman's win, like Affleck's, makes sense. (Instead of Affleck presenting this year's Best Actress award, as is tradition, Jennifer Lawrence and Jodie Foster gave Frances McDormand her trophy). Of course, the impulse of a son to defend his father makes sense, too.
These issues can be sometimes tough to navigate, but we need to keep talking about them.