Gary Fisher showed up to Star Wars Celebration, and immediately pooped on the floor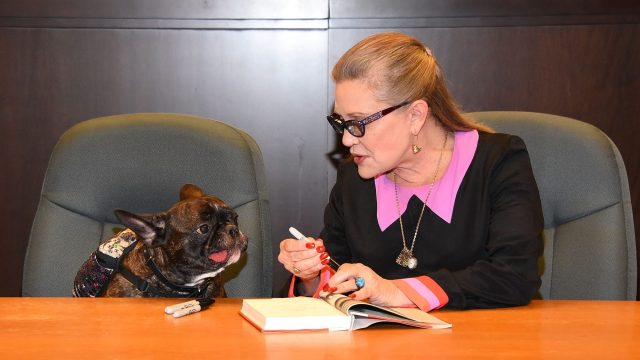 Making his first public appearance since Carrie Fisher's death back in December 2016, the icon's beloved dog, Gary Fisher, stopped by Star Wars Celebration in Orlando, Florida this past weekend. Just like all the other Star Wars celebrities out there, Gary was met with a warm welcome, and maybe he got a little too excited, or a little too overwhelmed, or he just really had to go, but Gary immediately pooped on the convention floor.
Well, you sure don't see Mark Hamill doing that type of thing for the fans.
Also, this is exactly what Carrie would have wanted — search your feelings, you know it to be true.
While many were hoping that Gary might bless us with his presence on one of the Star Wars panels during the weekend, the pooch very much kept to himself, maintaining a very low profile as he made his way around the convention floor.
However, he did sit with Daniel Logan (who played young Boba Fett in the prequels) while he was singing autographs — and Daniel was signing autographs. Gary was hanging out, just to be clear.
false
This story actually gets better, because according to those who shared their snaps, a picture with Gary only cost $10, and all the money went to CHARITY. (If anyone knows the exact charity, send it my way)
You know somewhere out there, Carrie is looking down on us, beaming. Or giving us the middle finger.
https://www.instagram.com/p/BS7lhOfDxu6
https://www.instagram.com/p/BS3_UMeg3k0
It appears Gary had a great time at Celebration, even though it thoroughly tired him out.
https://www.instagram.com/p/BS7MKWTgDHS
We're just happy to see Gary out and about and living his best life, even if it does include a few ? accidents. IT'S WHAT CARRIE WOULD HAVE WANTED.