Carrie Fisher's dog, Gary, is in the new "Star Wars" movie, but he's probably not the last Jedi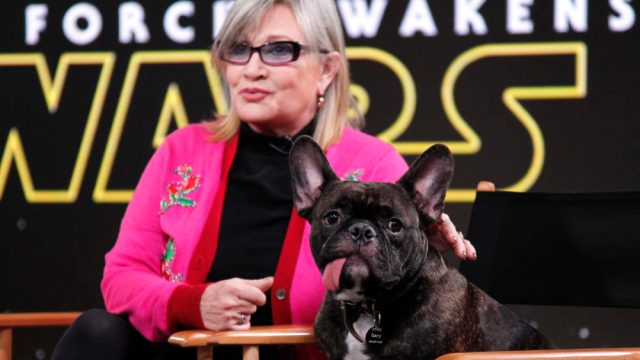 The most important dog in the world is Gary Fisher, the French Bulldog and best pal of the late, great Carrie Fisher. And hold on to your blasters: Gary Fisher is in Star Wars: The Last Jedi. He's probably not *the* last Jedi, but still.
An eagle-eyed writer at the new Star Wars fansite Fantha Tracks spotted a familiar face in one of the press photos, recognized the unmistakable, perfectly smushy face of the best dog in the galaxy, and reached out to writer-director Rian Johnson for confirmation on Twitter.
OMG. Space Gary! That little alien nugget has to be him, right? Yes! Johnson confirmed it: That is indeed a tribute to the droopy-tongued goofball fans know and love. false
Can we get #SpaceGary trending NOW, please?
Want more? Fans who miss Carrie's social media posts of Gary will enjoy her dog's official Instagram account.
Gary has a verified Instagram account, because of course he does. The page features a stream of sweet, cuddly, and often hilarious posts that document his day-to-day life. And the captions often describe how much he misses Carrie. Awwww. We're right there with you, Gar bear.
Again, while it has not been confirmed whether Gary is the titular last Jedi, he at least makes a cameo as a Very Good Pet. Keep your eyes peeled!