Gary Fisher perked up when he saw his mom, Carrie, in "The Last Jedi," and pass the tissues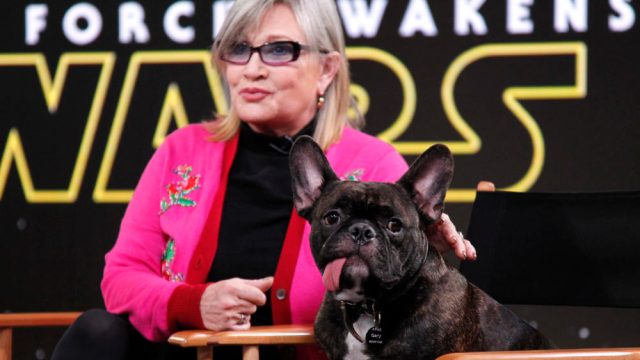 It's been nearly a year since the sudden passing of Carrie Fisher, but her presence loomed large at The Last Jedi's premiere last weekend.
Fisher's daughter Billie Lourd, who plays Lieutenant Connix in the most recent Star Wars films, paid homage to her mother's iconic character at the premiere by donning a strikingly similar braided bun to that of Leia's at the end of A New Hope. Meanwhile, The Last Jedi director Rian Johnson revealed that the film was dedicated to the late actress at the event.
But Fisher's Star Wars and real-life families aren't the only ones missing the hilarious actress.
Carrie Fisher's beloved French Bulldog Gary Fisher, who became a star in his own right after making numerous appearances with Carrie during her The Force Awakens press tour, is reportedly missing his mom. After Fisher's passing, Lourd temporarily took Gary Fisher in, but now, he's owned by Carrie's former assistant, Corby McCoin.
McCoin took Gary Fisher to a Thursday showing of The Last Jedi — where the adorable dog was dressed in costume — and according to reporter Veronica Miracle, he recognized his late mom on-screen.
"The late Carrie Fisher's dog Gary just watched 'The Last Jedi'!" Miracle tweeted. "He sat on Fisher's former assistant's lap during the film. She said his ears perked up every time she was on-screen.
Gary and Carrie's close bond was heavily documented during the press tour for The Force Awakens.
And it seems Gary became such a staple within the Star Wars family that he even makes a blink-and-you'll-miss-it cameo in the movie. An eagle-eyed Twitter user named Clair Henry spotted the French Bulldog in a still published in Empire. When asked about it on Twitter, Johnson revealed that a version of the beloved pup does appear in the film.
While adapting to life without Carrie can't be easy for Gary Fisher, we're so glad to see his new owner keeping her memory alive for the pup.