"Game of Thrones'" Lena Headey had this important thing to say about the treatment of refugees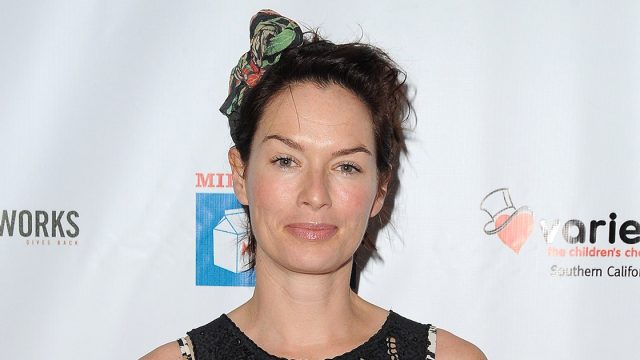 While her character on Game of Thrones might cause death and destruction, Lena Headey has spoken up in support of refugees, noting the "horrendous and dehumanising" way in which people are treated after being forced to flee their homes.
We know that Lena Headey is an actor who speaks a lot of sense. Last year, following *that* scene from Game of Thrones where her character Cersei had to walk through the city naked, Lena defended her decision to use a body double, stating that it didn't take away from her dedication to being an actor, and earlier this year she took to Twitter to share her experiences with anxiety.
Now, while promoting her new movie The Flood, Lena Headey has shared her thoughts on the rising refugee crisis, and it's super important.
Lena plays an immigration officer in her new movie The Flood, which sees the actor take on the role of British immigration officer Wendy who is tasked with looking after Eritrean refugee Haile, who has escaped a war-torn African country and found herself in a Calais refugee camp and later in England.
It was taking on this role, Headey said, that opened her eyes wider to the experiences of refugees and the struggles that they face.
"I understand there are safety issues, and screenings for security, but it could be so much more human and compassionate," she said, noting that there needs to be a shift in attitudes to how refugees are perceived. "It's horrendous that after the journeys that these refugees go through, they are then treated immediately with suspicion and fear." 
Following the on going struggles in Syria, it's been reported by the United Nations High Commissioner for Refugees that an estimated 4.8 million people have fled their homes seeking safety in other countries.
Continuing, Headey made the important point that these individuals are people.
"I get it, this is a crisis with so many levels, but we have also lost sight of the fact it's not a 'problem', it's people, it's other human beings," she argued. "And we're dehumanising them.
Headey went on to discuss how, while researching the role, she discovered that many people were just keen to explain that they weren't terrorists, and she also discovered that there was a unnerving discontent among people living in refugee camps that could boil over.
"If we don't have a shift where we recognise these people for who they were before they were forced to leave their countries – people who are educated with family values, who had careers and homes – then we are going to be in trouble, we really are," she explained. "We are going to grow an absolute fury, you could feel it."
The actor noted that she hoped The Flood would open up discussions again about refugees, and help shift attitudes towards those people in need.
"This film is about the horrors of what is happening every day to the refugees coming to Europe, and how appalling and frightening it is to sit by while it goes on," she said. "I hope it will provoke similar kinds of conversations. It's amazing how quickly it seems to have died down even though it's as a bad as it ever was."
Thank you Lena for using your platform to speak up on an issue that is affecting millions and millions of people all over the world. We're sure that The Flood, when it's released, will be a difficult but necessary watch.
Meanwhile, if you want to know how you can help with the refugee crisis, the New York Times has posted two guides, one detailing how you can help with the crisis abroad and one detailing how you can help refugees in the United States [H/T The Guardian]