The "Game of Thrones" stars are obsessed with this one burrito bar in Belfast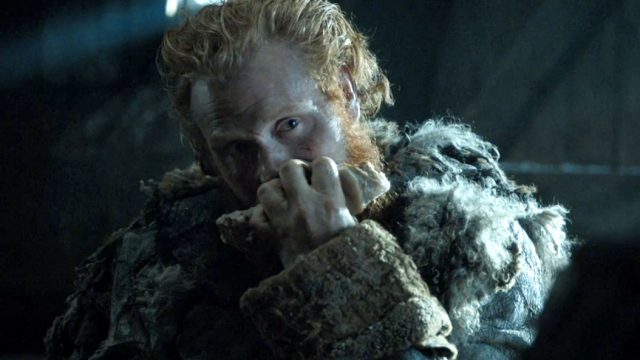 Now that Game of Thrones is officially filming Season 7, many of the Thrones stars are finding their way back to home base – aka Belfast. And what are they MOST excited about? No, not Jon Snow taking over the Seven Kingdoms with Sansa/Dany/Whoever by his side…but BURRITOS. Because, duh, burritos are the true gift from the Old Gods and the New.
And we're talking specifically about the burritos from Belfast's very own "Mexican Burrito Bar" – Boojum.
Check out Aidan Gillen, who plays Lord Baelish, aka "Littlefinger", snapping a quick photo with a fan before getting his hands on a ~little~ nosh.
He's probably thinking, "If guac is extra, it's okay because I'm the (former) master of coin."
John Bradley-West, who plays the lovable Samwell Tarly, is clearly a fan, too.
No doubt Sam would happily have burritos over cold mutton stew (courtesy of the Night's Watch).
The man with (probably) the biggest appetite in Westeros, Hafþór Júlíus Björnsson who plays The Mountain, looks ready to slay a burrito.
https://www.instagram.com/p/BJvXxsJDdVc
Zombies love Mexican food too…probably?
And it looks like the thing Maisie Williams, aka Arya "I will bake you into a pie" Stark, is MOST looking forward to upon returning to Belfast is in fact Boojum.
She has a LITERAL COUNTDOWN GOING.
So what's the deal with Boojum?!
Obviously, it must be pretty fucking amazing to lure all these Game of Thrones stars in – is Boojum like a super-duper-awesome Chipotle? And if so, IS GUAC STILL EXTRA?!
I mean, this IS a pretty long ass line.
https://www.instagram.com/p/BIlBvczDdEe
And the layout seems pretty Chipotle-esque, tbh.
And they have some fancy AF buildings.
https://www.instagram.com/p/BET9lyDRt2O
There are currently three locations in Belfast (and a few more in Dublin and Galway).
Plus, the burritos do look PRETTY DAMN GOOD.
And huge just the way we like 'em.
OKAY, FINE. We're totally sold. Book us on a flight to Belfast so we can cram some Boojum in our face.
And MAYBE catch a glimpse of one of our favorite Game of Thrones stars, too.