Because four aren't enough, HBO is thinking about a *fifth* "Game of Thrones" spinoff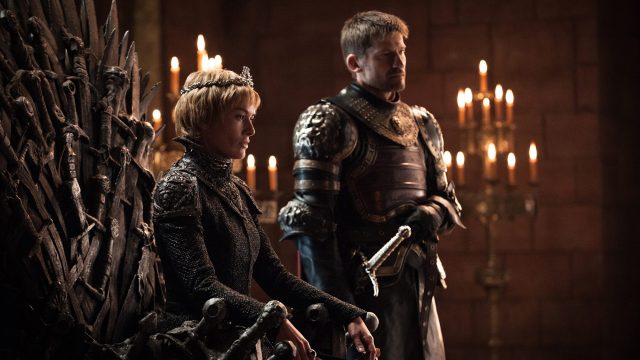 With only fifteen episodes of our beloved Game of Thrones left, it's time to start saying a slow, tearful goodbye to the HBO hit series. Well, sort of. While Game of Thrones might be ending next year, it was announced last week that HBO had hired four writers to explore other stories within the vast universe of George R.R. Martin's A Song of Ice and Fire series.
Now, Martin has revealed that there are actually FIVE different Game of Thrones spinoffs being workshopped — but don't call them spinoffs. Martin revealed on his Livejournal blog that he's been working with HBO for months to develop a replacement show and considers the potential replacements to be "extensions" of the series as opposed "spinoffs," as the new stories will be wholly different from Game of Thrones. After all — as Martin jokes, this isn't Joey.
Martin revealed that during his latest visit to California last week, a fifth writer was added to work on another idea.
He wrote, "We had four scripts in development when I arrived in LA last week, but by the time I left we had five. We have added a fifth writer to the original four." He added that since HBO was the one to announce the involvement of the original four writers, Max Borenstein, Jane Goldman, Brian Helgeland, and Carly Wray, he'd leave it to them to announce the fifth but wrote that the fifth writer is a very talented man and he loves Westeros. We're seriously so excited to see what they come up with. In his post, Martin also cleared up a few rumors surrounding his involvement with the extensions, writing that despite the rumors that he's only been working with two of the writers, he's actually been working with all four. [quote]"It was stated in some of the reports that I am working with two of the four writers," he writes. "That's not quite right. I've actually been working with all four of the writers. Every one of the four has visited me here in Santa Fe, some of them more than once, and we've spent days together discussing their ideas, the history of Westeros and the world beyond, and sundry details found only in The World of Ice & Fire and The Lands of Ice & Fire," Martin wrote. "They are all amazing talents, and I am excited to be working with them. In between visits, I've been in touch with them by phone, text, and email, and I expect there will be a lot more back-and-forth as we move forward."
Martin also clarified that HBO doesn't have immediate plans to air every successor series. He wrote that HBO is just looking for pilot scripts and believes it's unlikely that all four or five scripts will make it to series. He also stated that none of the expansions will feature Robert's Rebellion because when Martin *finally* finishes A Song of Ice and Fire, there will be no new revelations or plot twists to be made. In short, Martin is saying this to everyone speculating…
So don't worry Veep and Silicon Valley fans, HBO won't be jumping ship for all things ASOIF. We're really excited to see what stories the writers are following. However, we are going to have a hard time saying goodbye to our first love Game of Thrones.