According to Ser Davos, "Game of Thrones" probably won't come back until 2019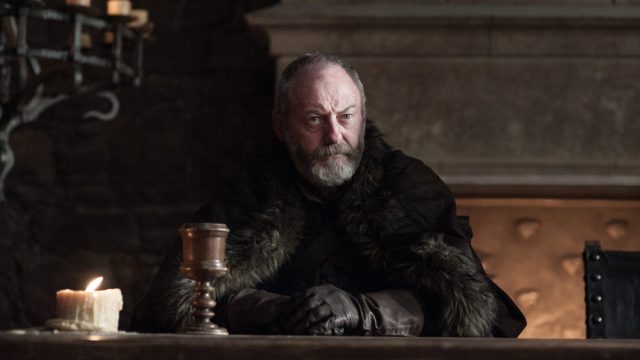 It's time to bundle up for winter because we're going to be waiting a pretty long time for the final season of Game of Thrones.
Production for the final season of HBO's hit series has remained more tightly under wraps than ever before, but according to a hint dropped by cast member Liam Cunningham, it's been all but confirmed that Game of Thrones won't return until 2019.
Our beloved Ser Davos recently spoke with TV Guide, explaining that the final season of Game of Thrones is set to begin filming in just a few days.
And the filming will continue through summer.
"[The episodes are] definitely going to be bigger and what I hear is longer, Cunningham explained. "We're filming right up until the summer. When you think about it, up until last season we'd have six months to do 10 episodes, so we're [doing] way more than that for six episodes. So that obviously will translate into longer episodes.
As most avid Game of Thrones fans know, there's generally at least a six-month gap between the end of filming and the season premiere.
If that's the case once again, and the final season doesn't finish filming until summer, then the final season couldn't air until at least early 2019.
Cunningham's admission echoes that of Game of Thrones sound designer Paula Fairfield, who admitted over the summer at Con of Thrones that showrunners David Benioff and D.B. Weiss were thinking about making each of the six final episodes of the series feature length.
And HBO programming president Casey Bloys later told The Hollywood Reporter that two-hour episodes seemed "excessive" but appeared open to the possibility, adding, "It's a great show, so who knows?"
Extra-long episodes aren't the only explanation for the longer shooting schedule.
According to Iain Glen, who plays Ser Jorah Mormont, the prolonged schedule is also due to the fact that after many, many seasons apart, the majority of the surviving characters are together — at last, might we add — so there won't be multiple units shooting at the same time.
"We're all starting to occupy the same territory, we're all starting to be in the same storylines and so they can't [have two filming units] anymore," Glen told an audience at Stockholm Comic-Con. "I think this last season will take much longer to shoot because they can only use one unit because we're all in the same sort of scenes.
Whatever the reasons, it's clear that the final season *will* film until summer 2018. As for the length of the episodes, we're hoping David and Dan repeat their Season 7 model and give us at least a few extra long episodes.
Cunningham also added that the cast will meet on Sunday and Monday for read-throughs of the final six episodes of the series, followed by rehearsal and filming. Well then, we're praying to the old gods and the new that this means we'll get copious amounts of cast selfies over the course of the next few weeks.