You'll have to be patient for the premiere of the Game of Thrones prequel House of Dragons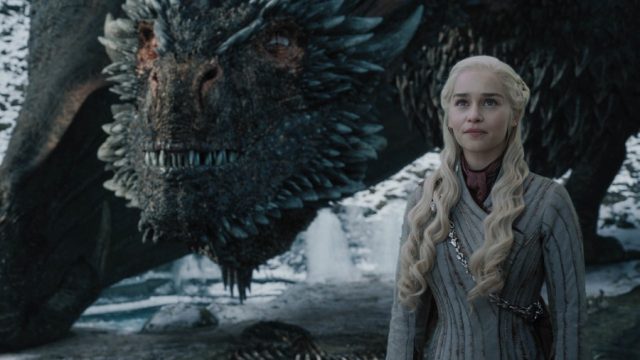 Update, January 17th, 11:35 a.m. ET: We get it. It probably takes a long time to film epic battles, CGI dragons into everything, and create a show that will live up to high expectations of Game of Thrones fans. But we have to say we're a little bummed to hear that House of Dragons, the one surviving Game of Thrones prequel, won't be premiering until 2022.
In an interview with Deadline, HBO President of Programming Casey Bloys was hesitant to confirm any official House of Dragons premiere date, but he wanted to set some expectations. About the timeline, he said, "My guess is sometime in 2022," though Deadline notes that Bloys stressed it was too early to be very specific.
"They are starting writing," Bloys said of the prequel. What will George R.R. Martin finish first? These scripts or Winds of Winter? Only time will tell.
Update, October 30th, 9:30 a.m. EDT: We have Game of Thrones news whiplash. Almost immediately after the total bummer news that the Naomi Watts spinoff show has been scrapped, HBO announced that a *different* Game of Thrones prequel has been greenlit. All we can really say about this news is, dracarys.
Entertainment Weekly reports that House of the Dragons, a Targaryen-centric prequel is officially a go.
The series will be based on George R.R. Martin's Fire & Blood, which chronicles Targaryen history. And, OMG, is the tagline and poster are getting us hyped.
https://twitter.com/udfredirect/status/1189464554692067328
"Fire Will Reign," the poster reads. Yaaas! Miguel Sapochnik will direct the pilot and act as co-showrunner. You may recognize the name as the director behind epic Game of Thrones episodes like "Hardhome," "Battle of the Bastards," and "The Long Night." (Can we get some better lighting this time around, though, Miguel?)
We think this Twitter user speaks for all of us about this spinoff news:
The show has a full series order for 10 episodes, and it's rumored to be part of HBO Max's 2020 launch.
Original post, September 13th: Count your blessings, Game of Thrones fans. According to Entertainment Weekly, HBO is on the cusp of ordering yet another prequel to the epic eight-season series. And this prequel will be all about the Mad Queen's lineage: House Targaryen. Release the dragons.
This prequel is not to be confused with the other prequel HBO already ordered from showrunner Jane Goldman, which stars Naomi Watts and shot its pilot this summer. Goldman's prequel is set thousands of years before the Game of Thrones we know and love took place, when Westeros was just about to enter The Long Night war against the White Walkers. As Deadline reports, it's still unclear whether that prequel will get picked up by the network.
Rather, this Targaryen-based prequel is set mere years before the Targaryen civil war—the Dance of Dragons—which took place about 300 years before Robert Baratheon made that fated visit to Winterfell to ask Ned Stark to be his hand.
George R. R. Martin, author of the series that started it all, is on board to executive produce this latest Game of Thrones prequel, Deadline reports.
In his latest Westeros-set novel, Fire & Blood, which came out earlier this year, Martin chronicles 150 years' worth of House Targaryen history, painting a picture of what the world looked like when the Dragons were in control.
It's believed that this prequel will be pulling most of its inspiration from Fire & Blood, as Martin teased in May.
"We have had five different Game of Thrones successor shows in development at HBO, and three of them are still moving forward nicely," he wrote via his blog (one of those three being the Goodman-run pilot). "Two other shows remain in the script stage, but are edging closer. What are they about? I cannot say. But maybe some of you should pick up a copy of Fire & Blood and come up with your own theories."
The various scripts Martin talks about in the post were commissioned by HBO back in 2017, when the end of Game of Thrones was in sight. Knowing that it wanted to keep Thrones viewers coming back, the network hired five screenwriters to pitch prequel ideas.
Right now, the Goodman-led prequel and the Fire & Blood-based prequel, written by both Martin and Colony co-creator and executive producer Ryan Condal, seem to be the front-runners.
Although HBO has never ordered a prequel or sequel to any of its original series before, it's obvious why the network wants to keep riding the Game of Thrones success. The final season alone racked up an outstanding 32 Emmy nominations this year. However, prequels and sequels are tricky beasts to tame, and sadly, if not done correctly, a Thrones prequel might end up looking like an obvious cash grab rather than a new masterpiece.
Hopefully, with Martin at the helm of this latest pilot, the integrity that made the first few seasons of Thrones amazing will stay intact and the new show will remain true to the Westeros we know and love.