We need to talk about the one line in "Game of Thrones" that left Littlefinger SHOOK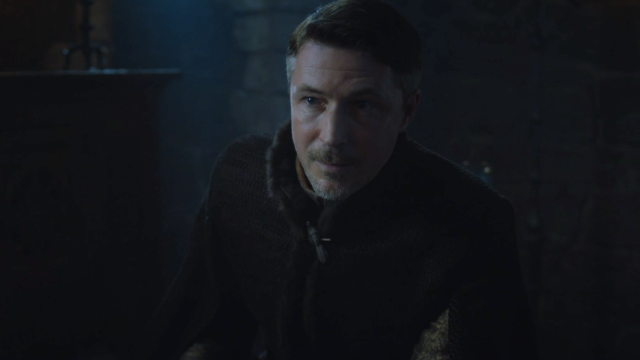 Warning, the following post contains spoilers for the most recent episode of Game of Thrones "The Spoils of War." Venture forward with caution.
For a while now, we've been speculating that Littlefinger's days are numbered, and during "The Spoils of War", with four short words, Bran all but confirms this. For seven seasons, Littlefinger has been masterminding and manipulating everyone in his wake and then rising to power at their downfall. Being a relatively unimportant person, he's largely gotten away with all his crimes, until now.
During "The Spoils of War," Bran and Littlefinger meet on-screen for the very first time as Littlefinger gifts Bran the very Valyrian steel dagger that was used during the attempt to kill the young Stark back in Season 1.
After giving Bran a load of bullshit in the form of an offering of friendship, Bran innocently asks Littlefinger who the dagger belonged to.
Attempting his usual pattern of deflecting with a long, cryptic speech, Littlefinger begins giving Bran a roundabout answer about how important the dagger is. He says, "No. That very question was what started the War of the Five Kings. In a way, that dagger made you what you are today. Forced from your home, driven out to the wilds beyond the Wall. I imagine you've seen things most men wouldn't believe. To go through all of that and make your way home again only to find such chaos in the world, I can only imagine—"
But then Bran interrupts with, "Chaos is a ladder."
Does that sound familiar?!
We were shook and frankly, so was Littlefinger.
Those were the very words Littlefinger said to Varys back in Season 3 when revealing his penchant for chaos as a means of gaining power. It was a striking and ominous conversation — intercut with Joffrey and his crossbow, having just killed Ros — and demonstrated just how ruthless Littlefinger was willing to be. Four seasons later, and Littlefinger has made good on his promise, switching sides whenever necessary, even getting his hands dirty when need be.
Obviously Bran wasn't present for this conversation but in his new, vacant Three-Eyed Raven voice, he made it clear that he KNOWS EVERYTHING. Littlefinger has been a cunning and slippery snake for seven seasons but even he's no match for an all-knowing Three-Eyed Raven.
Especially considering Bran later gifted the Valyrian dagger to his newly arrived assassin sister, Arya, we have a feeling that he will eventually fill his sisters in on Littlefinger's many hands in their family's undoing, and that conversation is hopefully well on its way.
Littlefinger has been full of bullshit from day one, but he's honestly been one of the most underrated players in the game. Triggering events from the shadows, he's probably been one of the most compelling characters to watch. While we'll be sad to see him go — when he *finally* dies — we have a feeling the big reveal and his death will be one of the most memorable moments in GoT history. And knowing Littlefinger, we're sure he'll put up a glorious fight.