There is some literally huge news about the dragons in "Game of Thrones"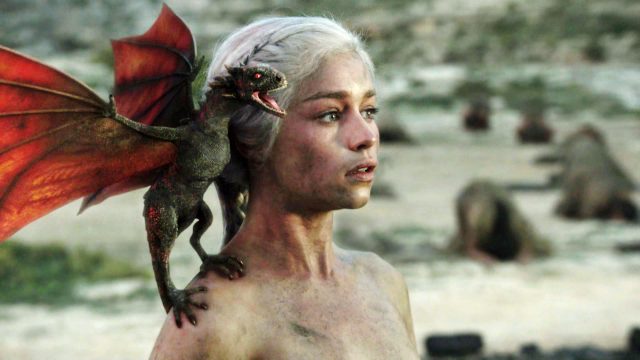 With spring around the corner, the TV nerds in us start to look forward to one show in particular: Game of Thrones. And the latest news we're excited about has to do with the dragons in Game of Thrones Season 7.
Yes, yes, we already know that we're going to have to wait an extra three months — Game of Thrones Season 7 isn't slated to premiere until July 16th this year. But at least Kit Harington told us that Season 7 will be worth the wait. Because honestly, if there's anyone we trust unconditionally, it's Jon Snow.
Until then, we're just going to feed you every little GoT teaser we can find on the internet.
Especially the news that has to do with Daenerys' three scaly, fire-breathing pets. And it's exciting stuff.
It turns out, the dragons in Game of Thrones are going to be extra big this season, and we cannot wait to see them kick some Westerosi butt.
According to Entertainment Weekly, one of GoT's four directors, Matt Shakman, says that in Season 7, Viserion, Rhaegal, and Drogon are literally going to be supersized.
"The dragons this year are the size of 747s," Matt tells EW.
Can you believe how fast our little babies have grown up?!
 And Drogon — who's always been a little bit of a mama's boy — is the biggest of them all. "His flame is 30-feet in diameter!" Matt told EW.
So, how this will impact the series? We should look out for dragon-breath attacks to play out somewhat differently than they have in the past, says EW. A 30-foot flame has some serious clearing power.
Eek! Let the games begin!