'Game of Thrones' Icon Dame Diana Rigg Passed Away at Age 82
The Queen of Thorns will be greatly missed.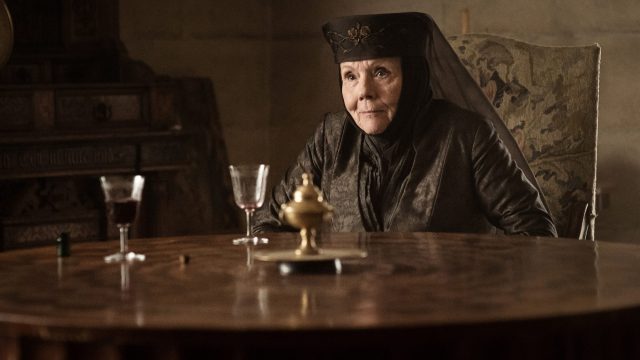 Dame Diana Rigg, perhaps best known recently for portraying Olenna Tyrell on HBO's Game of Thrones, passed away earlier today, September 10th. She was 82 years old. According to Rigg's agent, who released a statement to BBC, Rigg "died peacefully early this morning. She was at home with her family who have asked for privacy at this difficult time."
Rigg was diagnosed with cancer in March "and spent her last months joyfully reflecting on her extraordinary life, full of love, laughter and a deep pride in her profession," Rigg's daughter Rachael Stirling told BBC. "I will miss her beyond words."
Rigg amassed an extensive acting resume over her nearly 60-year-long career. She made a name for herself playing Emma Peel in the 1960s-era television show The Avengers and then became the only Bond girl (Tracy) to become Mrs. Bond in 1969's On Her Majesty's Secret Service.
She then hosted Masterpiece Mystery from 1989 through 2004, appeared on Dr. Who in 2013, and then picked up the role of the sassy yet wise Olenna Tyrell later that year.
Rigg played the Queen of Thorns on Game of Thrones until 2017, when she had perhaps the most iconic goodbye scene in Season 7, Episode 3. (Tell Cersei, I want her to know it was me.)
"I love playing bad [characters]," Rigg told the BBC in 2019. "They are so much more interesting than good. There are some actors who don't like to play bad; they like to be liked. I love to be disliked. Olenna had the best lines."
Throughout her career, Rigg won the Best Actress BAFTA TV Award in 1990 for her work on Mother Love, and, in 2000, she won a BAFTA honor for her role in The Avengers. She was also nominated for nine Primetime Emmy Awards and won in 1997 for her role in Rebecca.
She was a Hollywood icon, and she will be missed.