Dany only says three words during the "Game of Thrones" season premiere, is still the most powerful AF character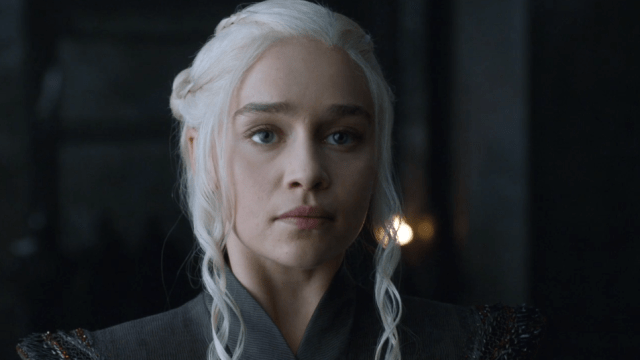 It's the most wonderful time of year again. Game of Thrones is back! There are spoilers ahead for the Season 7 premiere, "Dragonstone," so if you haven't watched it yet, what are you doing here? Shoo.
The race is most definitely on to see who is ultimately going to claim the Iron Throne, and we're down to three very powerful contenders: Cersei is holding strong in King's Landing, though she knows her allies are fleeting and that is bad news for the Lannisters; Jon Snow, the most reluctant King ever, is in the North very much trying to figure out what kind of ruler he wants to be; and then there's Daenerys Targaryen, no introduction needed, because by the end of the season premiere it was clear that she is ready to get down to business, and take what's rightfully hers.
What's rightfully hers, via both blood and chutzpah, is the Iron Throne.
We have to wait the entire episode for Dany to finally pop up, but thankfully, the wait is most certainly worth it. She and her fleet — and her traveling companions, including Tyrion, Missandei, Grey Worm, and Varys — finally arrive at Dragonstone, the ancestral home of House Targaryen. Disembarking from the boat, Dany walks across the sand and reaches down to touch the ground. Yes, she's exactly where she's supposed to be.
The castle at Dragonstone is MASSIVE and flanked by so many stone dragons (and Dany's three dragons make themselves right at home). The castle has been abandoned for some time, so it's Dany's for the taking. She walks up the steps of the castle — TWO AT A TIME, mind you, and if that's not a power move, we're not sure what is — and immediately starts redecorating.
As in, pulls down the old banners so her castle can be outfitted with the proper sigil.
There's a giant table map inside — which is funny, because Cersei is busy making a giant map in King's Landing — and walking to the head of it Dany utters her only three words of the episode:
"Shall we begin?"
At this point, we're already 60 minutes into the premiere, but it sure feels like Dany is just kicking off the events of Season 7 now.
She's ready, we're ready, and we're so excited (and also terrified) for whatever she decides to do next. Thought we're not in the habit of picking Game of Thrones sides, we're rooting for you, Dany.