"Game of Thrones" once wanted to burn off Jon Snow's face and yeah, Kit Harington was pretty sad about it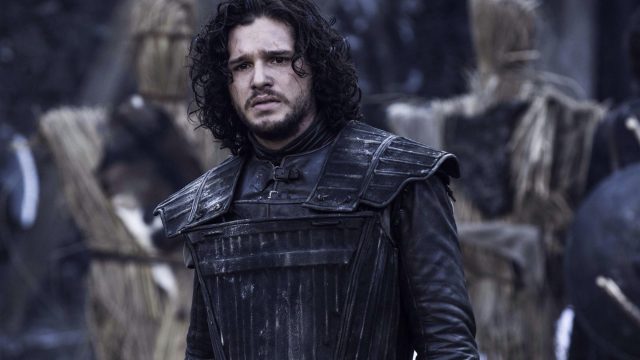 It's no secret that Jon Snow is one of the hottest guys on Game of Thrones. While we couldn't imagine our beloved *former* Lord Commander looking anything other than his brooding, charming self, Kit Harington was once pranked by creators David Benioff and D.B. Weiss into thinking his character was going to have his face melted off.
Appearing at SXSW, Benioff and Weiss, along with Stark sisters Maisie Williams (Arya) and Sophie Turner (Sansa), shared some ~amazing~ behind the scenes stories from the set of the HBO hit.
Apparently back in season one, when Kit (and Jon Snow) was just a naive young lad, he was given a script with a scene in which his upper lip and ~GASP~ hair get burned off after a fight with a white walker.
Benioff said, "We wrote a scene for Kit Harington where his face melted off. There's a scene in the first season where he fights with a White Walker and it catches on fire and he burns his hand. So we wrote the script so that his upper lip would be all messed up and burnt off and we burned off all his hair.
Benioff added that while Harington tried to take the news like a pro, they could tell that he was ~really~ disappointed. But honestly, if we had that hair, we'd be pretty bummed to lose it, too.
"He's got great hair and a great pout, so we described on the page exactly what his mangled face was going to look like forever, Benioff said, "He was a good sport, but you could tell he was really sad.
According to Weiss, the gullible Harington actually bought the story and began mentally preparing himself for a life without that glorious mane. Weiss added, "We had a whole story about how HBO thought he felt too Disney, too Harry Potter and they wanted to ugly him up. He bought it for a while until David started laughing."
This story is probably one of the funniest we've heard all day! We guess you really do know nothing, Kit Harington.