11 Ways to Celebrate Galentine's Day With Your Long-Distance BFFs
From baking over Zoom to Secret Cupid gift exchanges.
TBH, we look forward to Galentine's Day (the Leslie Knope-created holiday for celebrating your closest gal pals) more than Valentine's Day most years. There's just something about showering your best girlfriends with love that makes us feel all warm and fuzzy inside. Pre-pandemic, we celebrated Galentine's Day with boozy brunches, GNO's, and rom-com viewings (with plenty of chocolate in hand). But this year, most of those in-person activities are off the table.
However, just because you can't clink mimosa glasses at a trendy restaurant or share a bucket of popcorn with your BFF at a movie theater on February 13th, Galentine's Day 2021 isn't cancelled. There are still plenty of ways to show the Blair to your Serena or the Monica to your Rachel how much you love them. Below, find five ways to safely celebrate Galentine's Day with your long-distance gal-pals (even if, this year, "long-distance" means just across town).
1. Participate in a Secret Cupid gift exchange.
You've heard of Secret Santa, but what about Secret Cupid? This year, in lieu of hugging your BFFs in person, why not create a Galentine gift exchange? Call your closest girlfriends, use a website to draw names, and go the old-school route by sending each other gifts in the mail. Gift exchanges can be stressful for those strapped for cash, so set a reasonable price limit and remember it's the thought that counts. See Galentine's Day gift ideas here and a few of our favorite picks below.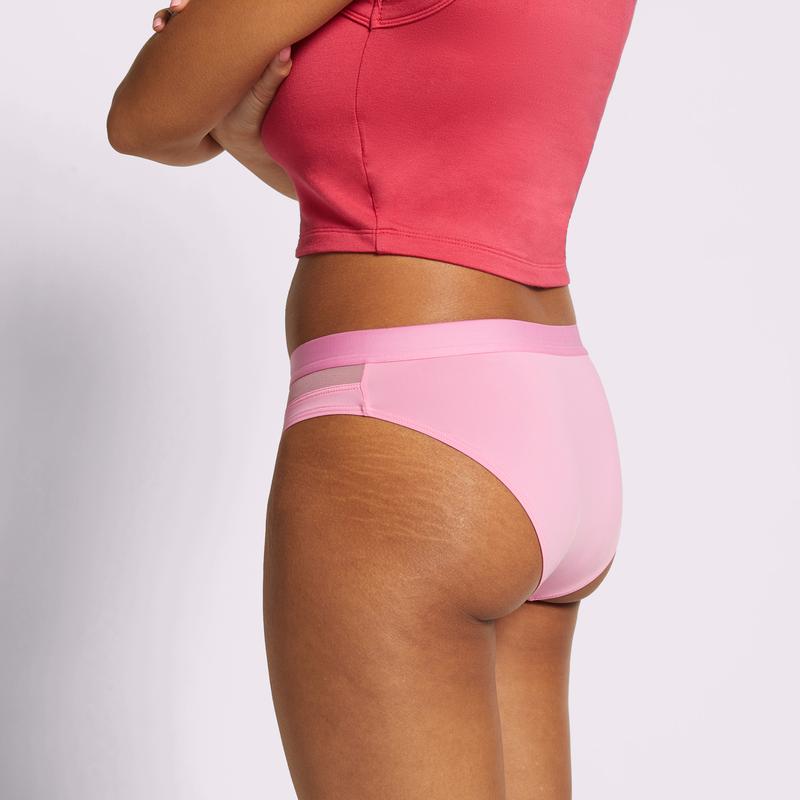 Parade Underwear Brief
$9
Shop it
Parade
Help your BFF feel sexy in a fresh new pair of undies. These cheeky briefs from Parade are sustainable and size inclusive.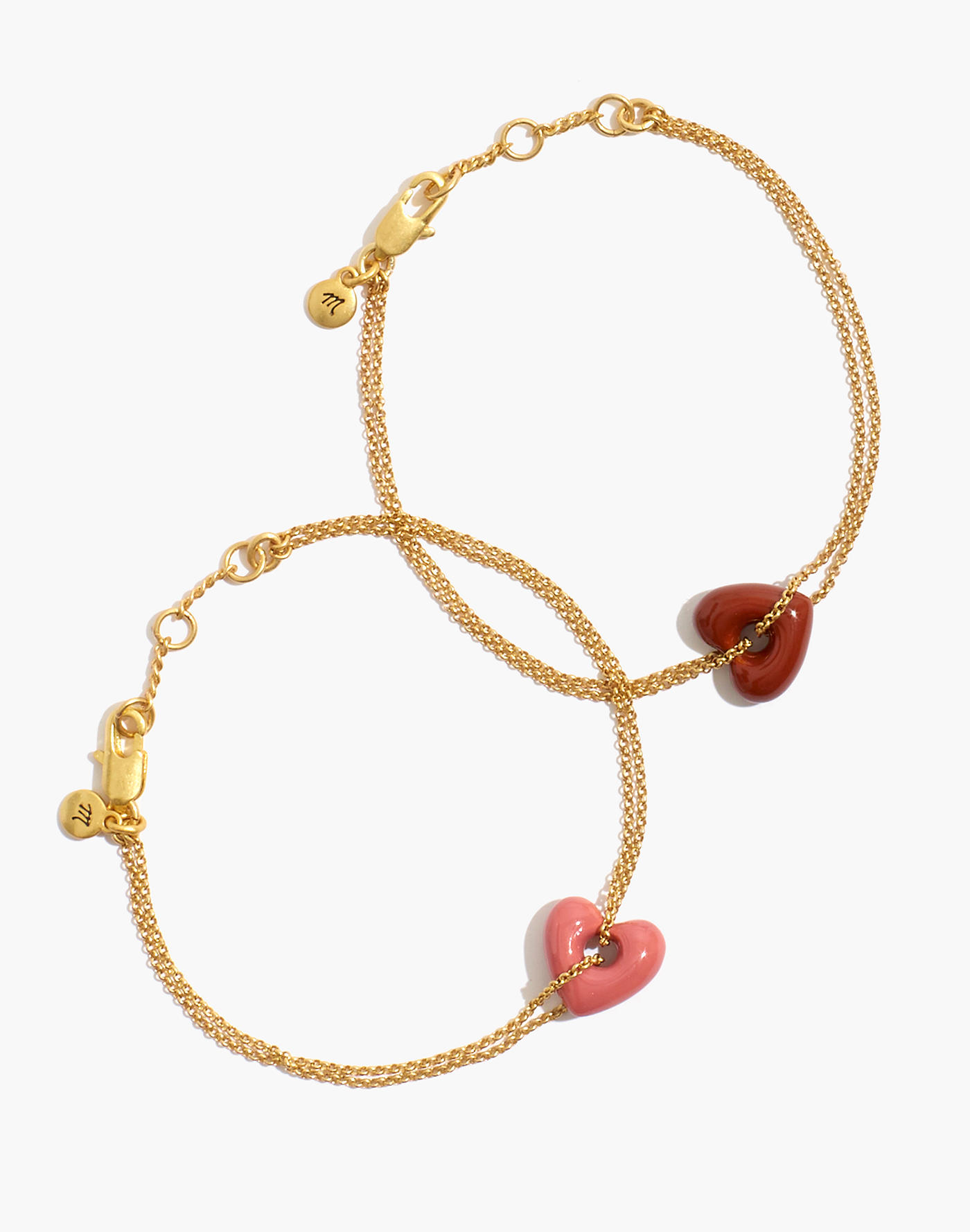 Enamel Heart Chain Friendship Bracelet Set
$26
Shop it
Madewell
Friendship bracelets can be cheesy, but this gold set from Madewell is simple and the sentiment is sweet. Keep one bracelet for yourself and gift the other to your BFF; wearing them will keep the other close even when you're far apart.
2. Play guess the chocolate.
The main reason why we love Valentine's Day and Galentine's Day? One word: chocolate. Aside from Halloween, it's the one day a year when we can stuff ourselves full of chocolate without a care in the world. Well, besides every time we get our period. (Okay, maybe we eat lots of chocolate every day—no shame.)
As a fun party game, have each of your girlfriends buy the same variety box of chocolates (or have one person send each participant the same box). Next, hop on Zoom and channel your inner Forrest Gump: Eat the box of chocolate one by one, taking turns on who guesses the flavor. To take things to a competitive level, keep score and offer a prize to the winner, sent via mail. Easy virtual gifts are gift cards to their favorite retailer or restaurant.
3. Bake or cook over Zoom.
If food is a key part of your friendship (isn't it always?), maintain that element on Galentine's Day—even over Zoom. Prop your laptop in your kitchen and bake something together: brownies, cookies, cake—any goodie your heart desires. Or go the extra mile and cook the same meal together over video. Sitting down to eat and share quality conversation will be well worth the effort of cooking a whole meal. Plus, we deserve to treat ourselves on Galentine's Day, so prepare something extravagant that you wouldn't make alone.
4. Order each other takeout.
If you're not into cooking or just feel like relaxing for the night, assign each friend a name and order delivery takeout for each other. Opt for a meal you know your friend will love but might not typically indulge in ordering for themselves. (This could mean surf & turf or fast food—you know your friends the best.) Log onto Zoom before the food arrives so you can see their surprised reaction when the meal is delivered. Then, enjoy eating dinner and chatting the night away together.
5. Watch a rom-com on Netflix Party.
Rom-coms are best viewed with girlfriends, in our humble opinion. You can laugh, cry, and gush over Ryan Gosling's abs freely. Use the Netflix Party Chrome extension to stream the rom-com of your choice simultaneously with friends, and pull up Zoom if you want to see their faces and be able to chat while you watch, too. (Or don't, if one friend doesn't stop talking throughout the whole movie—we all have one.)
6. Have a virtual spa night.
In the true spirit of #treatyoself, opt for a virtual spa night. Whip out your most luxurious face masks, hair treatments, or lotions and go to town pampering yourself with your friends over Zoom. Show up in a robe and slippers, pour yourself a glass of Champagne, and relax.
7. Play a funny game.
Is there anything better than laughing with your girlfriends? It's truly good for the soul, and what better way to get that laughter started than by playing a (semi-naughty) party game? For the Girls is the gal-pal version of the popular adult card game What Do You Meme? The 500-card deck includes "truth or dare" cards, "most likely to" cards, "if you've ever" cards, and more. You'll be cracking up all night long.
For the Girls
$24.99
Shop it
Amazon
7. Get festive with your outfit.
Dress for the occasion! Whether your girl gang likes to get all dolled up—heels, makeup, and all—or keep it casual in slippers and PJs, think about your outfit prior to the celebration. Whip out your favorite red sweater or heart-print pajamas and you'll instantly feel festive.
8. Get creative with cocktails.
If you're in a boozy mood, pick a fun cocktail recipe for your girl gang to try. Buy the ingredients beforehand and whip up the drinks together on Zoom. These red and pink drinks would definitely be Leslie Knope approved.
9. Drink red or pink wine.
You can't go wrong with wine. Keep it simple and drink rosé or red wine to represent the official Galentine's colors. You can even set up a mini wine tasting for yourself if you're feeling sophisticated.
10. Play BFF trivia.
Test your knowledge of your BFFs by playing a game of friendship-themed trivia. Have each friend write down ten questions about themselves and see who can guess the most correctly.
11. Throw a Bridgerton-themed virtual party.
Finally, if you're feeling super ambitious, create a full-on Bridgerton-themed virtual Galentine's Day party. Everyone's latest guilty pleasure is—ahem—horny AF, so lean into this sexiness before Valentine's Day. Slip into your fanciest dress, perhaps throw on a tiara, drink tea (or Champagne), and talk like you live in the 1800's all night long, if you please. Either dish on your favorite scenes or watch an episode together (we suggest Episode 6—you're welcome).