These galaxy donuts look out-of-this-world delicious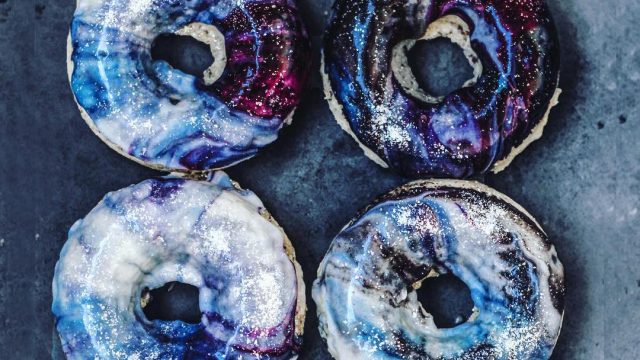 If there's one thing we will never get tired of, it's food trends. Thus far, the rainbow food trend seems to have reigned supreme in 2016, bringing us gifts like rainbow bagels, rainbow mac and cheese, and even rainbow macarons. Yet, it seems that another food trend is taking the cake (pun intended): galaxy foods. And, of course, the perfect example involves donuts.
While we love space-related jewelry and planetary lollipops, we have to admit that galaxy donuts have stolen our outer space-loving hearts. These intergalactic treats first showed up on our radar when vegan food creator Sam Melbourne brought them to life. And yes, they are indeed vegan (and don't seem too difficult to make!).
Close-up magic:
Bo's Kitchen even took the time to recreate Sam's recipe and came up with a different, but equally eye-catching, version:
Essentially, Melbourne was able to create the galactic frosting using vegan natural food dye. She then produced a marbled effect by swirling the different colors with a spoon. To top it all off, the baker dusted her donuts with vegan edible glitter. The results are so pretty that we almost don't want to eat them… almost.
Not only does this sound like it would be a delicious weekend project – we have a feeling that it would also serve as a perfectly Instagrammable moment. Because who doesn't love donuts and space?