This space-inspired eyeshadow palette is so cool it's out of this world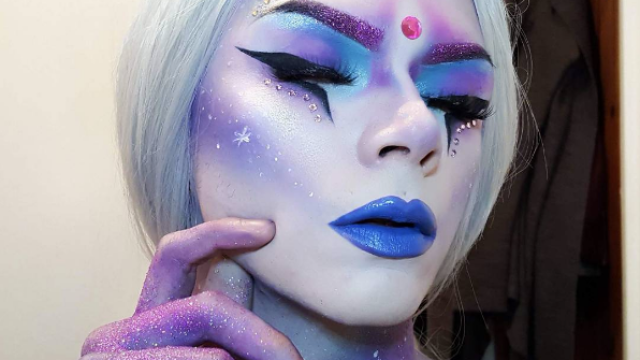 We may not be able to travel across the universe yet, but we can get close with BH Cosmetics Galaxy Chic Eyeshadow Palette. With this new makeup essential, we can see the stars align as we get ever closer to looking out-of-this-world on fleek.
The new 18-color eye shadow palette inspired by outer space has taken over Instagram. The palette has 18 colors, and all of them have space-inspired names. The colors are named after planets — Neptune is an aqua blue, Mercury is a golden yellow, Venus is a warm orange — as well as other things you might find in a galaxy, like Comet (green), Meteor (pale blue), and Moon (silver).
From everyday neutrals to vibrant hues, the Galaxy Chic palette works perfectly for enhancing your normal eyeshadow routine or going full galactic princess for Halloween!
https://www.instagram.com/p/BLg2J–F4FM
Similar to Urban Decay's Moondust eyeshadow palette, this palette one shows off the true beauty of our universe, with colors inspired by the Milky Way and everything in it. It looks like a space rainbow made out of everything in the galaxy. (Yes, we'll make space rainbows a thing now.)
Just let that sink in. Asteroids can be a part of your beauty routine!
https://www.instagram.com/p/BK6CjhchJbe
Thankfully, you don't need a spacesuit to start your own intergalactic makeover. Beauty gurus of Instagram can show you the best ways to play with this palette. We're so astounded by these space princess looks.
https://www.instagram.com/p/BLzAK3klFGC
https://www.instagram.com/p/BMAr7QQjAp8
https://www.instagram.com/p/BLxmdrRDvNP
For those who haven't heard of BH Cosmetics, they have a host of inexpensive products and have collaborated with celebrities like Ashley Tisdale.
The kit is normally $20, but you can get it now on the BH Cosmetics website for $12. Just grab a brush and blast off!