Actual hero Gal Gadot visited a children's hospital in her Wonder Woman costume, and we could stare at this forever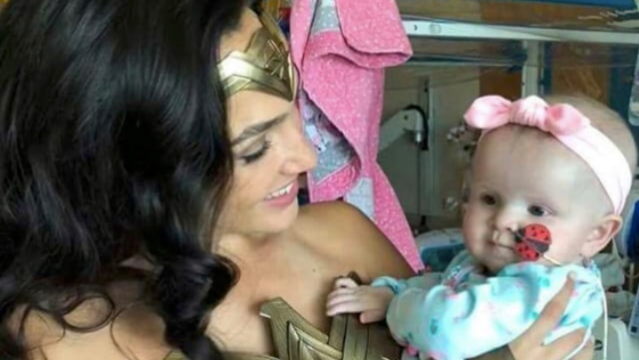 Gal Gadot stopped by Inova Children's Hospital in Falls Church, Virginia in her full Wonder Woman 2 costume to surprise the staff and patients, and our hearts are bursting. Gadot is currently filming Wonder Woman 1984 in the Washington D.C. area, and we love that she jetted over to the hospital during her time off.
"We are so honored that #WonderWoman stopped by to visit the kids and caregivers," the hospital tweeted after her visit.
[tempo-video id="5703372062001″ account="4607804089001″]
The staff tweeted about her July 7th appearance, including Dr. Lucas Collazo, who called her a "true Wonder Woman." Pediatric nephrologist Patty Seo-Mayer was upset to learn she missed Gadot's visit and tweeted, "Dear @GalGadot- Thank you SO MUCH for visiting my patients and colleagues at #InovaChildrensHospital! Next time, can you align your visit with my call schedule?" Tracy Connell, the hospital's PR rep, tweeted that Gadot's "genuine kindness and generosity off-camera makes her a true hero to these kids."
In the photos, Gadot is seen holding a little baby named Karalyne Sahady, who was diagnosed with Acute Myelogenous Leukemia in February 2018. Thanks to Gadot's visit, more people are being directed to Karalyne's GoFundMe page now. false false false
Wonder Woman 1984 takes place in, well, 1984 — about 70 years after the first film. Fan photos from the set highlight how the Wonder Woman crew transformed downtown D.C. into a thriving '80s city.
https://twitter.com/udfredirect/status/1015357988180250624
In the sequel, Kristen Wiig is playing the villain Cheetah and Chris Pine is back — which is crazy because he died in the first film…or did he?
We can't wait for the next installment of our fave superhero story, but let's give a shoutout to the IRL superheroes in our lives — like the doctors at the children's hospital who save lives on the daily.