Gal Gadot was pregnant while filming some of "Wonder Woman," proving the real wonder of women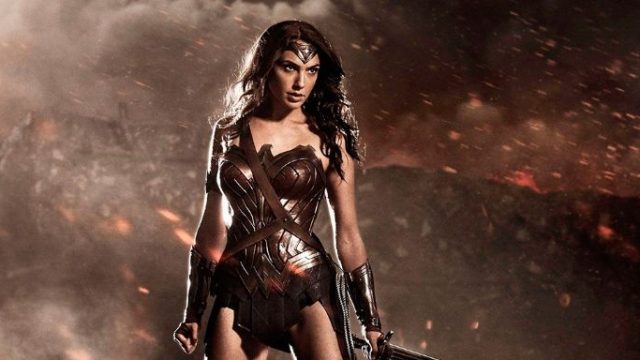 If you didn't think Wonder Woman was wonderful enough, the news that Gal Gadot was pregnant for Wonder Woman reshoots will certainly make you in awe of Princess Diana of Themyscira even more. Entertainment Weekly reported that when Gadot was five months pregnant with her second child, she had to return to the set of Wonder Woman in London to finish some reshoots for the movie. And knowing that will make her performance all the more fierce when Wonder Woman comes out on June 2nd.
Since the reshoots, Gadot has had her second daughter, Maya, with husband Yaron Versano. (Maya's big sister is 5-year-old Alma.) But in November, she was five months pregnant and rocking a baby bump. Since Wonder Woman isn't pregnant in the film, green fabric was used on her stomach so that the special effects team could edit it later.
"On close-up I looked very much like Wonder Woman," Gadot said. "On wide shots I looked very funny, like Wonder Woman pregnant with Kermit the Frog."
But beyond that awesome and silly imagery, what we're really impressed by is Gadot's dedication and fierceness to complete such a physical role while pregnant — especially since she had to reshoot some of the final action sequence. "She couldn't do a huge amount of physical activity but she was being aggressive," producer Chuck Roven said. "She still had to be fierce. That was special. I've been doing this for awhile but I've never that had that experience before."
Director Patty Jenkins also praised Gadot to Entertainment Weekly, saying:
"She's pregnant during part of the movie, in a suit out in a field in the freezing cold in others ... There are so many things we asked her to do: Now do it on one foot. Now shout while you're doing it. Now it's raining in the freezing cold and you've lost your voice, go. Everyday [sic] it was a hilarious gauntlet and she would do it."
"Now, at least, we will be able to tell her daughter Maya that she's in her mom's stomach right then, in the middle of that battle scene," Jenkins said.
https://www.youtube.com/watch?v=1Q8fG0TtVAY?feature=oembed
And we'll be looking out for those moments, too — where Gadot proved that pregnancy doesn't make you weak, only stronger and more full of wonder.