Gabrielle Union spilled the biggest secrets behind her ageless skin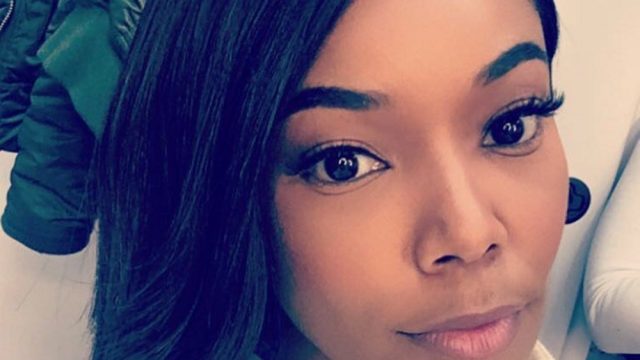 Amongst her many accolades and impressive accomplishments, Gabrielle Union is revered in the beauty world for her flawless skin. Seriously, folks, her velvety smooth complexion looks more like a porcelain doll than an actual human. And while healthy habits and good genes most definitely play a role on the starlet's stunning complexion, Gabrielle shared her best-kept skin care secrets.
And of course, Gabrielle's best skin care tip is also the simplest. And it's one habit ~you~ should start, ASAP!
"The biggest habit that changed my life when I was in my early 30s was when I started drinking a gallon of water a day," Union told Fashionista.
"It's the cheapest, easiest anti-aging best advice for overall health and wellness that I can give anyone. Even if you have to drink that gallon out of a house by the yard, get your water in."
Seems like a no-brainer, right? Well, considering an estimated 75 percent of Americans suffer chronic dehydration, it seems like we all could use a reminder to swap the soda for a tall glass of water — especially if our skin depends on it.
But wait, there's more. As if that weren't great advice already, Gabrielle also dished on a few other seemingly simple habits that have stopped the clock on her skin.
"Tequila and wine — saying no. Drawing clear boundaries will shave years off your face," she explained, adding on that self-care is also a ~huge~ must.
"We run ourselves ragged and we don't get sleep and we say yes to everything; otherwise, people make you feel like a bad person and you're selfish, but drawing clear boundaries and saying no a lot, you will literally reverse the aging process."
Of course, drinking copious amounts of H2O, steering clear of over boozing and avoiding unnecessary stress isn't the Being Mary Jane star's only approaches to fighting off fine lines and wrinkles.
"I love Julie Hewett oil. I started using this Mirigal oil underneath my makeup before work and that's been really amazing. It gives your skin this perfect canvas to put your makeup on."
As for injections, the actress confessed she's not a big fan, considering her aversion to needles (side note: we relate!).
"I go to Skin by Tatum. I swear by her. She doesn't actually shoot anything, but if there's a cream that she can rub in or peel or mask or whatever I'm gonna try it. I have a phobia of needles so I haven't quite gone there yet, but I'd like to withhold the right to change my mind and get over my deathly fear of needles and shoot things into my face, but I'm just not there yet."
And there you have it, beauties! When it comes to skin care, the actress keeps it simple!