Gabrielle Union revealed what happened when her dad first met Dwyane Wade, and our hearts are melting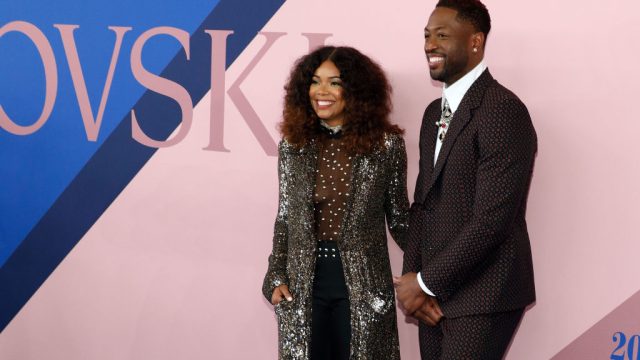 Everyone has a different kind of relationship with their father, but if we had to take a vote, we sort of think that Gabrielle Union and her dad could win an award for cutest father-daughter pair. This Father's Day, the star told the sweetest story about when her dad met her future husband, Dwyane Wade, and if it doesn't make you choke up a little bit, you're way tougher than we are.
She posted a picture of her dad on Instagram and wrote that "within minutes of meeting" Wade, her dad said to him, "What do you want with my daughter? She's got her own shit, owns her own home, has a career…So whatcha bringing to the table that she doesn't already have?"
Union's dad wasn't about to let Wade slide.
Wade, of course, was ready with a quick reply. "I just want to love her," he said. That took Mr. Union by surprise. "My dad stared at him dead in the face for a minute, then smiled. 'Well, what do you think about my Cornhuskers?' My pops… He always has my back, taught me about valuing hard work and independence and that you ARE your brothers/sister's keeper," Union wrote.
Aw-dorable, right? Wade sounds like a great dad, too. He has three children from other relationships, 10-year-old Zion, 3-year-old Xavier, and 15-year-old Zairee, and told For The Win recently that he tries to make sure his kids follow the "Three Rs" in life: responsibility, routine, and respect. He says that he gives each boy a list every day of chores they have to do — creating a routine and holding them accountable for their role in the family.
"If you teach them in the household what to do, they won't have a problem when they leave it," he said.
Union gave a shout out to Wade on Instagram for Father's Day, too. "I love that you don't claim to have all the answers. I love that you love learning and have passed that passion onto the boys. I love that you admit your mistakes and allow the same for your children. I love that you don't demand perfection, just growth," she wrote.
Right now, the Wade family is on a "world tour" for the summer, and have been hanging out in Italy most recently. Check out this gorgeous family:
It looks like Wade made good on his promise to Union's dad. There's a lot of of love going on there.