Gabrielle Union has an amazing memory of Heath Ledger from the "10 Things I Hate About You" set, and we're feeling serious feels
It's hard to believe that it's been eight years since Heath Ledger's death, but it sounds like he's still inspiring amazing memories in the people who knew him.
In a recent Watch What Happens Live, Gabrielle Union warmly reminisces about Ledger, specifically from their days on the set of 10 Things I hate About You  (which, just fyi, is one of the best '90s movies of all time).
Union — who, if you'll remember, played Bianca's vapid, yet hilarious, bff — worked with Ledger when he was just 19-years-old. From what she remembers though, he was no regular teenager.
https://www.youtube.com/watch?v=QpXTs70wtVM?feature=oembed
"He was this mysterious 19-year-old. He told me and anyone else who was over 21 to meet him at the [hotel] bar, and we walk in and he's got this wild hair — again he's 19, but he's got a dad drink. [...] He was such a man, such a gentleman."
Awwwwww. That's the Heath Ledger we know and love. And miss terribly.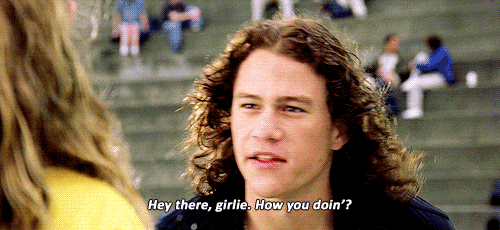 Union also mentions how his girlfriend at the time was much older than him — like 38(!), and that the cast had dinner with each other every night.
"He was great, warm, funny...we had a lot of fun. I thought all movies were like that!
While Ledger's talent was undeniable, it's great to hear that he was such a delightful person to be around. Definitely one of a kind — and even though his life was cut short — he made an impression on everyone he met. And that means the world.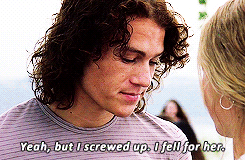 Love you forever, Heath. Gonna go watch 10 Things I Hate About You now. And all his other movies.
H/T Vulture