Gabrielle Union is launching a haircare brand at Ulta Beauty, and we are SO excited
Tbh, we'd buy anything Gabrielle Union puts her name on. She's one of our imaginary BFFs and if you've ever seen her in Bring It On, Deliver Us From Eva, or Being Mary Jane you know how incredibly difficult it is not to fall in love with her sense of humor.
We couldn't be happier to hear that Gabrielle Union is launching a haircare line, Flawless. Even better, it'll be at Ulta stores so getting our hands on it will be easy peasy. If Gabby's ever had a bad hair day we haven't seen it. Her gorgeous extensions and natural hair serve up a double dose of #hairgoals.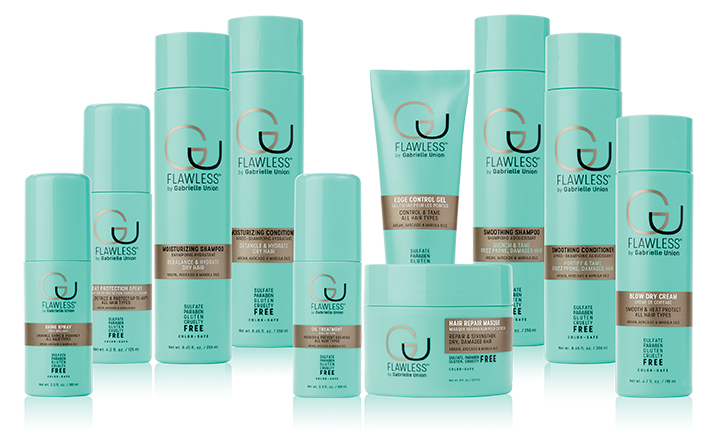 It appears that the line features two types of shampoos and conditioners. The Smoothing Shampoo and Conditioner to quench, fortify, and tame dry, damaged hair, and the Moisturizing Shampoo and Conditioner to detangle and hydrate dry hair. The hair line will range from $19 to $29!
Flawless by Gabrielle Union also features an edge control gel, heat protector spray, oil treatment, blow dry cream, shine spray, and hair treatment masque. The masque, a combination of avocado oil, argan oil, and marula oil sounds like an absolute must try.
Flawless' VP of global marketing Andy Rah told WWD,
"The marula oil, aside from all the health benefits that it gives, also has a unique fair-trade story to it. It's sourced in South Africa by indigenous women, so it's bringing jobs."
 Hell. Yes.
Starting April 16th, you'll be able to shop Flawless at Ulta Beauty and on March 1st, you can shop the haircare line at FlawlessHair.com.
Now all we need is our #WCE Gabby to give us a skincare line! Although, it looks like she's shown us the secret behind her flawless complexion quite a few times on IG.
We can't wait to try this haircare line out!