Gabrielle Union debuted a punk-rock bob, was born for it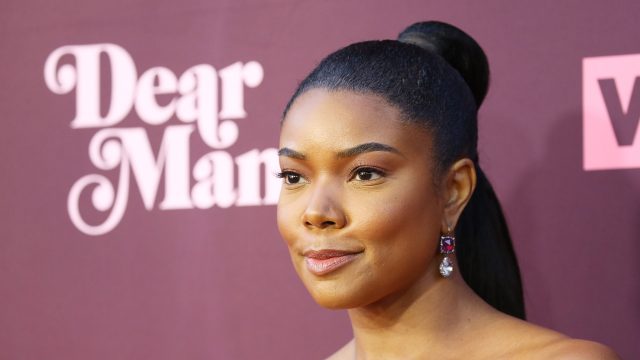 If you've been looking for summer hair inspo, look no further than actress Gabrielle Union, who just debuted a brand new 'do. Union is currently flaunting an edgy, chic summer bob, and we're all about it.
While Union's certainly experimented with new looks over the years, one thing she's never done is chop her natural locks this short. On her Instagram page, Union showed off her edgy new style, first in a video of herself rocking out in a flawless all-white outfit, then in a beautiful close-up.
In her caption, she wrote that the haircut marks the first time she's ever "significantly" cut her hair without using a wig or a weave, adding that she "wanted something new and different," so she "did the damn thing," and the end result: perfection, of course.
Her stylist, Larry Sims, shared the same video to his page, noting in his caption that the pair "usually only go short [with] wigs." He added, "We actually cut her natural hair this time around, which she has never done, [by the way]."
Though going for a short bob is definitely a big change, Union has always had fun changing up her look, and she's long advocated for women of color to express themselves with the beauty looks they love most. In 2016, she told Byrdie UK, "There's a larger conversation with people of color when it comes to our hair and our skin color. People will try to lighten our skin tones and alter our hair, which says a lot of about how we feel about ourselves versus how other people feel about our blackness and textured hair. We need to showcase the fullness of our beauty."
She's also a hair entrepreneur, having started her own line of haircare products for women with textured hair back in 2017: Flawless by Gabrielle Union. It's a fitting name for Union's line and her new bob, and gives us all the inspo we need to go short for summer.