Gabriella Sanchez explores the duality of Mexican American culture through art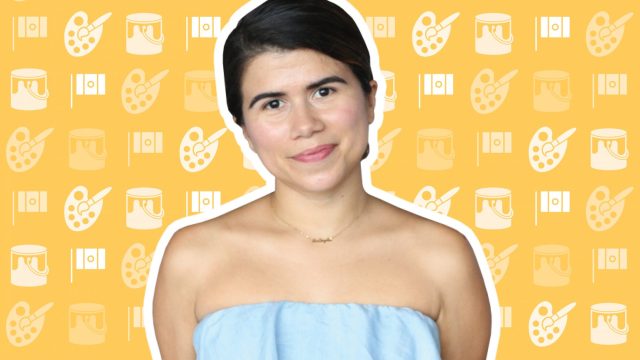 The yellow pom-poms dangling from her ears are the first things I notice when Gabriella Sanchez greets me outside her studio unit. She is wearing a white crop top, wide-leg crop pants, and black Nikes. Her brown hair is tied back and she has no makeup on. As she leans up to hug me, I stare at them, and I am reminded of newborn ducklings, the revelry of cheerleaders, and those fun-ass flip phone keychains from high school. In that moment, against the stark walls and concrete floors of the building's hallway area, it is the only color I see.  
Sanchez, a designer and artist, honed her chops at Los Angeles design house ban.do before going full freelance. Since then, she's done work for major brands like Nike, Toyota, Tumblr, Planned Parenthood, Refinery29, and Headspace, creating a colorful array of ultra-shareable gifs, eye-popping murals, and statement-making enamel patches and pins (birth control pin, anyone?). But it's her contemporary art—vibrant abstract paintings full of street signs, symbols, body parts, and movement—that's helped her connect with not just her own family and heritage, but with artists of color at large.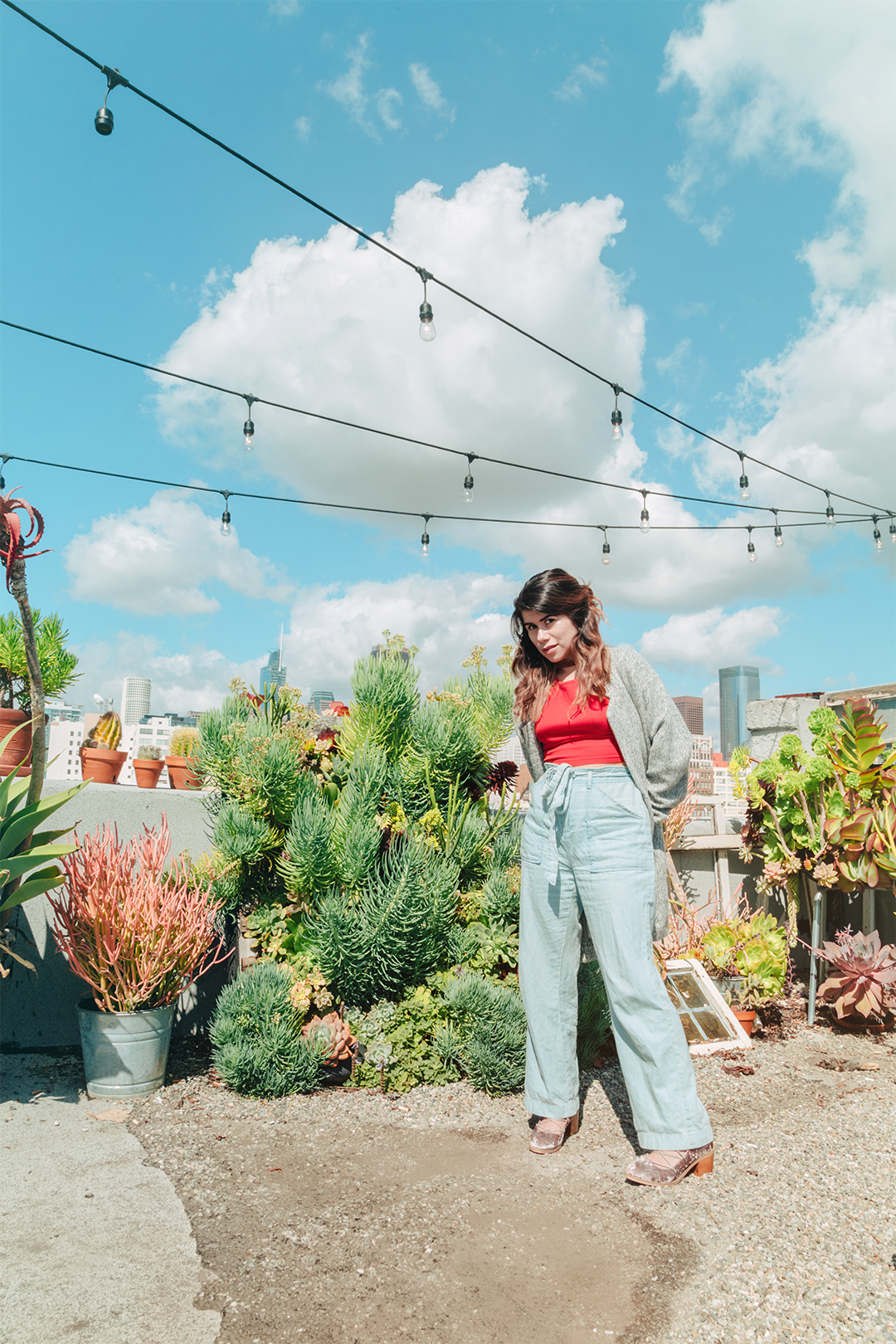 Much of Sanchez's work centers around the tension of duality, or what she calls "straddling the line": the line between Chicano and American, personal and universal, the artist and the audience. Sanchez negotiates her place between these two worlds by incorporating disparate elements from one side—sign paintings throughout the downtown area, scenes from family photos, her own signature color palette—with the formal techniques she learned as a Fine Arts major. She prompts the audience to code-switch alongside her, forcing them to think about their own assumptions.
We enter her mixed-use loft, a stylish industrial space with lots of natural light. Her petite stature is made more apparent against the backdrop of her studio's vast concrete ceilings and far-reaching skylights. Painted-on symbols—an eye, an arrow, a teardrop—dot the walls like Easter eggs. Plastic-wrapped rolls of finished paintings sit neatly in the corner. A pink painting of a woman in red hangs on the wall, while a finished piece, which has the name "Oscar" written on it twice, leans against the wall beside it. Her black cat Oliver surveys the scene and, in typical cat fashion, loses interest.
https://www.instagram.com/p/BaZq2JLj0SJ
"There's a twoness to being 'Mexican-American,' and visually, I debate that with myself," she says. She turns my attention to the completed piece, which is called Oscar / Oscar. "For instance, Oscar is written in a sans-serif font and in Gothic script, like tattoo writing. It's a Latino name, like in The Brief and Wondrous Life of Oscar Wao, and it's a Western name, like Oscar Wilde. When is the art I make 'Latino,' and when is it 'American'? A lot of it is how it's perceived by the audience—how other people perceive me versus how I perceive myself, and how that feeds into each other."
Like all mid- to lower-income families, Sanchez's family fostered creativity by practicing it themselves: They made something out of nothing. Her slide was an old mattress set up against a tree, her coloring books were hand-drawn tracings. Her dad was a handyman who worked as a mechanic, a cook, a construction worker, a security guard, and "anything that paid" before passing away in a car accident when Gabriella was 11. Her mother worked as a receptionist while holding down a second job at Bed Bath & Beyond for some time. Despite the limited cash flow, she describes her childhood as lively, dynamic, and full of self-expression. Now, through formal education, economic opportunity, and access to cultural capital, Sanchez continues to move through spaces her family does not frequent. And although Sanchez says her mom has always been supportive of what she does, she sees the divide.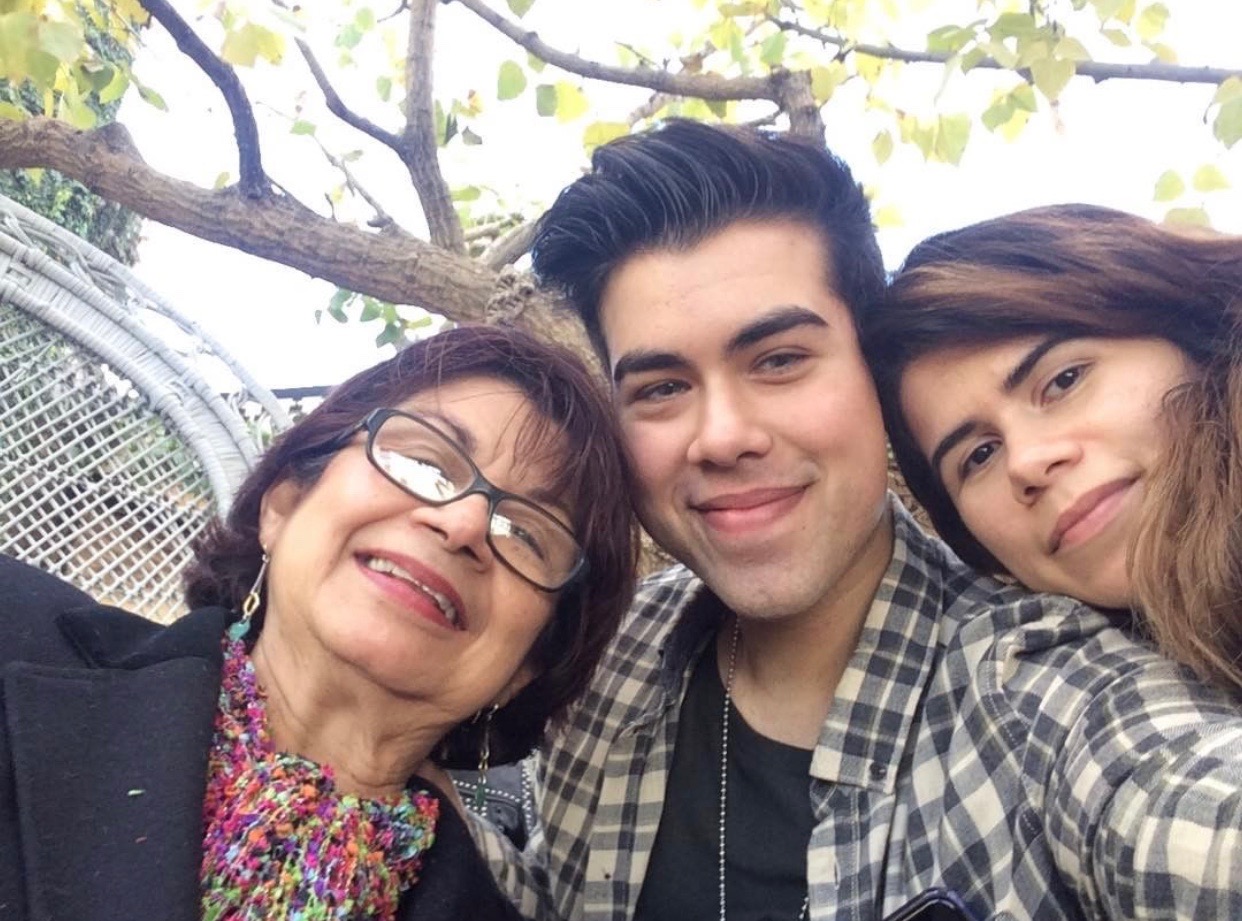 "I've had to make very conscious efforts to not leave behind the community that raised me, while also honoring the sacrifices my family made for me generationally to get me to this point," says Sanchez. "And even though I deeply love conceptual art like Bruce Nauman's, I don't want to make work that alienates people."
So what's the best way to make room, to keep family close to your heart? Make your own space. Rather than negotiating roles in the private spaces of an ivory-towered institution, Sanchez has also been exploring the populist possibilities of public art. She recently collaborated with Lei Min Space to create (888) 314-7483, an interactive phone booth installation in Pasadena, free for everyone to access and enjoy. And last year, she curated free grassroots gallery shows for female-identifying artists of color, which is where she became friends and collaborators with the likes of all-girl DJ collective Chulita Vinyl Club, genderless fashion line No Sesso, and Suzanne Kite, a Lakota performance artist. In a world where white bros and white women define the rules of culture, the greatest caper is to take what they know and make a clearing of your own. And in lieu of wine and cheese at the Hollywood Bowl, Sanchez has been going to Latinx-specific events with her family, like last month's Mexican Morrissey show at the Walt Disney Concert Hall.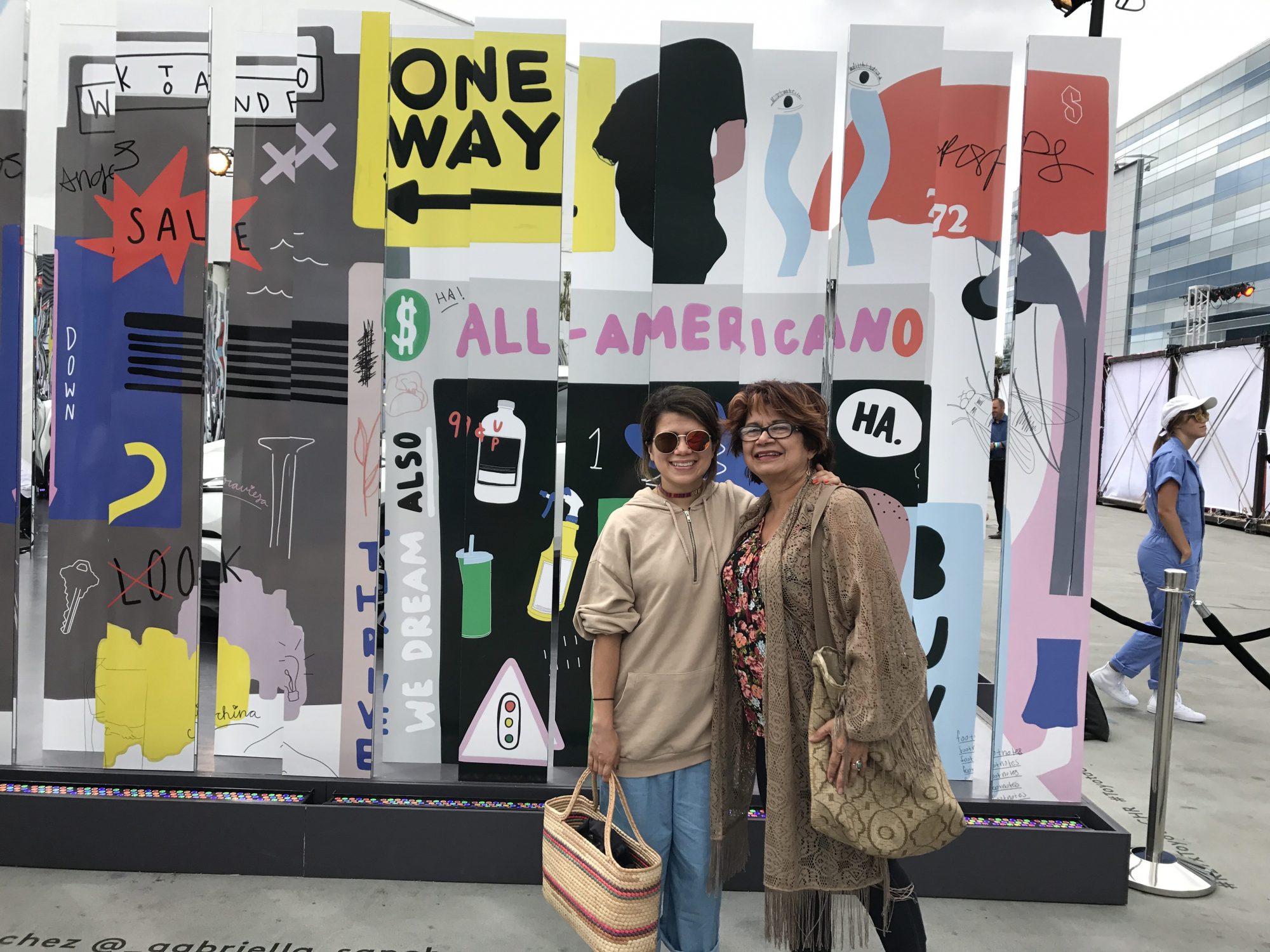 "I've realized that I can have different pockets that feed off all the different sides of me," says Sanchez, her yellow pom-poms swishing slightly. "I can create my own community."