Olympian Gabriella Papadakis bounced back from her wardrobe malfunction to win a silver medal, and YASS!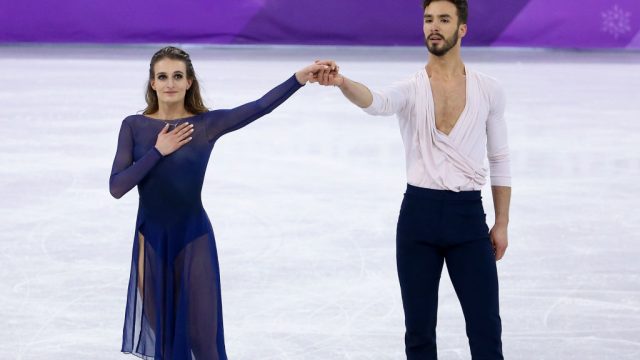 There's nothing better than a good story about rising from the ashes, and this week, the 2018 Winter Olympics has delivered. Even though French skater Gabriella Papadakis suffered a wardrobe malfunction on Monday, she didn't let it stop her. And on Tuesday, Papadakis won a silver medal along with her ice dancing partner, Guillame Cizeron. After seeing her bounce back like this, it's impossible not to be over the moon for her.
In case you missed it, during her short ice dancing performance with Cizeron, Papadakis's breast was accidentally revealed. The neckline of her costume snapped at the beginning of their performance, forcing her to perform with her nipple slightly exposed, which couldn't have been easy (or fun). Even so, she attempted to hold the costume together and remained professional and confident in her moves, which means this girl is brave. Would anyone have even blamed her if she'd run off the ice instead?
But when it came down to it, the accident only seemed to give her more motivation. After she and Cizeron performed in the free dance event, they managed to earn the highest-ever score, 123.5. Canadian skaters Tessa Virtue and Scott Moir ending up grabbing the gold (based on score tallying in figure skating), but silver's nothing to balk at. And can we talk about how amazing their performance actually was?
Seriously, it seems amazing that anyone can even do this stuff — especially after a wardrobe malfunction!
Talking to Yahoo! Sports after her first performance, Papadakis called the malfunction her "worst nightmare," which makes it even more impressive that she not only finished her routine but also got back out there the next day and killed it.
It's awesome to see Papadakis clinch that medal — even if she's not with Team USA. Monday's incident couldn't have been a great moment for her, but we have a feeling that winning silver might just make up for it.