Fyre Festival was supposed to be the year's hottest party, and OMG did it go wrong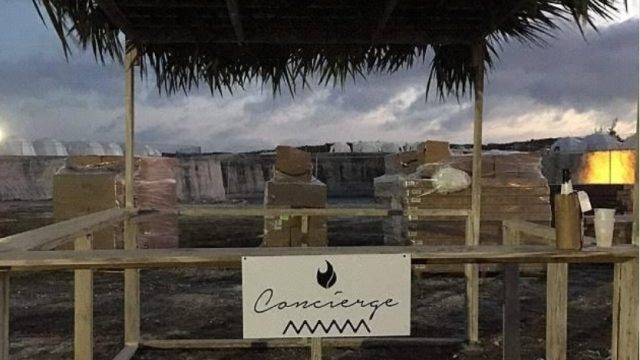 In the ever-growing landscape of boutique musical festivals, Rapper Ja Rule and tech entrepreneur Billy McFarland set out to compete. They created Frye Festival and promoted it as a once in a lifetime musical experience in the Bahamas. Big-time social media influencers even promoted on their platforms. Kendall Jenner, Emily Ratajkowski and Gigi Hadid, just to name a few. By all accounts, it was supposed to be a selfie-taker's paradise – hot musical acts, luxe accommodations and high-class dining.
What was the reality?
Upon arrival on the island of Great Exuma, guests found themselves standing in dirt fields, fighting for furnished tents and eating bread and cheese from styrofoam containers.  Whoa!
That's a far cry from foodie heaven!
Speak of which, take a look at the Fyre Festival kitchen.
Some beds were damp, and the blankets were soaked from the storm. At one point, staff members delivered a bunch of unopened boxes. Guests were instructed to rifle through them for necessities like bongos, floaties and sleeping bags. Needless to say, chaos ensued. Guests found themselves stranded on the island with no way of getting back immediately.
Did we mention they were dropping luggage from shipping containers? Take a look.
Seems to be missing something…
How did it all go so wrong?
According to The New York Times, Ja Rule and Billy McFarland underestimated what it would take to, essentially, build a city out of nothing. They kept running into logistical nightmares – a lack of working water systems and little to no transportation. After months of building and planning, the duo thought they were ready for guests.  Recent storms washed away some of their infrastructure.
How much did guests shell out for this ultra-exclusive weekend of opulence?
According to The New York Times, the weekend packages started around $1200 and topped six-figures with all the extras. Wowzers! Luckily, tickets will be refunded.  Glad to hear it!  That's one heck of a way to spend the weekend!