Furry nails are a thing and they're exactly as bizarre as they sound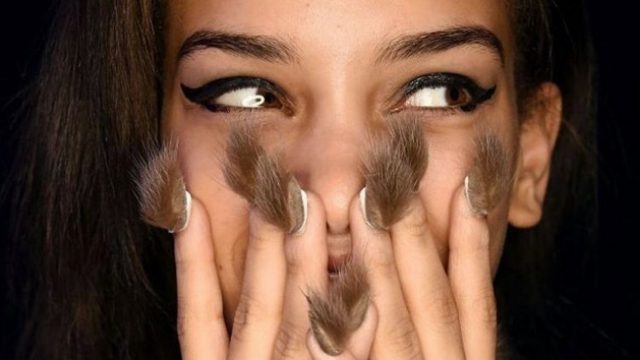 Jan Arnold, style director and co-founder of CND nail polish, is known for pushing the envelope when it comes to nail decor at NYFW. In past shows, she's sent models down runways, usually Libertine's, with skulls, eyeballs, and gold chains dangling down their nails.
She took it to another level this year, showcasing a very interesting new type of nail art at the Libertine Fall/Winter 2016 show.
Fur. Yep. FUR. This look featured faux fur glued onto the nail.
According to Cosmo, the CND team got the look by first painting nails with their Vinylux Polish (using the shades "Rubble" and "Cream Puff"). Afterwards, they adhered the faux fur to each nail with CND's Super Shiney High-Gloss Top Coat.
The brand teased the look on their Instagram a few days ago with photo of bottles of polish placed next to some fur, but we had no idea what they'd take it to this level.
Heather Davis, a nail artist for CND, posted a photo of herself trimming the faux fur as it flew all over her clothes. She captioned the picture with "And you thought glitter got everywhere!"
Obviously, it's a messy look to achieve, and it's probably much better suited to editorial placement. This look just isn't practical for every day wear.
If you're into the the fuzziness of the look but don't want to get tufts of fur stuck into your eyes, on your lipgloss, or in your hair, you can achieve a much more wearable version with velvet-finish polish.
(Images via Instagram)