I'm sorry, but what exactly are "funeral potatoes"?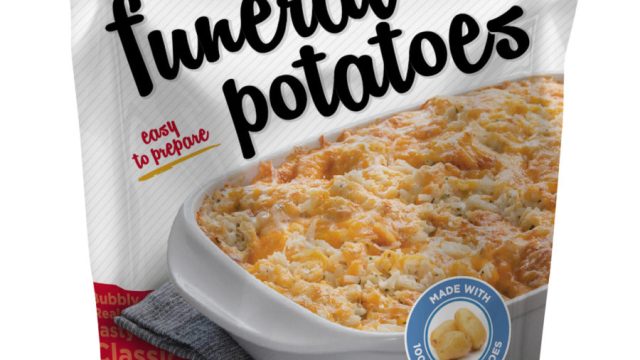 "Okay," your local funeral home director says. "The time and date are set, and your Grandmama's casket has been picked out. All I need to know now is — who is bringing the funeral potatoes?" The funeral potatoes? How could we forget the funeral potatoes? Luckily, since we're in a time crunch, Walmart sells them and will ship them for free within a minimum order of $35.
Hold up, hold up, you say. What in the ultimate heck are funeral potatoes?
It's a good question, honestly. In fact, many people are wondering the same thing. Walmart recently advertised their Augason Farms "funeral potatoes" on Facebook and, no, this isn't a misprint on the packaging. Funeral potatoes are very real, cross our hearts and hope to die (and then have funeral potatoes served at our funeral).
Funeral potatoes are served casserole-style with cheese, onions, sour cream, more cheese, and sometimes a cream-based soup, as Today.com reports. But the only funeral happening around these potatoes is that of our low-carb diet.
The dish's grisly name is rooted in Southern and Midwestern tradition. Funeral potatoes are often made and given to families post-funeral to provide them with a bit of comfort. It's literal comfort food, even though the name suggests otherwise.
https://twitter.com/udfredirect/status/979115583508811776
We can only imagine that funeral potatoes are actually pure heaven when made from scratch. But if you're craving the dish and don't have time to make it, Walmart sells a packaged version of the product with a shelf-life up to 18 months. Augason Farms is actually an emergency food supplier that sells products that can be stored for months at a time — products that can be quickly, and easily, made.
Obviously, funeral potatoes aren't just for funerals. They are for whenever you need a bit of comfort in your life.
Uh, yeah, those look divinely delicious. We want to be buried in a giant casserole dish of funeral potatoes and we don't think that's too much to ask.
So fear not, Facebook users. Walmart is not sending you an omen that the end is near. They're simply trying to spread the good word of good food. And to that, we say thank you, Walmart. We will be in to buy a truckload of potatoes and cheese in the very near future.