7 fun activities to do with your dad on Father's Day if he's impossible to shop for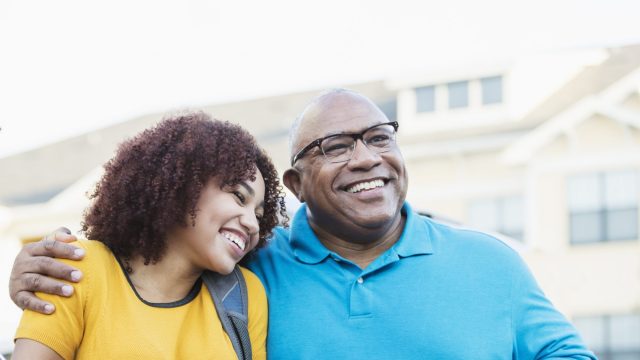 Heads up, y'all: It is Father's Day this weekend, June 16th. Oh, did you forget? Me too. It's cool, though, because if your dad is anything like mine, he'd rather spend quality time with you on Father's Day than get a random shaver as a gift (no shade to shavers, but most dads already have one they swear by). Instead of scouring Amazon, why not plan to do something fun with your dad on Father's Day? Think: getting outside, being active, or just hanging out and laughing like you're old pals because duh, you are.
We've rounded up some of the most fun Father's Day activities to do with your dad this weekend—and the best news? You can definitely book one of these adventures last-minute and your pops will never be the wiser.
1Zip-lining
https://www.instagram.com/p/BjfCNiBHSig
If you want to zip-line for more than just a few thrilling seconds, you'll likely have to take a day trip out of town (depending on where you live). But trust us—it's worth it. Zip-lining is an unforgettable activity that's totally safe and will give you the opportunity to a) spend the day outside and b) bond with your dad over a shared adventure.
2Brewery tour
https://www.instagram.com/p/BfB6KKbjGzm
It's no secret that craft breweries have been popping up everywhere the last few years. So if you and your dad are beer drinkers, why not take advantage and find a brewery tour in your city that will hit all the best local spots? Just google "brewery tour + your city" and you're sure to find options.
3See Late Night or Booksmart
https://www.instagram.com/p/ByNpuzeJiaO
Take your dad to see Booksmart, a movie about badass young women doing badass things. He raised you (a badass woman) so you know he'll love seeing this story on-screen. If you can't make it out to theater, stream Mindy Kaling's Late Night on Amazon and enjoy a movie night in with your pops.
4Indoor VR skydiving
https://www.instagram.com/p/Bx49HNXjOJy
Skydiving is the ultimate adventure, but it costs a fortune and it's scary AF. The alternative? Indoor skydiving with a virtual reality upgrade. Whipping around in a wind tunnel, you get the sensation of skydiving without the risk. And with the addition of VR video, you'll feel like you're soaring over a gorgeous destination. Check out the options from iFly.
5Go surfing, kayaking, peddle boating, or stand-up paddle boarding
https://www.instagram.com/p/Bj-u3mwnHjc
Basically, just get out on the water. You don't have to live on the coast, either—kayaking, paddle boarding, and other types of boating are available on lakes all over the country. Pick an option and go!
6Take a trip to the zoo
https://www.instagram.com/p/Bj0jAWlD6Me
I asked my sister editors at HG what they'd include on this list, and our books editor, Elizabeth Entenman, told me, "When I still lived at home my dad requested to go to the zoo together every year for Father's Day." Your dad will probably think this is a sweet idea for Father's Day.
7See a live sports game
https://www.instagram.com/p/Bj54m_sgLEO
This one might seem gendered and/or clichéd, but if your dad is obsessed with one of your hometown sports teams (or even just a random little league team where you live) and there's a game happening this Sunday, it seems like the ideal thing to do together for Father's Day. Just saying.