Feeling Relationship Fatigue? Here Are 9 Fun Ideas to Do as a Couple at Home
These expert-approved activities will keep your romance exciting during quarantine.
If your relationship is feeling a bit stale right now, you're not alone. While some couples might be loving all the extra time together in quarantine, others may be struggling to keep the spark alive—and their sex lives might be suffering because of it. "At this time, it's normal for couples to experience discord in their relationships due to constant face-to-face contact and a lack of spontaneity," Tatyannah King, sex blogger and sex coach for the Blex app, says. Not to mention that divorce rates have been spiking during the pandemic, so it can feel like a scary time for many people right now. However, there are still ways to work on strengthening your relationship from home—and have fun doing it.
King says that in order to "alleviate the feeling of growing tiresome of relationships, couples must find new ways to trigger that rush of dopamine and oxytocin—otherwise known as the 'feel good' hormones—by incorporating novelty and surprise into their routine lives." And that's not just about sex. "The way you connect outside of the bedroom affects how you connect inside the bedroom, so cultivating intimacy, connection, and eroticism is just as important in the living room, kitchen, and dining room," says sexologist Jess O'Reilly, Ph.D., host of the @SexWithDrJess podcast.
To figure out exactly how this can be done, we asked Dr. O'Reilly, King, and sex and relationship therapist Megan Fleming, Ph.D., how to keep things interesting (in every room). Keep reading for a list of couple activities you can easily do at home.
9 ideas for couples to do together at home:
1. Recreate a vacation indoors
The pandemic may have gotten in the way of your vacation plans this year, but that doesn't mean you can't still get in the travel-bug spirit at home. King recommends couples try to create dates that replicate a location where they want to travel. "This may entail buying items from a local craft store to redecorate the house and mimic a different setting, like an exotic beach getaway, a campsite in the mountains, or a picnic by the park," she says.
No, it's not a replacement for the real deal, but putting in the effort to create a vacay-adjacent date night shows that you're both trying to keep the excitement alive—and are hoping for more travel opportunities in the future.
2. Get artsy
According to a 2011 study published in the American Journal of Public Health, doing creative work—or even just observing it—can enhance one's moods and emotions. For couples, "engaging in artistic activities, such as transforming your living space into a fresh setting as a date idea, may help people keep the adventure alive without even taking each other's clothes off," says King.
Dr. Fleming recommends trying creative, interactive activities that can be as simple as doing puzzles together or as involved as something like brewing kombucha.
3. Interview each other
If you're looking for free things to do as a couple, quality conversation doesn't cost a penny. Dr. O'Reilly recommends trying "The Passion Interview," which can be found on her website here. With questions like, "What did you daydream about as a child?" and "When was the last time you felt really excited?" the activity "is designed to veer the conversation in a different direction so that you can continue learning, reflecting, and having more meaningful interactions," Dr. O'Reilly says.
She suggests setting aside 30 to 45 minutes to interview your partner and share your answers, taking turns with who's asking and who's answering the questions. "Alternatively, you can pick one question a day and discuss it over breakfast, during your lunch break, or on your way to work," Dr. O'Reilly says.
For more guided deep conversations, Dr. Fleming recommends The Couple's Quiz Book by Alicia Muñoz (which includes 350 questions) and BestSelf's Intimacy Deck (which includes 150 prompts).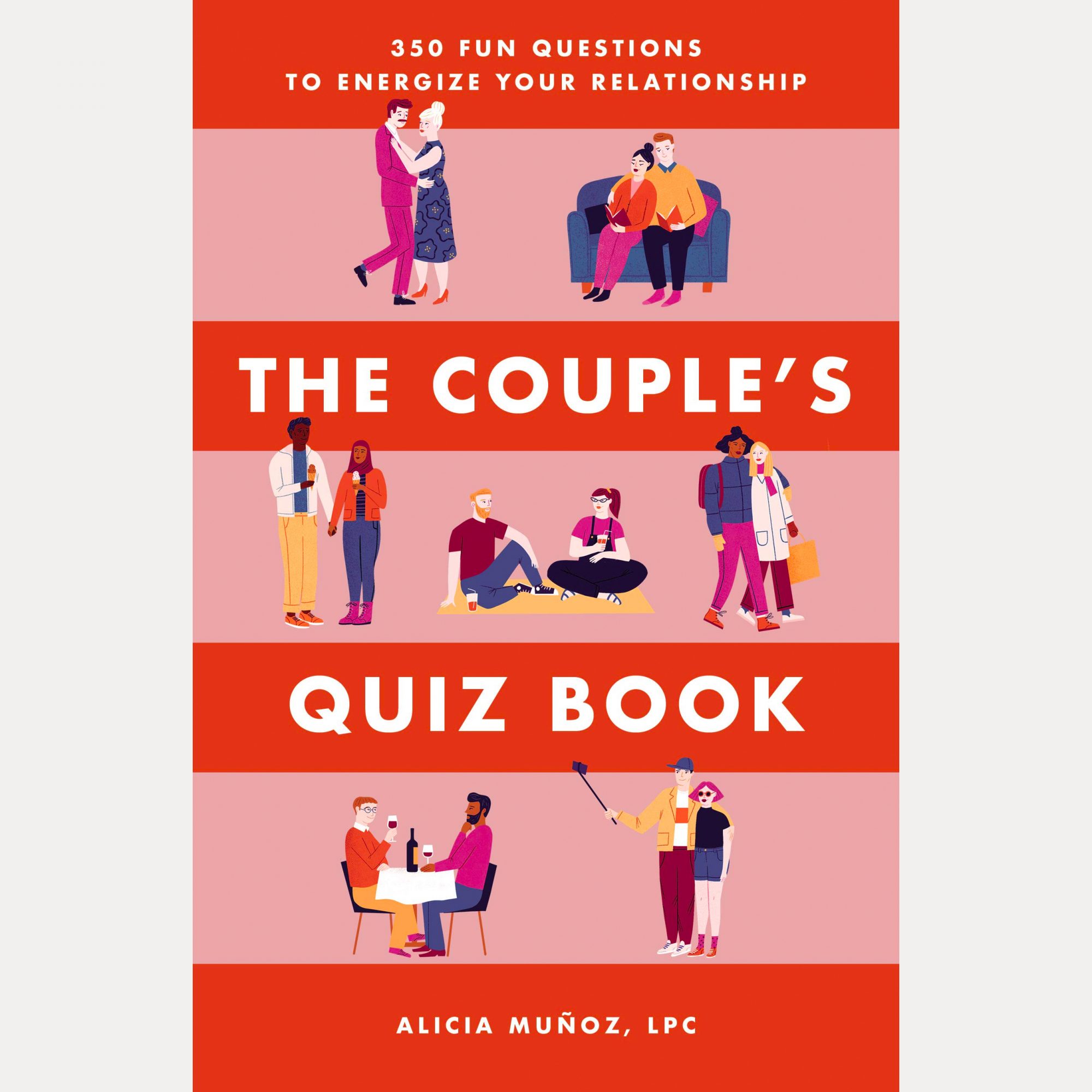 The Couple's Quiz Book
$11.69
Shop it
Amazon
Intimacy Deck
$24.99
Shop it
Amazon
4. Plan for the future together
While the pandemic may make planning more difficult, you can still look ahead to the life you want to have with your partner. "Create a visual board or search for travel options for the future—even if they may change," Dr. O'Reilly says. "Give yourself something to look forward to once we return to socializing and the physical distancing restrictions are lifted."
As Dr. O'Reilly notes, research suggests that dopamine is released as soon as we begin to anticipate a reward, not just when we receive it. "This is why planning a vacation is often more exciting and pleasurable than the trip itself and why dopamine levels can rise dramatically when we dream of future plans like retirement," she explains. "Daydreaming about a happier future can help to elevate your mood."
5. Try partnered yoga or workouts
You don't need to be like the influencer couples on Instagram to do a partnered workout—you just have to inspire each other to get moving together via a workout video or lesson, and you'll be able to feel a sense of shared accomplishment when you're done.
Plus, "physical movement can boost your mood, improve cognitive functioning, reduce anxiety, and help you to relax and destress," Dr. O'Reilly says—so partnered exercising can do a lot not only for your relationship but also for your personal health.
6. Take a virtual class together
Now is the time to take advantage of what the virtual world has to offer. Since the pandemic started, more and more virtual classes are being offered in everything from cooking lessons to dance classes and even Ivy League courses. If there's something you've been wanting to learn, ask your partner to join you and turn it into a bonding experience for you both.
7. Experiment with sex toys
Sex toy sales have been booming during the pandemic—and for good reason. As Dr. Fleming says, the extra time at home is "a huge opportunity to expand your play repertoire and prioritize pleasure."
If you've never tried sex toys before, Dr. Fleming encourages you to keep an open mind, explaining that many couples tend to avoid something new if it doesn't go well the first time. "Anytime we're trying something new, I always sort of say, 'try, try again,' because we're always sort of observing or spectating, thinking, 'What do I think of this?' or 'What does my partner think of this?'—and so we're not as present," she says.
If you give sex toys a fair chance, you may find out that they can bring more excitement and diversity to your sex life. For instance, "couples can use sex toys to experiment with edging, a form of teasing in which a person is stopped from reaching orgasm right when they're on the edge," King says. "Not only does this allow more time to explore each other's bodies, but it helps each other become more open to viewing sex toys as an accessory for longer-lasting sex."
8. Try role playing
Role playing may feel outside of your comfort zone, but it could actually be a way to achieve more vulnerability and a deeper connection to your partner in and out of the bedroom. "One thing I've noticed—not only about couples but people in general—is that they're more willing to communicate naturally when there's a sense of anonymity," King says. "Because of this, I'm always an advocate for role playing outside of a sexual context."
For an example, King suggests interacting with your partner as if you've never met before. "It's a clever strategy that forces a sense of mystery and eventually builds conversations that may not have arisen before," she says. "This form of entertaining role play also helps couples to see each other in a fresh light, making each other remember the things that initially attracted them to each other."
9. Schedule alone time
When trying to plan fun things to do together as a couple, don't forget to factor in some alone time—and ask for it when you need it. Dr. Fleming says that, sometimes, people will be afraid to introduce the conversation of needing some space from their significant other, but "more often than not, our partner is thinking the same thing."
King recommends starting a respectful conversation about each others' boundaries and expectations and discussing some nonverbal signals that could indicate when alone time is needed. "For instance, noise-canceling headphones could be a sign that it's time to give each other some space to be completely silent," she says. "Also, keeping the door closed in another room during a specified time can also indicate that someone doesn't want to be disturbed at that time."
Dr. Fleming also suggests scheduling alone time on the calendar and looking at it as if it's a vacation—not from your partner but for yourself. "We should all be thinking about restorative practices," she says—and if you're someone who needs more personal space, alone time is exactly that. Being honest about your needs will be mutually beneficial to both you and your partner.