"Fuller House" has been renewed for its fourth season in two years, and this math does not add up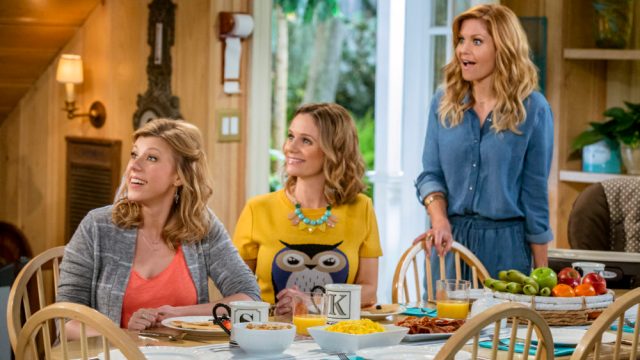 elevision seasons usually have a standard format of ONE A YEAR. Like, hello, welcome to the Fall 2017-2018 television schedule, here is your one allotted season of television — NO MORE. If a show has been on the air for four years, it probably means there are four seasons. There are, of course, exceptions to this rule, like how Mad Men was on for eight years but only ran for seven seasons.
Another HUGE exception to this rule is Fuller House. The Netflix show — which is a reboot of the classic ABC sitcom — first premiered back in 2016, and now, two years later, it's going to have four seasons.
One more for the kids in the back:
FOUR. SEASONS.
The first season of the show premiered in February 2016. The second season of the show premiered in December 2016 — barely 10 months later. The third season of the show was split into two parts, with the first hitting in September 2017, the second landing in December 2017, so it's already like Fuller House has had more seasons this year than it really should. And now, in 2018, it's been granted a fourth season, all in less than two years.
I just…what. Do you realize that Game of Thrones won't return for another 16 months, and we've already gone five months without it. So we will have gone 21 months without Game of Thrones, and meanwhile, Fuller House will be up to like, Season 8. Fuller House will have it's own Fuller House spinoff, maybe called "Fullest House," by the time Game of Thrones returns.
I just….what.
The news started popping up Monday afternoon, as stars of the show shared to social media that they were officially coming back for Season 4. Also, just a reminder that Stranger Things, which has been on the air for two years and has two seasons, probably won't air a third season until 2019, so please be sure to keep this all in perspective.
And don't forget that Netflix has literally LEFT US HANGING when it comes to a second season of Gilmore Girls, which premiered in 2016, and now it is 2018, and we still only have one season and no word yet (if ever!) that there will be more.
Well, many happy congrats to the Tanner Family & Company. So happy for you guys. And also just remember that Jessica Jones premiered two months before Fuller House, and we're only just getting a second season of that in another two months.