Not a drill, there's finally a full-length trailer for "Gilmore Girls: A Year in the Life"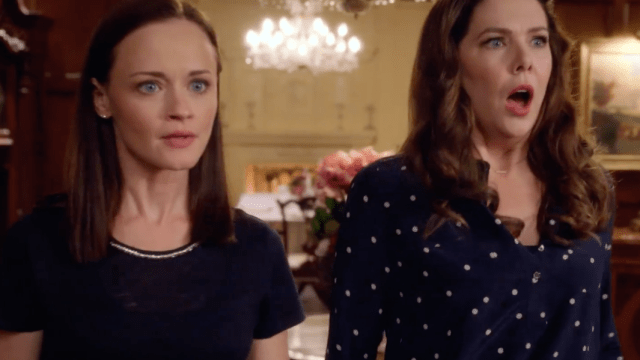 Hi ?. Are you ready for your entire world to drastically and dramatically CHANGE?  If the answer is yes, then oh girl, do we have the most amazing thing for you: Netflix has just released the first full-length trailer for Gilmore Girls: A Year in the Life, and today is *probably* the best day of 2016 so far.
The next best day of 2016 will be November 25th, but you know that.
With only ONE MONTH to go before we can binge A Year in the Life ourselves, it's about time we got a full-length trailer. Sure, the teaser trailer was fine, and the featurette was cool, but our BODIES ARE READY to actually see what Lorelai and Rory (and Emily!!) Gilmore are up to nine years later. Are you ready to see it, too?
https://www.youtube.com/watch?v=kGGNNSmGDpU?feature=oembed
It appears as if nothing has changed over the last decade in Stars Hollow. Lorelai and Rory are still eating like there's no such thing as ~junk~ food (and Luke is less than pleased with it), Taylor is still holding court in the Town Hall, Kirk is still being, well, Kirk (LOL at Kirk's special appearance at Friday night dinner), and Sookie is in the kitchen of the Dragonfly Inn, and all seems right in the world.
The trailer also sets up a little bit more of what's actually going to happen over the four seasons we're back with our favorite mother-daughter trio. All three of them are at crossroads in their life:
Lorelai's wondering if she's actually gotten everything she wants out of life; Rory's wondering where here next live adventure will take her, and if she should go; and Emily's dealing with the rest of her life after the passing of Richard.
For a trailer that's only 2:26 minutes long, it packs a lot — and it packs a whole lot of feels, too. Start up the countdown clock for the very last time, we've only got one month to go before Gilmore Girls: A Year in the Life is in our lives forevermore.