These Full Sturgeon Moon rituals will help you refresh your mind and renew your spirit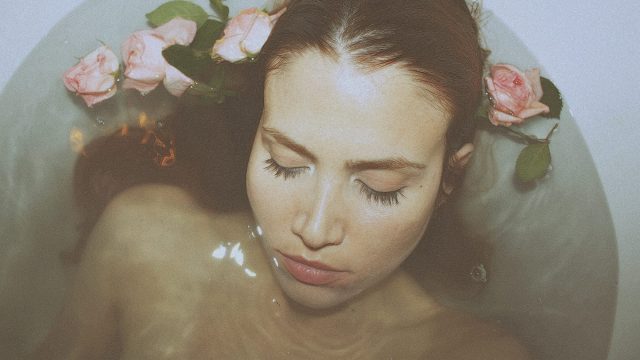 On Sunday, August 26th, the Full Sturgeon Moon will arrive and bring with it the power to help us tap into our psychic energy. It's during a full moon that we should physically, emotionally, and spiritually restore ourselves. During this month's Full Sturgeon Moon, practice one or all of the below rituals to fully reap the lunar rewards.
The Full Sturgeon Moon got its name from the Native American tribes located around the Great Lakes and Lake Champlain; tribespeople in this part of the country would fish for sturgeon at this time of year. August's full moon is also known as the Corn Moon, Blueberry Moon, and Wheat Cut Moon.
Come Sunday, take time to heal and renew yourself. If you've been feeling like you're running out of steam, if your mind has been foggy, or if you feel as though you haven't had room in your busy schedule to even breathe, cancel your Sunday plans and spend the day taking care of you. Whether you consider yourself spiritual or not, you'll absolutely feel the benefits of celebrating the full moon with some personal pampering.
Check out these calming rituals that will bring you back from the dead and get you ready for the moon cycle ahead.
Soak in an herbal bath.
Ease mental tension and relax your sore muscles by soaking in a hot herbal bath. Ann Moura, author of Green Witchcraft, writes that an herbal bath is "a magical experience affecting body, mind, heart, and spirit." Moura recommends using chamomile, lavender, rose, and peppermint in your bath if peace and comfort are needed in your life. Add in some heather, jasmine, or lemon balm for an extra dose of relaxation.
Bath time is you time. Light candles, pour yourself some wine, and put on your favorite chill tunes. Let your mind go blank and rest up for the tasks ahead.
Participate in the Feast of New Bread ritual.
According to D.J. Conway, author of Moon Magick, the Feast for New Bread was celebrated by ancient peoples after the harvesting of grains. It was a Thanksgiving of sorts—a celebration that there would be food during the winter.
If you're the type of person who uses crafts, cooking, or baking to get your mind off things and tune out, put your energy into baking a loaf of bread like the ancestors did. By doing so, you're taking yourself back to simpler times, when modern day stressors didn't exist. You're creating something you can feel proud of, and that delicious loaf of bread can give you a little extra confidence boost.
Set up an altar and visualize your goals.
An altar space is necessary for anyone who believes putting energy out into the world will bring you what you want in life. The full moon is a time of empowerment and feeling as though you can and will achieve your dreams. Designate a small table, a shelf on your bookcase, or even a windowsill to be your altar—a source of inspiration for the month ahead.
Put together a dream board or pin postcards of places you want to travel to on your altar. Or if you have no set goal in mind, simply litter your altar with positive quotes and images to inject some happiness and inspiration into your life.
There's truly no wrong way to celebrate the Full Sturgeon Moon. As long as you remember that you are powerful and worthy of self-love, you're ready to absorb everything the full moon has to give you.