The full "Ocean's 8" trailer is finally here, and we want to watch it on loop all day long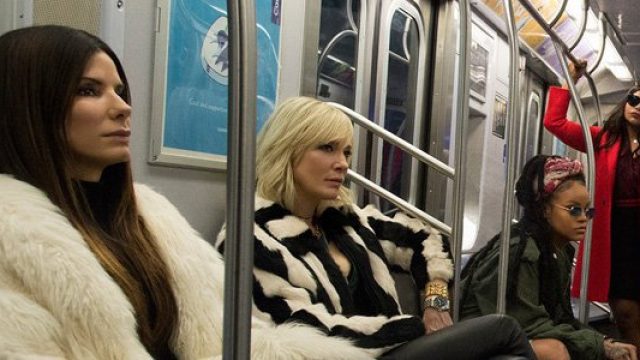 Stop everything! Because the official Ocean's 8 full trailer has arrived, and we're going to need a minute to take it all in. We got our first 15-second teaser just yesterday, December 18th, but the full preview definitively blows what we know out of the water.
For those who are unaware (HOW?), the latest installment of the Ocean's franchise is comprised of an all-female, all-badass cast featuring the likes of Sandra Bullock (playing George Clooney's estranged, ex-con sister, Debbie Ocean), Cate Blanchett, Rihanna, Mindy Kaling, Anne Hathaway, Helena Bonham Carter, and MORE. And according to Variety.com, the story centers on Debbie's attempt to pull off "the heist of the century at New York City's annual Met Gala."
Until this week, we'd only glimpsed posters and stills from the set — all of which entailed fabulous fur coats and sunglasses, but not much in the way of details or plot info. And finally (finally!) we have something substantial.
Take a look.
https://www.youtube.com/watch?v=MFWF9dU5Zc0?feature=oembed
Totally awesome, right? The clothes, the music, the one-liners…this trailer is all we hoped it would be…and more. And if all of this wasn't exciting enough, the film promises a ton of cameos, including (but not limited to) Dakota Fanning, Anna Wintour, Kim Kardashian West, Kendall and Kylie Jenner, Olivia Munn, Matt Damon, Katie Holmes, Zayn Malik, Zac Posen, Adriana Lima, and Serena Williams (the plot centers around the Met Gala, after all).
We officially can't wait for the film to hit theaters on June 8th, 2018. Now excuse us while we go watch the trailer on repeat for the rest of the day.