What this weekend's full moon means if you're single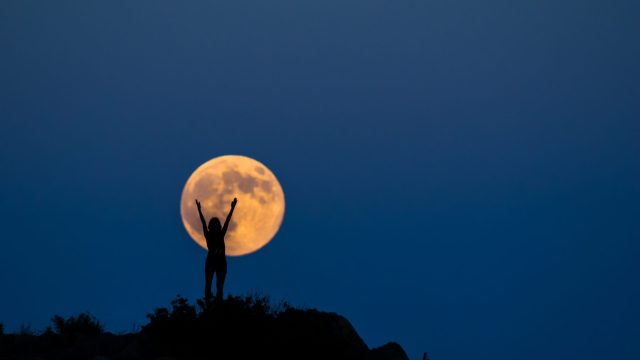 Singletons, you're in luck! The full moon (also known as the Beaver Moon) is paying us a visit tomorrow night and it's taking you out on the town. Full moons can do wonders to improve a single person's love life, and here's what you need to know in order to harness the moon's powers and put them to good use.
In magical and pagan practices, the waxing moon phase leading up to the full moon is a period in time when rituals are performed to bring new things in to the practitioner's life. Wealth, luck, happiness, and love are all willed to enter by way of spells, meditation, and numerous kinds of ritual. And when the moon reaches its fullest phase, its energy is at its peak and therefore will add potency to said rituals.
Now, you don't have to follow a specific spiritual path to be affected by the full moon. Because our bodies are made up of 70% water, the gravitational force of the full moon affects us physically and emotionally. Science shows that effect is incredibly small — so small that it shouldn't be felt.
But many often feel an emotional switch during the full moon.
We become irritated and more vulnerable. This vulnerability might just help you navigate single life in order to enter into romance more efficiently.
Be vulnerable with yourself during the full moon. Tap into the emotions that are bubbling up and help yourself better understand yourself. Write down everything you're feeling during this time and make yourself do some soul-searching. What is it you want, how do you feel about your current single state, and what will it take for you to be truly happy?
Once you've figured out what it is you want from a partner, you can better weed out future dudes or dudettes who aren't fulfilling your needs.
The full moon is also an amazing time to take part in some self-care rituals like bubble baths, massages, facials, or really anything to make you feel like you are living your best life.
Harkening back to our natural roots, PowerOfPositivity.com reminds us that ancient women would ovulate during the full moon. Our sexual energy increases during this phase, so use that to your benefit as well. Go out on the town and attract everyone in sight!
The Beaver Moon, similar to the ever-wise RuPaul, wants you to love yourself before you go out and love anyone else. But if you're in the mood to live single life to the fullest, then you do you and simply flaunt what you've got!