This is the emotionally intense way the Full Hunter's Moon will affect your zodiac sign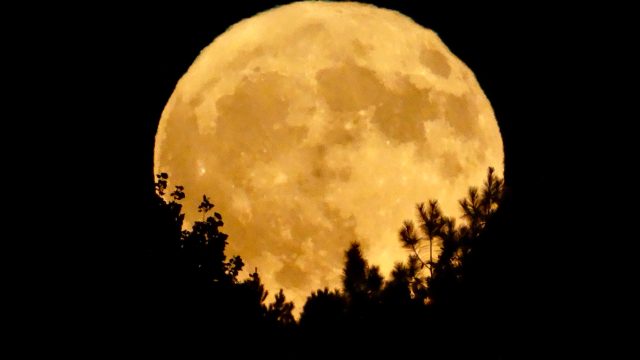 The Full Hunter's Moon will shine bright on October 24th, ushering in unexpected changes and opportunities in our relationships. This week's full moon is in Venus-ruled Taurus, which means it's possible that love and all of its uncertainties will take center stage in our lives. And since we're also now officially in Scorpio season, things could get extra sultry and intense. We could be asking ourselves deep questions about our relationships, as well as reflecting on how we give and receive love—in and out of the bedroom.
According to the Farmer's Almanac, "The Algonquin Native American tribes referred to October's moon as the Full Hunter's Moonbecause [it marked the time of year] to go hunting in preparation for winter." With all the relationship issues coming to light during this time, it's rather fitting. We might feel like the prey or the hunter when it comes to love.
But this full moon isn't going to be all rose petals and champagne. Taurus is also known for its practical and stubborn nature, and since full moons are known to amplify potential and possibilities, as well as emotions, don't be surprised if there is some resistance when it comes to changes. We might dig in our heels, encounter friction and tension, and even be the ghost or the ghosted. With feelings running high, dealing with the truth of our relationships might seem too much bear. Factor in Venus currently retrograde in Scorpio, with all of its complexities and ties to the past, and it's no wonder we could be overwhelmed with all the feels we're experiencing. We're basically living a Drake song.
Here's what the Full Hunter's Moon has in store for your zodiac sign.
ARIES
It's a good idea to harness the powerful intuition of Scorpio at this time, Aries. What is your heart saying? If something doesn't feel right, it probably isn't. Of course, on the flip side, if something does give you that warm and fuzzy feeling, don't let past fears or judgments stand in the way of what could be a magical union.
TAURUS
With the Full Hunter's Moon hanging out in your sign, Taurus, this is the perfect time to surround yourself with luxurious comforts. Think soft sheets and pajamas, candlelight, comfort food, and anything that makes you come alive sexually.
GEMINI
This is the perfect time to let go of anything in your life that no longer serves you or aligns with your vision for your life plan, Gemini. It's time to rip off the Band-Aid and start anew. It might hurt, but it'll be healing.
CANCER
With emotions on red alert, Cancer, you might want to ask yourself the big questions, like: What do you need in order to feel safe in relationships? What's important to you when it comes to expressing your needs? What does security mean to you when it comes to love?
LEO
Since Taurus is ruled by Venus, the planet of love, this is an ideal time to thank the Universe for the love that you already have in your life, Leo, as well as for the love that's coming. Envision and embody what that love looks and feels like. Set those intentions, and then let it go and trust.
VIRGO
You love brainstorming, Virgo. So take this time to ask yourself: Where do you find your strength? In which areas do you feel the strongest, and in which areas do you feel the weakest? See how you can enrich your "weak spots" with the strength you already possess.
LIBRA
Where you do feel imbalanced when it comes to love, Libra? The Full Hunter's Moon could highlight your triggers as well as areas that are lacking. See this an opportunity to acknowledge them so that you can bring harmony into your life.
SCORPIO
Full moons are the perfect time to moon bathe and charge your crystals, Scorpio, and this one is no exception. Take some solo time to rejuvenate yourself and your soul, and set your intentions for your crystals—and be as weird and wonderful as you want to be underneath the moon light.
SAGITTARIUS
This is the perfect time to center yourself, Sag. Quiet your mind and take this time to be on your own. Light candles and some sage, journal, and ground yourself. You'll need this in order to tackle the next adventure.
CAPRICORN
It's time to reevaluate your love life, Capricorn. What is it that you truly want and desire? Hone in on that and then see what else bubbles to the surface. If resistance comes up, focus on what and why that is. Unraveling the resistance will get you closer to what you want.
AQUARIUS
You need to forgive, Aquarius. Forgiving yourself, or another, is a powerful experience and one that is deeply liberating. It's time to put the past behind you so that you can embrace the new. Write it out if you must, but don't be afraid to let it go.
PISCES
Purging is a potent act during the full moon, Pisces, and you're in need of a good overhaul. It's time to clear out the clutter—from your home, your mind, and your emotions. Donate old clothes, and release old grudges and patterns. In doing so, you'll create more space to welcome the new.
Above all, full moons are a time to give gratitude for what we've manifested since the new moon. Take a step back and experience what's grown and what's fallen away. Trust that the Universe will answer your wish when the time is right—because it will. And most importantly, don't forget to give gratitude for you. Show yourself some self-love, bb, because after this roller-coaster month, you definitely deserve it.