This beauty artist did her makeup using ONLY glitter and she's so sparkly we can't look away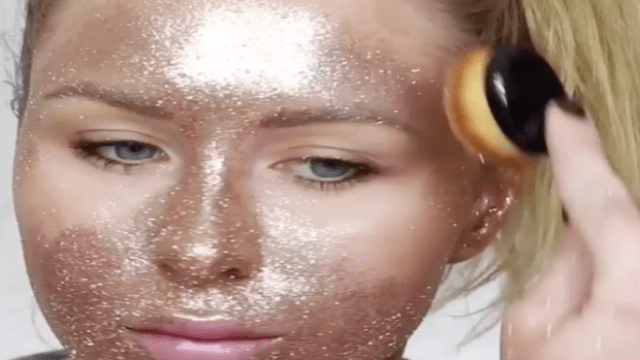 We have a hard enough time doing our own makeup with…you know, actual makeup. So watching this beauty artist do a full face of makeup using only glitter is mesmerizing. British makeup artist Katie Butt literally made up her entire face with glitter, proving that glitter is magical.
There are a lot of makeup tutorials floating around the interwebs, but this one is definitely our new fave.
Here is Katie turning herself into an enchanting fairy unicorn lady:
"GLITTER FACE Hi guys I hope everyone's Monday isn't too bad! I thought I would do this for a bit of fun, I don't know who/if this has been done before but I haven't seen any full face glitter videos to give credit to. Hope you guys like it :)"
She used different colors of glitter for highlight, her brows, and her eyes, and her lip. We seriously cannot look away from her sparkly beauty look! Here's the video showing how she did it:
Katie didn't stop at glitter. Next, she used rhinestones, and the results are just as stunning as the glitter.
She's also showed off a few other creative beauty looks on Instagram:
https://www.instagram.com/p/BME6F2ggtI5
Her creativity is insaaaaane. We absolutely love finding new makeup artists whose talent transcends the use of traditional makeup and takes us to new magical lands of flawlessness.