The Full Blue Moon Is Happening—Here's What This Means for Your Zodiac Sign
A rebellious energy is going to occur on Halloween this year.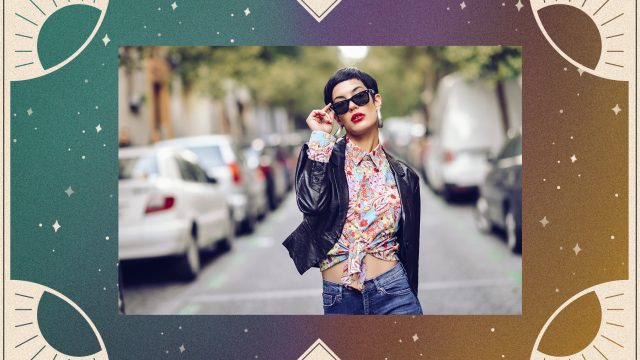 The full blue moon occurs on October 31st, making this Halloween extra spooky. A blue moon is a rare phenomenon that happens every two to three years when there are two full moons in a calendar month.
This blue moon occurs in the sign of Taurus (the moon's favorite sign to be in), making it a lovely time for growth. Uranus retrograde aligns with the moon, lending you an exciting and exhilarating rebellious energy. You will veer from the normal conventions of relationships and incorporate more modern thinking into how you partner with others. Since this luminary falls on Halloween (the time of year in which the veil between the material and spiritual world is thinned, making you see things exactly as they are thanks to the spirits giving you wisdom), you can expect to get a clear and vibrant understanding of matters. 
Below is your full blue moon horoscope. Make sure to read your rising sign, too.  
Aries  
Your finances are facing critical issues and problems. Before spending all of your money frivolously, take stock of your cash flow and purchase items that you need ASAP. Be honest and upfront with yourself about your financial situation. Budgeting your money now will help reduce stress and alleviate upcoming pressures.  
Taurus  
Your emotions will be heightened at this time, making you more aware than ever of your inner sentiments and buried resentments that are deep within your heart. If you are aware of why you are feeling extra sensitive, you'll be able to resolve matters and issues with yourself and others. 
Gemini  
It's been a long month (and year), which is why you're in a desperate need to zone out from your daily stresses and veg out. Use the gentle energies from the blue moon as a time to heal. Taking time for yourself will do wonders for your body, mind, and spirit.  
Cancer  
You're a great friend, but you need to have boundaries with your squad before they take your kindness for granted. Give a little bit of your time to your bestie in need. Just don't let their problems consume you. They'll totally understand how you feel if you're direct.  
Leo  
Your career is shifting at the moment, which means it's a great time to evolve the scope of your professional endeavors. Before beating yourself up, think of this as an opportunity to expand your career. Being open to change will yield long-term rewards. When one door closes, another opens.
Virgo  
You're finding yourself in a moral quandary at the moment. Before you jump into making an impetuous decision that will affect your life—and may not be the best choice for you—weigh all your options to come to an understanding about the most righteous one that aligns with your beliefs.  
Libra  
Intimacy is at the forefront of your heart. You're yearning to burn as one with the person you desire right now. Get to know them on a simpler level before diving in passionately. By taking it slow, you may decide that you're not as hot for them as you thought.  
Scorpio  
Understanding the role you play in all of your partnerships and relationships is important now. You may find that you don't give as much as you take and vice versa. This will help you navigate towards creating a better dynamic with others during the blue moon and in the future.  
Sagittarius  
Plan a Halloween-themed Zoom happy hour with your colleagues or connect with them on a deeper level. This will allow you to know them better and to become friends outside of the office as well as in the workplace.   
Capricorn  
You're in the mood for love, which means that you're flirting up a storm with your boo. Make sure they're reciprocating your affections. If your crush or S.O. isn't giving you enough TLC, it may upset you, leading to arguments. Therefore, it's necessary to have a cool approach to romance.  
Aquarius  
It's okay not to want to spend Halloween galavanting around town with friends. You may find that a simple evening at home with a few friends is best (and appropriate for social distancing). Don't put pressure on yourself to party hard and be social. Have a low-key Halloween.  
Pisces  
As of late, you've been busier than ever. Now, you're slowing down a little and taking a moment to chill. Use this time to decompress. And try not to take on any new work projects, even though you may want to. Your body and mind will thank you later.