Here's Beyoncé's full Coachella performance, in case you need something to cry over this Monday morning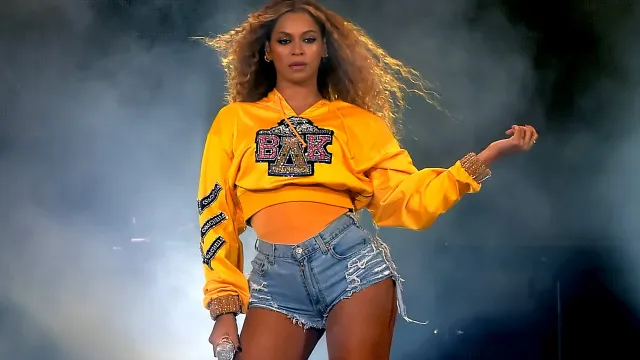 For those of you lucky enough to bear witness to the Beyoncé performance that rocked the first weekend of Coachella, we envy you. Beyoncé hit the stage on night two of Coachella, Saturday, April 14th, armed with over 100 step dancers and a full marching band. Our prayers must not have fallen on deaf ears: Bey also reunited with Destiny's Child members Michelle Williams and Kelly Rowland for a reunion performance. The full Beyoncé Coachella performance was everything the world dreamt it would be and more.
The production was like a high school football game halftime show starring the coolest girl in school. The entire show was brilliantly choreographed, packed with incredible renditions of classic Bey tracks, six costume changes — and even a manicure change.
We're exhausted just listing the miracles that occurred during this performance. We've had our suspicions, but this act confirms that Beyoncé must be at least half-god. The two-hour show is split up into two separate videos below. Although we highly recommend watching each video through until the end, if you want to skip ahead to the good parts, we'll provide a few important time stamps to help you out.
In the first video, Bey arrives on the scene at 0:45 dressed as modern-day Nefertiti. Then the Queen officially arrives at 3:20 and declares Coachella to be Beychella, showing off her kickass dance moves. She belts a slowed down "Crazy In Love" at 4:00, "Formation" at 12:30, "Sorry" at 16:00, and "Drunk In Love" at 30:00.
The second half of the show is where Bey'sspecial guests show up and change the game.
Jay-Z enters from stage left at 15:00 and sings "Déja Vu" with his lady love. The Destiny's Child reunion kicks off at 25:30 with "Say My Name." And finally, Solange shows up for a dance-off with sister Bey at 33:15.
Guys, we're sweating. This performance is honestly life-changing. Needless to say, we're going to be raving about Beyoncé's Coachella takeover for years to come. That is one tough act to follow.