Did you catch this "Frozen" star's cameo in "Zootopia"?
If at one point while you were watching Disney's latest delightful animated film Zootopia you felt a little excited shiver, that's likely because you picked up on the fun Frozen actor cameo they hid in plain sight.
Kristen Bell, who voiced the brave and loveable Anna in Frozen, transformed to become another animated character in Zootopia. I would say it was a "blink-and-you'll-miss-it" cameo, but the truth is Kristen voiced a notoriously slow creature (she happens to love in real life). She was a sloth.
It wasn't exactly meant to be a total surprise. Kristen even excitedly tweeted about it before the movie came out, linking her tweet to one of the silliest trailers for the film. Be warned before you watch the video, though. If you aren't already in love with the adorably slow-moving creatures, you will most definitely be after watching this trailer. So just make sure you have enough room in your heart open for another animal obsession.
Knowing that the same voice of the enthusiastic Anna was used for one of the sloths in the Zootopia world just makes us love this movie (and the Disney universe) even more. Even if (much like a sloth) we were a little slow on picking up what they'd done, we couldn't have been more pleased once we figured it out.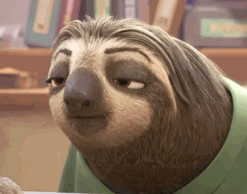 Well done, Disney. And go Kristen Bell!